What's new about No Platform mania?
A veteran of Manchester student politics recalls free-speech battles of 35 years ago.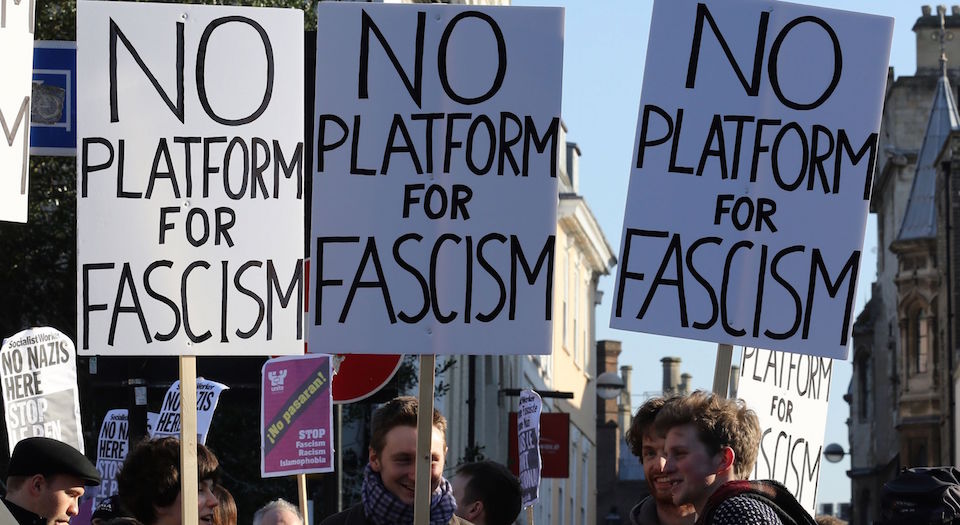 Who could ever have imagined that we would end up in a time like this, when student officials at prestigious UK universities can ban speakers whose opinions they don't like, demand that male students cease their 'laddish' language, and justify attacks on freedom of expression as necessary to protect 'vulnerable' students?
In fact, some middle-aged ex-students didn't have to imagine it. Because we went to just such citadels of higher education – in my case, the University of Manchester – more than 35 years ago. True, the assaults on freedom of speech in universities are far more overt these days. But the spreading branches of today's anti-free-speech culture have grown from rotten little acorns sown decades ago.
This week, officials at my old political stomping/drinking ground of the University of Manchester Students' Union caused a stir by banning Julie Bindel, the lesbian feminist activist and writer, from speaking at a student society's event. The union's executive committee announced that Bindel's presence had been 'flagged as potentially in breach of our Safe Space policy'. They had thus decided to bar her from speaking 'based on Bindel's views and comments towards trans people, which we believe could incite hatred towards and exclusion of our trans students'.
(Bindel, a veteran radical feminist, has been 'No Platformed' by students' unions for refusing to use fashionably conformist language about transsexuals; as she told spiked in February, 'I'm transphobic, of course, because I suggest that men with beards and penises shouting "shut up, you transphobe" at women, "you've misgendered me", might be a bit Nineteen Eighty-Four'.)
Incidents such as Manchester's Bindel ban are finally prompting more people to wake up to the dangerous attacks on free speech in universities and students' unions – dangers that spiked has long highlighted. An overdue discussion has begun about the problem of turning campuses from bastions of open-minded debate into fortified Safe Spaces, where students are not to be confronted by ideas and opinions they might find 'uncomfortable'.
Even now, however, that problem is often misunderstood and underestimated. The proliferation of No Platform bans on everybody from feminist speakers to sexist comedians is viewed out of context, as if it was a bizarre phenomenon that has just sprung from nowhere. What has gone wrong, the exasperated critics demand, with these crazy student activists today? And what is going to happen, they ask with some trepidation, when these young politicos grow up and start running the country?
These complaints miss the point. The attacks on free speech are more graphic and gruesome these days. But the origins of today's promiscuous No Platforming can be found in the radical student politics of the 1970s and early 1980s (themselves shaped by the wider political culture; then as now, no students' union is an island). That was a time when students' unions were run by those who have been largely running society for the past 20 years.
The policy of No Platform for racists and fascists was adopted by the National Union of Students (NUS) back in 1974, at a time when the British radical left was at its peak and the far-right National Front was very active (though not exactly marching through university campuses). From the first, No Platform was a problem rather than a political solution. It confused shutting down or shutting up your opponents with winning an argument. And it denied everybody else the right to hear the arguments and judge for themselves, supposedly because they could not resist or handle the right's dangerous ideas.
No Platform reflected the British left's feeble attachment to free speech and fondness for control. If they could not get the state to ban their opponents, they would do it themselves. And like all forms of censorship, No Platform had an inherent tendency for mission creep, with a ban on one form of objectionable speech leading to demands to outlaw others.
At its 1977 conference, the outgoing Labour general secretary of the NUS condemned students' unions 'which have sought to remove union rights from those of their members whose views the majority of members do not like. This may be because the selected minority are adjudged as racist or as Zionists or on any other convenient grounds. This kind of thought control is no part of a democratic students' union…' Remarkably, that defence of free speech against thought control was made by a young Charles Clarke, who almost 30 years later became home secretary in Tony Blair's authoritarian New Labour government.
By the time I arrived at the University of Manchester in the late 1970s, Clarke's warnings were ignored and No Platform was a well-established orthodoxy of student radicalism. The students' union was dominated by the National Organisation of Labour Students. When I joined the Revolutionary Communist Party, forming the RCP's one-boy branch at the university, we were the only group on the left opposed to No Platform.

The author, right, as a revolting student, circa 1979
By then the targets of No Platform extended far beyond a few fascists and far-right racists. Tory politicians and Thatcherite ministers were No Platformed by student activists – a 'victory' which ignored the fact that the left was losing the argument in the wider world outside. Pro-Israel speakers and publications were banned by students' unions that were adopting the official UN position that 'Zionism is a form of racism'.
In May 1977, Alan Elsner of the Union of Jewish Students wrote in the New Statesman of 'the heightened fear that the No Platform policy could be used as a means of silencing people whose views might be controversial or unpopular. Their opponents have only to declare them racist or fascist and it then becomes legitimate to ban them. In the light of this, it was perhaps inevitable that, sooner or later, the policy would be turned against Zionists.' Today, anybody attempting to defend Israel in student politics is likely to be treated like the NF of yore.
Another memorable target of Manchester students' union's advancing No Platform policy was the Unification Church, commonly called the Moonies. It was as fashionable to denounce this religious 'cult' then as it is to single out Scientology today. (Some of us young atheistic free speechers did point out that the Moonies' beliefs seemed no more irrational than the virgin birth or transubstantiation, but to no avail.) Student officials not only barred the Moonies from the union building, but also took to drowning them out with a megaphone on the street outside. The justification for this was that the cult was targeting 'vulnerable' students who could not be trusted to resist their blandishments. That patronising attitude is writ large in today's Safe Space policies, which insist that students' delicate ears and minds must be protected from uncomfortable ideas of all kinds.
These days the war on 'lad culture' often appears to be the least controversial aspect of the attack on freedom of expression in UK students' unions. This too was foreshadowed by the biggest and most heated debate (apart from the Middle East) at the Manchester student union's weekly general meeting in 1981-2. Labour and feminist activists proposed a motion condemning the sexism of students at a particular hall of residence, which was then known as a stronghold of Manchester's 'rugger buggers' and the Federation of Conservative Students.
The student wannabe censors were outraged by the hall's sexist singing-and-drinking games, particularly its monthly MUCUS Award – 'Most Ugly Cow U See' – which was awarded to the lad adjudged to have dated the least attractive girl. They wanted not only an official censure of these puerile antics, but a ban on the guilty parties until they mended their ways and minded their language. I recall that the rugby set attended that union general meeting – in most cases for the first and last time – to exercise their freedom of expression by telling the trainee inquisitors to 'go fuck yourselves'. To judge by recent controversies over rugger bugger 'laddism' at UK universities, these days they would be more likely to apologise profusely and send the players on a training course – behavioural and language training, that is.
Where can the outlandishly authoritarian student activists of 2015 ever have got their ideas…?
Mick Hume is spiked's editor-at-large. His book, Trigger Warning: Is the Fear of Being Offensive Killing Free Speech?, is published by Harper Collins. (Order this book from Amazon(USA) and Amazon(UK).)
Mick will be giving the Battle of Ideas 2015 welcome address: 'Je suis…what? Free speech after Charlie Hebdo' on 17 October. Get your tickets here.
To enquire about republishing spiked's content, a right to reply or to request a correction, please contact the managing editor, Viv Regan.