Why American liberals *heart* Pope Francis
His visit has given the PC elite some much-needed moral authority.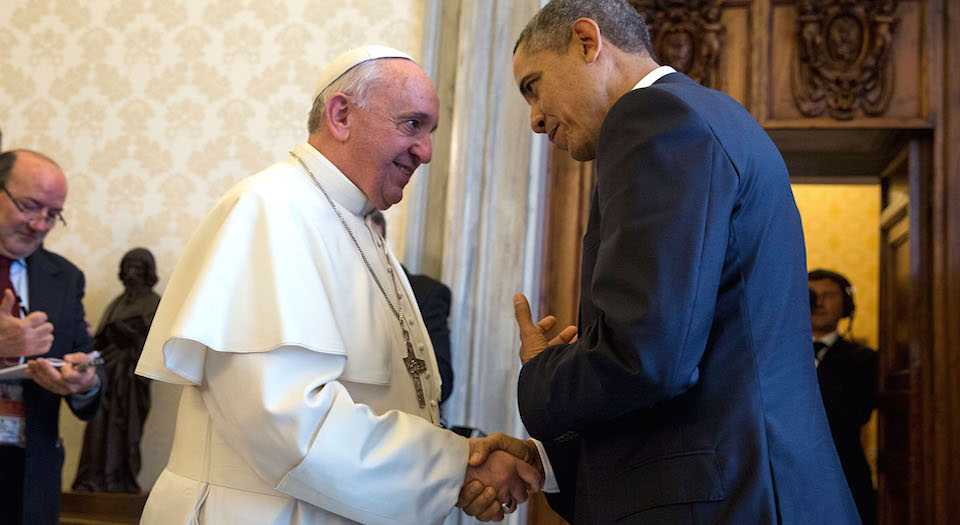 Pope Francis took the US by storm last week. The media tracked his every move 24/7, from official events at the White House, Congress and the UN General Assembly to visits with the homeless, immigrants and prisoners. He was met with big crowds, and the media verdict was enthusiastically positive.
Earlier papal tours in the US – such as John Paul II's visit in 1979 – were certainly popular. But Francis's visit was in a different league. Entertainers, pundits and politicians alike went gaga. TV news host Savannah Guthrie was awestruck: 'We had the moment we will never forget. We shook hands with Pope Francis.' Actor Kerry Washington was not alone in saying that the pope was her 'celebrity crush'.
Even Eighties pop icon Madonna – the blasphemous, crucifix-wearing singer of 'Like a Prayer', who claims to have been excommunicated three times – gave a gushing shout-out to the pope. 'Rules are for fools', she told fans at her Philadelphia concert. 'That's why I like the new pope. He seems very open-minded.'
This seal of approval from the high priestess of pop revealed how much of the excitement about the pope's visit had nothing to do with supporting the traditional teachings of the Catholic Church. Instead, it was the other way around: liberals are thrilled because they believe he is coming around to their outlook. In their eyes, Pope Francis is a green lover of the environment, is not hung up on material things (he drives around in a Fiat), and is not that bothered about all that old stuff about sin. His famous 'Who am I to judge?' line, in response to a question about gay priests, has been interpreted as a broader endorsement of the relativistic, Oprah-like times we live in.
Indeed, liberals got so carried away with the fantasy of the cool pope that they seemed to forget that he doesn't share their views on all matters. Vox had to remind its readers that 'Pope Francis isn't as progressive on LGBTQ issues as you think'. Less noticed was the pope's visit with the Little Sisters of the Poor, which is suing the Obama administration because it believes the Obamacare health rules require it to violate its religious principles regarding contraception and abortion. And then there were reports yesterday that the pope had held a secret meeting with Kim Davis, the reviled Kentucky clerk who refused to issue gay-marriage licenses.
Some prominent Catholics took umbrage at the notion that Pope Francis was taking sides with the liberals. 'The next person who tells me Pope Francis is a Democrat – I'm going to punch them', said Christopher Hale of Catholics in Alliance for the Common Good. The pope is said to regard himself as non-political. Our Sunday Visitor, a Catholic newspaper, argued: 'Based on the media's coverage of the papal trip, it has been difficult to remember that Francis's visit to the United States is centred around his commitment to come to the World Meeting [a religious event] and speak about the family and not immigration, the environment or globalisation.'
But Pope Francis's statements on his US tour gave quite a lot of ammunition to those who want to co-opt him for political ends. In his speech to Congress, he spoke about inequality, immigration and climate change – all Democratic Party themes. He made a vague reference to abortion without uttering the word, and in the next sentence he condemned the death penalty. The New York Times and others were right to conclude that his speech was an implicit rebuke to Republicans.
The pope and his representatives stress that he is above politics, and only delves into issues so as not to remain too abstract. But at the UN, the pope was specific and secular, backing the details of particular global agreements: 'The adoption of the 2030 Agenda for Sustainable Development at the World Summit, which opens today, is an important sign of hope. I am similarly confident that the Paris Conference on Climate Change will secure fundamental and effective agreements.'
Many Democrats jumped at the chance to claim the pope as one of their own. Progressives' favourite presidential candidate, Bernie Sanders, saw Francis as endorsing his programme: 'He forces us to address some of the major issues facing humanity: war, income and wealth inequality, poverty, unemployment, greed, the death penalty and other issues that too many prefer to ignore.' After the pontiff's speech to Congress, California senator Barbara Boxer tweeted: 'Religion and science united with a common purpose – combat climate change.'
From a historical perspective, it is quite a turnaround. Liberals who previously did not see the pope as having anything relevant to say about politics – indeed, who viewed the pope as a problematic figure – are now citing him as an authority. From the days of the evangelical Moral Majority of the Eighties until recently, the cry from liberals has been 'Get God out of politics'. But now with Pope Francis, it's apparently all about bringing God back in.
The papal-liberal alliance today is a marriage of convenience, a codependency (to put it in modern therapeutic terms). It is a merging of the moral and the political, but not in the old way. While the pope becomes political, politicians justify their objectives in moral terms.
The pope has been downplaying issues like abortion and same-sex marriage, and emphasising policy issues like immigration and climate change, as a way of changing how the church is discussed. Francis is saying that Catholicism is not limited to personal and sexual matters. Most immediately, this shift is a way to overcome the reputational damage done by the child-abuse scandal. More generally, it is an attempt to become more relevant in North America and Western Europe. So far it's clear that Pope Francis has made himself popular, but it remains to be seen whether all of the hoopla around his visit will lead to more people in pews. Similar moves undertaken by the Episcopalian Church (CofE in the US) have led to dwindling membership and lessening influence.
Over time, liberals have increasingly said their preferred policy stances are moral causes, and Pope Francis's latest forays give them further support. Issues like the environment are discussed as moral imperatives, and above politics, and much of the liberal 'there is no debate' intolerance today is justified by a higher morality. So, while Catholics might view Francis's work among the poor and homeless as traditional and Christ-like, it can be transformed fairly easily by liberals today into backing their middle-class view of people as fragile victims in need of protection.
Certainly, the liberal attempt to give their politics a moral edge has been pretty successful so far, as it is the dominant ideology of our day. The pope's effective endorsement will only help. But the turn to the pope also reveals a subtle weakness – why outsource authority to such a traditional figure? I can't help but think that underlying the reliance on the pope is a general insecurity that the new, politically correct morality has not really taken a firm hold among the masses, especially as a growing number balk at the many intolerant measures required to enforce it. As helpful as the pope might be to the liberal cause, he can't be its saviour.
Sean Collins is a writer based in New York. Visit his blog, The American Situation.
Picture by: Wikimedia Commons/Pete Souza.
To enquire about republishing spiked's content, a right to reply or to request a correction, please contact the managing editor, Viv Regan.