No holiday from the Greek crisis
A report from Rhodes on Greeks' response to the crisis.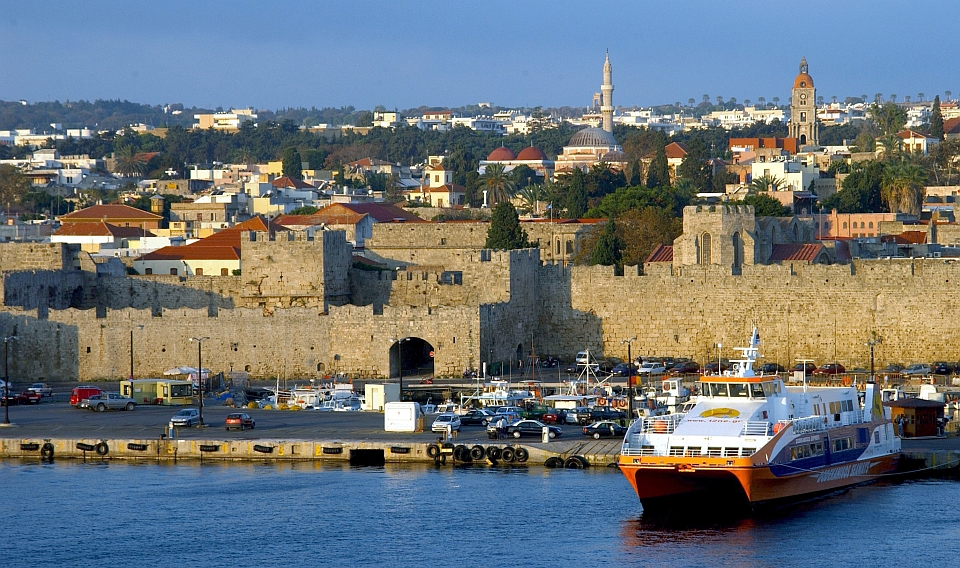 What would you do if your country was in the middle of a political and economic catastrophe? Where would you turn if your elected leaders ignored the outcome of a national vote? What action would you take if European Union 'experts' took over and confiscated your savings (if you had any left)?
This is the situation in which Greeks find themselves. It is like watching a dark-comedy show, only the joke is on them. While I was in Rhodes recently, the prime minister, Alexis Tsipras, resigned, asking everyone to vote for him all over again. 'I want to submit to the Greek people everything I have done so that they can decide once more', said Tsipras, the man the Greek people had already chosen at the start of the year.
While in the UK the media coverage in the run-up to the Greek General Election was all about debt repayments and Grexits, in Rhodes it was as if politics had been wiped off the face of the Earth. Most televisions in the local cafes showed football and acrobatic bike competitions, not news and current affairs. There were no posters promoting particular candidates to choose, no politicians canvassing for votes.
Does Greece, the place where democracy began, no longer have any democratic spirit left? A young waitress told me of her despair at modern democratic politics. 'We have nobody to vote for. We're confused', she said. 'We voted "No" before and Tsipras ignored us. If we vote again it means Tsipras will still ignore us.' She hurried off to serve the next tourist.
In the city centre, a 9D tourist film (yes 9D!) was showing about the history of the island. Hundreds of years ago, the people of Rhodes took matters into their own hands to fight off the invading Turks. The democratic principle of self-determination, not to mention the threat of death, made people fight. Together with the French Christian knights, who ruled Rhodes, they almost won despite only a few thousand Rhodes soldiers trying to defeat thousands of Turks. So would the Rhodes people rise up against their lily-livered politicians and the EU bureaucrats? It didn't seem likely.
I asked a thirtysomething single mother, who ran a nearby sweet and ice-cream shop, what she thought about Greek democracy. She said people vote even though 'there is no alternative'. She then added: 'People should pay their taxes and follow the rules.' Even though she was about to be unemployed at the end of the tourist season, it angered her that she worked hard and did what the government said while others spent their days demonstrating, disrupting and resisting. For her, the solution to a bleak economic future is for everyone to stop complaining and listen to those in charge.
I was surprised at how full the town centres were and how normal everything seemed given the doomsday scenarios circulating among EU bureaucrats and the media about Greece. Hotels and beaches felt busy; a hotel's computer games room heaved with kids desperate for a go on a car-racing game.
At a small apartment complex full of Greek, Lithuanian and Italian families, the owner told a young woman, 'You have brought such handsome men here!'. He pointed to children with giant inflatable animals and fish rushing towards the swimming pool. For a moment, we were all in our holiday bubble.
Then, one afternoon, the owner's wife began talking about the refugees crossing the sea to the Greek islands from Syria. Her and her husband had helped a pregnant, migrant woman. 'She didn't speak any Greek, so we used Google to translate', she said. 'Her relatives came from Sweden to see her, paid some money to some people and then she could leave. We were worried about the baby.'
'Islamic State is taking our women and children as hostages and is making a business of it', said a young woman at the bar. 'They know that migrants have relatives in Europe, Germany and Sweden so they tell them, "If you don't pay money for your families we will kill them".' She described herself as coming from 'Assyria', an Ancient kingdom that is now divided up into Syria, Turkey and Iraq. With the disintegration of former borders and political identities, Assyrian nationalism is rising.
'If Turkey wanted to stop the Islamic State, it could because once again our people are going through a genocide, just like 100 years ago', she continued. 'But Turkey doesn't want to.'
The owner's wife said, 'I don't want the war to come to Greece'. She added: 'The immigrants are trying to swim here. We don't have criminality here in Rhodes. Our door is open. But now, how many times in the night do I wake up to see if my daughter is still there? Next time some refugee asks for my help, the answer will be "no". My door is closed. Because now I'm afraid. They come for help and the next minute they have my child.'
I couldn't sleep that night so I went down to the bar. Thao, the owner of the apartment complex, was serving drinks. Thao is an astute, very likeable, experienced man who is trying to organise something politically new in Rhodes. Like everyone else I'd talked to, he had given up on Tsipras, the EU and the experts telling everyone what to do.
He explained how he'd got together with local holiday-apartment owners to raise money to mend street lights and roads. In the absence of money from the government to make sure their area was attractive to tourists, they were going to do it themselves. Everyone had to pay an equal amount of money into a kitty. They would all decide how this could be used to help the local area.
Unfortunately, nobody paid their share of contributions but him. 'What are you going to do?', I asked, thinking he might say he was going to give up. 'I'm going to do the works myself, paint the white lines on the road so people can walk beside them safely', he said. 'I'm going to show them and take a lead. Then perhaps they'll join me.'
'And then you could form a new party and people might vote for you?', I said, thinking that Thao was advocating a new just-get-on-with-it approach to problems in the area. How hard could it be? He smiled, and showed me photos. I realised he was probably old enough to have been a teenager during the overthrow of the military junta in Greece in 1974. Back then, a vote had changed a lot. There had been demonstrations and a politically active student population. A referendum vote led to the abolition of the monarchy and the writing of a new constitution. In 1975, Greeks elected their first president of the republic.
Towards the end of my holiday, I watched the sun rise across the sea. The darkness of the night started disappearing as the orange and gold light flames of the sun stretched out over the silhouette of a distant island, like a faraway volcanic explosion. And then, within a few minutes, the morning light bathed the whole island in clear daylight. It was hot again. I thought of Thao and his determination to begin anew in Greece.
Tessa Mayes is a journalist and documentary filmmaker. Visit her website here.
To enquire about republishing spiked's content, a right to reply or to request a correction, please contact the managing editor, Viv Regan.