In praise of Brutalism
We should celebrate the daring spirit of this unloved school of architecture.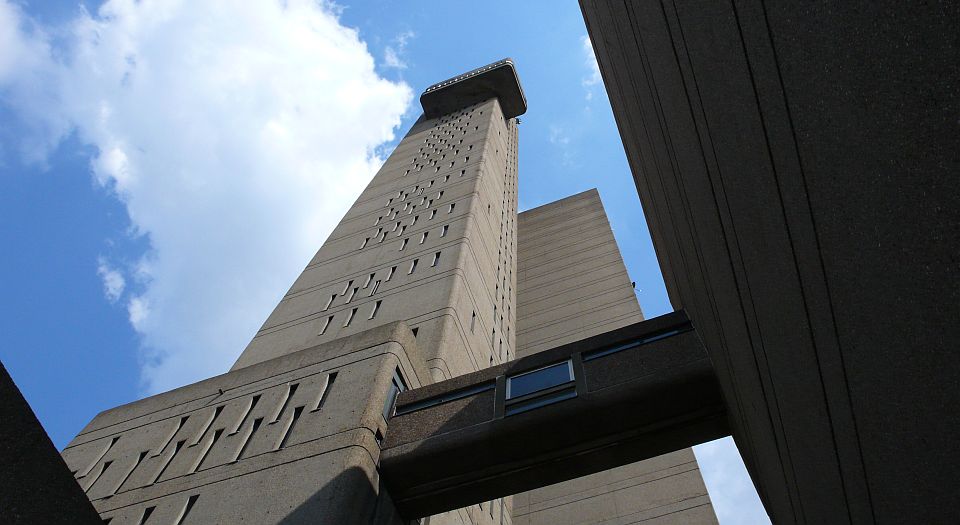 If you took a poll of the most unpopular – even hated – buildings in Britain, the likelihood is that it would include more Brutalist buildings than buildings in any other style. These giant, domineering structures in unpainted concrete have come to symbolise modernist architects' arrogance and wrongheaded social housing. Their imposing presence has changed the face of British cities.
Launching Brutal Utopias, a series of events to promote understanding of Brutalism, Joseph Watson, creative director of the National Trust, defines Brutalism as a distinct strand within modernism: 'Brutalism took the principle of honesty in architecture further, arguing that buildings should have aesthetic and ethical integrity. Brutalism became particularly associated with a material, too: concrete.' Brutalism adhered to the truth-to-materials principle of modernism. 'Honest' artists would not attempt to disguise the material components they used. Watson concedes that although concrete has dynamic sculptural potential, 'it has never been much-loved by the public at large, which begins to explain the deeply divided reactions to this architecture'.
Watson puts the case for Brutalism as the equivalent of modern sculpture. 'Brutalism is not "on a human scale". It's sublime, even delicately terrifying at times. And it's usually gigantic; it seeks to dominate its environment. Sure, not all architecture should do this, but nor would I want to live in a country that built uncompromisingly conformist, frankly dull, architecture.' It is heartening to see the National Trust forthrightly defend a style that many of its more conservative members find an abomination. Brutalism can be exhilarating to look at and live with. Its energy, confidence and lack of compromise make it bracing. When it is poorly maintained, it looks worse than conventional architecture exactly because, in its pristine state, Brutalism embodies such ambitious aspirations.
Perhaps understandably, such a combative architectural style has been subject to resistance no less vigorous. Brutalism has been decried as ugly, hostile, unsympathetic towards its surroundings and impractical. It is true that some of the characteristics of modernist architecture – such as glass exterior walls – are all very well in the Hollywood hills, but they are hardly conducive to privacy in urban settings. Likewise, Frank Lloyd Wright-style flat roofs make sense in dry climates but have an inconvenient tendency to leak in temperate British climes. Paradoxically, modernist 'machines for living' can often become machines for making their architects' livings, little more than exercises in inflating an architect's vanity. Badly designed buildings can be difficult to navigate around and a misery to live in. Residents of the Barbican Centre in London habitually complain of being unable to control their own radiators, having to open windows to counteract excessive heating in wintertime.
Though the casual assumption is that 'Brutalism' refers to an architect's brutalising attitude towards a building's inhabitants, the name actually derives the use of raw ('brut') concrete. Brutalism has had bad press for some time, but Watson explains it was not always so. 'Perhaps the "style" wasn't always appreciated, but the newness compensated for that. In examples of housing, those who moved out of nearby slums couldn't believe the unbridled luxury of running water, electricity, inside bathrooms, large windows and high-rise views. High-rise living was all the rage until the Ronan Point disaster of 1968, in which a gas explosion killed a number of people. With that, and subsequent failures mainly linked to policy, management and underfunding, Brutalism fast fell out of fashion.'
The shabbiness and technical deficiencies of second-rate Brutalist housing schemes during the postwar years have tarnished the style's reputation. 'So much of this architecture became associated with failure – of utopian visions, of the welfare state, and also the failure of cheap imitations of the best of Brutalism', says Watson. The dash for quick and cheap solutions to Europe's postwar housing crisis led to a rash of badly designed – and sometimes fatally flawed – constructions. Buildings in Berlin, for example, have suffered a spate of 'concrete cancer', where poor materials or design have caused concrete to fracture and crumble. Unsurprisingly, Brutalism is widely considered a discredited aesthetic.
Brutalism is in need of champions today. Although the dramatic and handsome Preston Bus Station was granted listed building status in 2013, Watson explains that today other landmark buildings are under threat of demolition. 'This year John Madin's Birmingham Central Library was demolished, which had an inverse-ziggurat form that was immediately recognisable and utterly unique. It's a huge loss to the architectural and cultural life of that city. Other buildings such as the Smithsons' Robin Hood Gardens have long been a battleground. A five-year certificate of immunity from listing has just been confirmed for that site, meaning it is now almost certain it will feel the full force of the wrecking ball in the very near future.' Watson estimates there are only about 100 world-quality Brutalist buildings left in Britain.
The National Trust's Brutal Utopias series of tours are designed to increase understanding of Brutalist buildings by providing visitors with behind-the-scenes glimpses of usually inaccessible areas of London's Southbank Centre and the University of East Anglia in Norwich.
Watson admits that pragmatic compromise might save as many Brutalist buildings as preservation orders will. 'It's better to have an altered Brutalist building than one that's abandoned or demolished. And the National Trust isn't in the business of preserving things in aspic. We make our decisions by seeking to understand and interpret a site's spirit of place – the things that are unique, distinctive and cherished about a place – and we'd be thrilled to see more planners, architects and developers use this process to find solutions that both respect the history and vision of these places, while also giving them new life for the future.'
Just as we would do well to maintain statues relating to controversial historical figures or eras, so we also benefit from keeping good examples of (currently) unpopular architecture. In past eras, fads for demolishing outdated buildings and erecting fashionable ones resulted in the loss of many distinguished and rare buildings. Tastes change and broaden over time, and it is the mark of a sophisticated, cultured society to accept a variety of architectural styles. Just as we now enjoy the sleekly clean and rounded forms of once-derided Art Deco buildings, we cannot predict what architecture the people of 2050 will admire. By demolishing outstanding examples of Brutalism today we are depriving the future of potentially iconic buildings.
Perhaps the best argument for preserving great Brutalist buildings is that they embody the essence of human ambition and commitment to progress. Would mankind have ever made its most dramatic steps forward if it had been shackled with an attitude of cautious compromise, only enacting incremental improvements? Brutalist principles have led to some dramatic failures but also to more buildings which stir the spirit and inspire us even today. That is definitely worth celebrating.
Alexander Adams is a writer and art critic. He writes for Apollo, the Art Newspaper and the Jackdaw. His book The Crows of Berlin is published by Pig Ear Press. (Order this book from Pig Ear Press bookshop.)
Brutal Utopias begins 10 days of tours of architectural sites on 25 September.
Picture by: Banalities
To enquire about republishing spiked's content, a right to reply or to request a correction, please contact the managing editor, Viv Regan.