How the West fuelled the rise of the 'army of terror'
ISIS cannot be understood outside the context of Western intervention.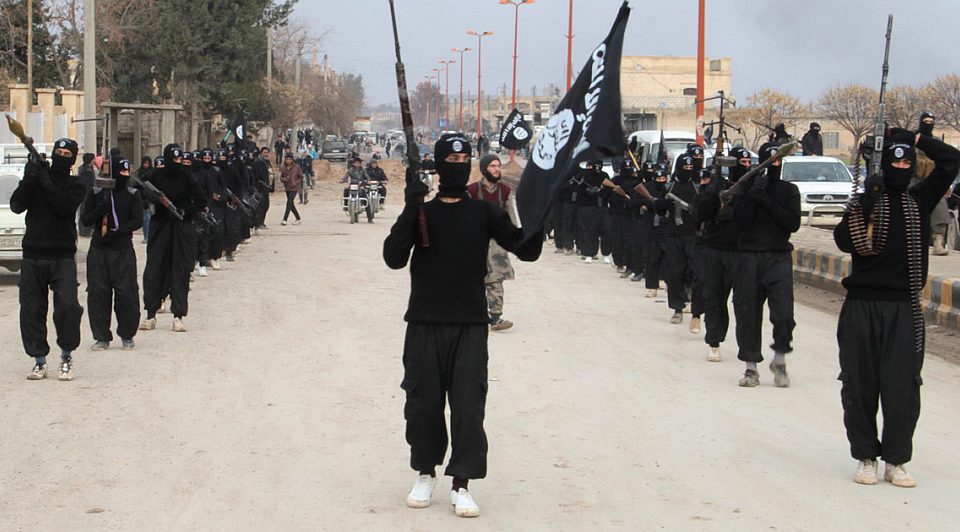 The Islamic State is understandably big news since it exploded on to the jihadi scene a couple of years ago. It has launched campaigns so brutal that even al-Qaeda sent messages telling IS leaders to calm down. It has been at the forefront of the collapse of the Middle East, erasing 100-years-old borders and precipitating possibly the most serious refugee crisis since the Second World War, as millions flee Syria and Iraq. And it has also attracted thousands of Westerners to its murderous cause.
There are now numerous good books contributing to our understanding of post-Cold War jihadi groups such as IS, and several notable contributions are by journalists rather than academics. Guardian South Asia correspondent Jason Burke's work on al-Qaeda, for example, is well worth reading. Veteran Middle East journalist Patrick Cockburn's The Rise of Islamic State is easily one of the best – like all really good journalism, it combines astonishing reportage with an ability to contextualise and analyse broader factors. And now Michael Weiss, a Foreign Policy columnist, and Hassan Hassan, a columnist for the National, have contributed to this growing volume of work with ISIS: Inside the Army of Terror.
The book does exactly what it says on the tin. There is a detailed description of the internecine struggles between al-Qaeda and what became the break-away group that is now known as IS. There is an interesting discussion of the Anbar Awakening, and some insightful points about the way in which many groups joining the fight with IS are more driven by local political and security concerns than devotion to the full IS agenda. Indeed, much of IS's hardline ideology is alien to many Sunnis; but, given the brutal civil war that Western-sponsored Shia leaders in Iraq have waged on Sunni Iraqis, it is not so surprising that IS has appealed to them.
However, as ISIS: Inside the Army of Terror progresses, it becomes apparent that both Weiss and Hassan sign up to the Marco Rubio/Donald Trump school of Middle East political analysis. They seem primarily interested in blaming Iran and Syria for the spread of IS in the Middle East. Iran, we are told with a straight face, is the single biggest backer of terrorism in the region. At other points, Syria seems to have that distinguished position. One could easily come away from this book believing that it is Iran and Syria that are the main sponsors of IS.
So is it true that Iran and Syria have aided and abetted jihadi groups that are also their sworn enemies? Well, yes it is. Iran and Syria have at times bankrolled jihadi groups and tried to use their arch-enemies for domestic and regional purposes. My enemy's enemy is my friend, as the saying goes. Until a jihadi group is not, of course, and Iran and Syria are undoubtedly reaping some of the jihadist whirlwind now. But I've got to break it to Weiss and Hassan: this is standard operating procedure for many states. It is, as we all know, what Western states did in Afghanistan when they used the Mujahideen against the Soviet Union. And, as we all now know, out of the Mujahideen emerged al-Qaeda. Indeed, the West is still funnelling money to jihadists in Syria alongside support for so-called moderate rebel groups, which, it is well known, don't really exist. During the Bosnian war, the US turned a blind eye to Iranian shipments of weapons to the Bosnian Muslims, and also to the arrival of jihadis trained in Afghanistan who fought the Serbs. And the West is currently supporting Saudi Arabia while it sponsors radical Islamist groups to destroy the Houthi uprising in Yemen.
Moreover, it is well known that Turkey has been playing a strategic game with IS until very recently. Live and let live, has been Turkish president Recep Tayyip Erdogan's message to IS; you keep hammering Bashar al-Assad and the Kurds, and we'll turn a blind eye to the IS fighters travelling through Turkey to get to Syria. But Turkey now has its own growing internal IS problem. This may account for Turkey's decision to join in with US-led airstrikes against IS in Syria. Or it may be that joining in the bombing campaign against IS allows Turkey once again to bomb Kurdish forces, as it has been doing. So has Turkey aided and abetted IS? Indisputably. Can we understand the success of IS solely in terms of Turkish policies? Well, no. To do so would present a very partial view of the collapse of the Middle East. So why are Weiss and Hassan determined to foist all the blame on Iran or Syria?
As a matter of fact, it is Saudi Arabia that is the main regional sponsor and supporter of post-Cold War jihadi groups – as Western leaders well know. Of course, Saudi Arabia has also been playing a dangerous game, exporting its militant Islamists throughout the Middle East in the hope of avoiding trouble at home. And yet there are only two references in this entire book to Gulf-state sponsorship of jihadi terrorism. However, can Saudi Arabia's policies account for everything that is going on in the Middle East? Of course not.
Without a doubt, the unravelling of the Middle East and the rise of IS are very much a product of regional conflicts. This has been one of the striking aspects of Middle Eastern affairs recently. Ever since Iraq and Syria collapsed, regional powers such as Saudi Arabia, Turkey and Iran have all been meddling, while the US has been less and less able to exert its will.
There is an elephant in the room in ISIS: Inside the Army of Terror and that is a missing discussion of the role played by the US and its Western allies in the destruction of Iraq and then Libya. The current situation in the Middle East simply cannot be understood outside of the context of the invasion and occupation of Iraq from 2003 onwards, and also the Western intervention in Libya in 2011. One could read this book from cover to cover and barely be aware of the actual invasion and occupation of Iraq by the US and its allies. There is some discussion of aspects of the Iraq War and its aftermath, for example the 2006 'surge' and the Anbar Awakening, but this is all strangely without context. One could be forgiven for finishing this book thinking that US foreign policy was a reaction to the problems posed by jihadist groups, rather than a major contributor to their growth. Yet it was the West's smashing of the Iraqi state (and then the Libyan state) that paved the way for the current disaster, including the rise of 'the army of terror'.
Tara McCormack is a lecturer in international politics at the University of Leicester. She is author of Critique, Security and Power: The Political Limits to Critical and Emancipatory Approaches to Security, published by Routledge. (Buy this book from Amazon(UK).)
ISIS: Inside the Army of Terror, by Michael Weiss and Hassan Hassan, is published by Regan Arts. (Order this book from Amazon(UK).)
To enquire about republishing spiked's content, a right to reply or to request a correction, please contact the managing editor, Viv Regan.