Charles Bukowski: distortion of a dissident poet?
A new Bukowski is set to emerge, free of his editor's heavy hand.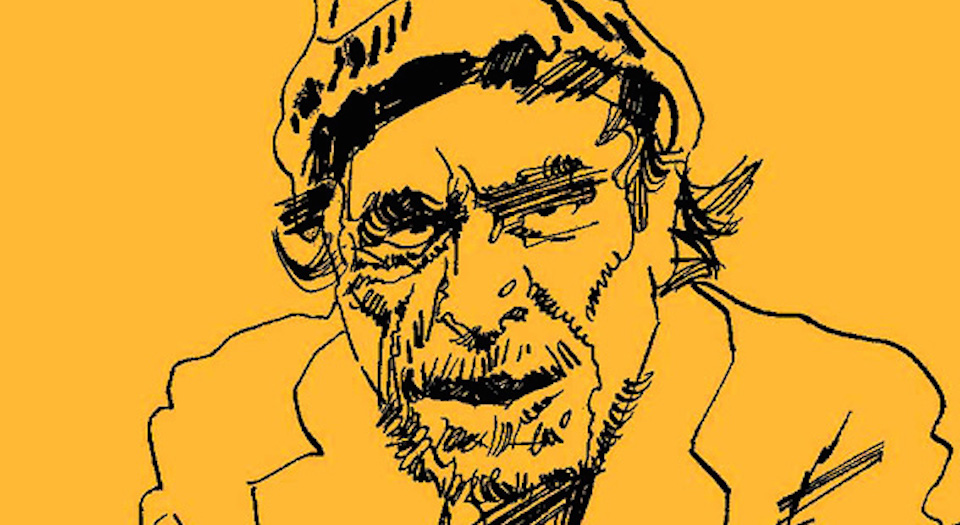 Charles Bukowski (1920-1994) is one of the most distinctive and powerful voices in twentieth-century American literature. Bukowski wrote poems, stories and novels about everyday life. He wrote in a direct laconic manner (using free verse and no rhyme) about sex, drinking, gambling and working tough jobs. He also wrote about nature, music and literature. He listened to Mahler and Tchaikovsky, not rock music. He was deeply sensitive to suffering of all kinds and wrote touching love poems. He wrote movingly about his difficult childhood and craved solitariness more often than he sought company. He was as scornful of the Beats and hippies as he was of academia and authority. His writing is shot through with veins of dry wit and informed by an eye sharp for social foibles. He wrote too much and sometimes produced pedestrian work, but, on the whole, he is a serious writer and a much more complete and far-reaching one than both his critics and fans admit. It is a strange fate that his writing has become throwaway quotes on the virtual pinboards of a million angsty teens and arch hipsters who have never read even one of his books.
During the Fifties and Sixties Bukowski built a reputation as a poet through small presses, publishing in fugitive journals and mimeographed chapbooks. Paid virtually nothing for his poetry, he worked various menial jobs, spending a long spell at the post office in Los Angeles, the city he lived in for most of his life. He became a fixture in the West Coast counterculture, not least through his humorous, scabrous columns for underground papers (which also brought him to the attention of the FBI). The Bell Tolls for No One is a collection of those short pieces published in the underground press and men's magazines. The subjects range from sports, gambling, crime capers, sex adventures and comic scenarios of everyday life. Almost all feature the perennial topic of the battle of the sexes. They have been collected by David Calonne, who has edited other collections of Bukowski's short fiction for City Lights Books. A nice touch is the inclusion in the book of the author's cartoon sketches, drawn to accompany the short stories' original appearance. The cover features a drawing by cult cartoonist Robert Crumb, a long-time Bukowski collaborator.
From the Seventies onwards, Bukowski reached wider audiences through autobiographical novels, including Post Office, Women and Factotum, which are by turns brutal, comic and cruel. By the time Bukowski died of leukaemia, aged 73, his writing had a wide international readership and was gaining increased critical recognition. On Writing, a collection of Bukowski's letters edited by Abel Debritto, charts that rise. It contains Bukowski's letters from 1945 up to 1993 on the subject of writing, his own and that of others. 'There is nothing more magic and beautiful than forming lines across paper. It's all there is. It's all there ever was. No reward is greater than the doing.' He discusses his own writing and casts aspersions on that of other authors. We watch him develop from a young author anxious for acceptance to a literary lion delivering judgement.
On Writing includes letters to and about his publisher, John Martin. Any discussion of Bukowski's career must mention Martin. Bukowski was already an established figure with hundreds of publishing credits and several books to his name when he met Martin, a book collector turned publisher. Martin and Bukowski made an odd couple: Bukowski led a life of stormy relationships, gambling and heavy drinking, while Martin was a happily married, teetotal Christian Scientist. Martin offered Bukowski a stipend of $100 per month for life so he could quit the post office and write full time. (Actually, this amounted to a fraction of what Bukowski earned at the post office, but Bukowski evidently felt that with all income sources combined it would be worth the risk. Besides, mail-sorting was painful drudgery for a man about to turn 50.) Martin's Black Sparrow Press (BSP) became Bukowski's main publisher, producing handsome limited-edition hardbacks for collectors and trade paperbacks for a wider readership. Profits from Bukowski's sales subsidised BSP's loss-making poets. During his last years, Bukowski was receiving a monthly stipend of $10,000, plus extra income from royalties, foreign translations (he was particularly successful in Germany), readings and film rights.
Bukowski was so prolific that, in the years after his death, there was a great quantity of uncollected material from little magazines that were republished by BSP. Some readers felt posthumous BSP volumes did not possess the sparkle that the lifetime publications had. Perhaps it was just the scrapings of the barrel, many thought. But then a few dedicated readers checked their new BSP collections against old magazines and found peculiar discrepancies. Poems in the posthumous collections had been altered from their originally published texts. References to sex and drinking had been bowdlerised or removed; vulgar language had been replaced; punctuation had been inserted and adverbs had been introduced. In some poems, titles had been altered and verses cut. Textual changes seemed to have removed Bukowski's pungent balance of grandiloquence and terseness. What had happened?
While Bukowski could sometimes be cavalier in his approach to writing, his use of language was careful. He learnt a lot from Hemingway: restricted use of adverbs and modifiers, limited diction, short sentences, avoidance of sub-clauses. Anyone who spends time studying Bukowski's writing will notice his fusion of ordinary and artificial is as shrewdly stylised as any other serious poet's writing. The posthumously published poems lack bite and seem slightly stilted. Analysis shows that differences between manuscript texts and lifetime BSP publications were minimal, but in posthumous BSP publications sometimes all poems available in manuscript form had been changed to some degree for republication. The sole editor for BSP publications was Martin.
Bukowski had noted Martin's desire to 'improve' his writing. While reading the first printing of his novel Women, Bukowski noticed changes. He wrote to a friend, Gerald Locklin, on 15 March 1979:
'Like you know, I tell John Martin to go ahead and correct my grammar but this time he went too far. I should have read the proofs more carefully but am lazy. But when the book came out I read it. Shit, man. I guess he thinks I can't write. He threw shit in. Like I like to say, "he said", "she said". That's enough for me. But he threw stuff in, like "he retorted", "he said cheerfully", "I shrugged", "she seemed to be sore". Shit, it goes on and on… There's even one place where a woman had on a green dress and he put her into a blue dress. At least he didn't change her sexual organs.'
Martin blamed 'lazy typists' for the interventions. The second printing restored Bukowski's text.
Editing prose is often necessary and can involve changes to language, syntax, grammar, section order and so forth. Editing poetry is a very delicate business and is usually restricted to minor changes, such as correcting spelling, changing punctuation and capitalisation and (in the case of free verse) altering line breaks. When queried about the editing, Martin has stated Bukowski himself had made changes to manuscripts.
Los Angeles poet and long-time Bukowski enthusiast Michael J Phillips has documented some of the changes by comparing posthumous publications with Bukowski originals. A substantial database of scanned manuscripts provides a resource of unedited texts for comparison. Another page places originals next to edited texts. It is only with the advent of shared scans on the internet that the changes have become apparent, as many of the original printings in obscure magazines are very hard to find.
From these letters it is evident that although Bukowski appreciated Martin's support and was proud of the BSP editions, he had doubts about certain aspects of their arrangement. On Writing contains complaints, some written directly to Martin. Suffocated by Martin's publication rate, Bukowski wrote, 'My energy is being mutilated for your simple profit motive…. This is murder. You are killing me.' On Writing exposes the tensions at the heart of the Bukowski-Martin relationship, like a difficult marriage. In 2002 Martin sold BSP-reprint rights books to Ecco (a division of HarperCollins). He no longer edits Bukowski's work.
On Writing is the first Bukowski volume edited by Abel Debritto. Debritto's study Charles Bukowski, King of the Underground charts how Bukowski became established through his indefatigable submissions and frequent appearances in 'little magazines', which formed an efficient network spreading poetry to a tiny network of poetry enthusiasts (perhaps as few as 4,000 in the whole of the US). Debritto proves that far from being a literary maverick wedded to subversion, Bukowski assiduously submitted to smart quarterlies, glossies and university journals – only to be almost uniformly rejected. The sex magazines provided both large readerships and higher fees for stories than a writer could earn in respectable journals. However, Debritto notes that all copies of the publications seem to have disappeared and would command a fortune at auction if ever discovered – quite a turnaround for an outsider author driven by an unquenchable desire to see his words in print. Debritto's study is a rarity: a literary analysis that whets your appetite to devour the poems and stories he discusses.
Under new editors, such as Debritto and Calonne, a new Bukowski seems likely to emerge.
Alexander Adams is a writer and art critic. He writes for Apollo, the Art Newspaper and the Jackdaw. His book The Crows of Berlin is published by Pig Ear Press. (Order this book from Pig Ear Press bookshop.)
Read Alexander's list of research into posthumous changes to Bukowski's writing here.
On Writing, by Charles Bukowski, Abel Debritto (ed), is published by Canongate. (Order this book from Amazon(UK).)
Charles Bukowski, King of the Underground, by Abel Debritto, is published by Palgrave Macmillan. (Order this book from Amazon(UK).)
The Bell Tolls for No One, by Charles Bukowski, David Calonne (ed), is published by City Lights Books. (Order this book from Amazon(UK).)
To enquire about republishing spiked's content, a right to reply or to request a correction, please contact the managing editor, Viv Regan.