Harvey Proctor has got a point
It is time to end this witch-hunting of old, often homosexual, men.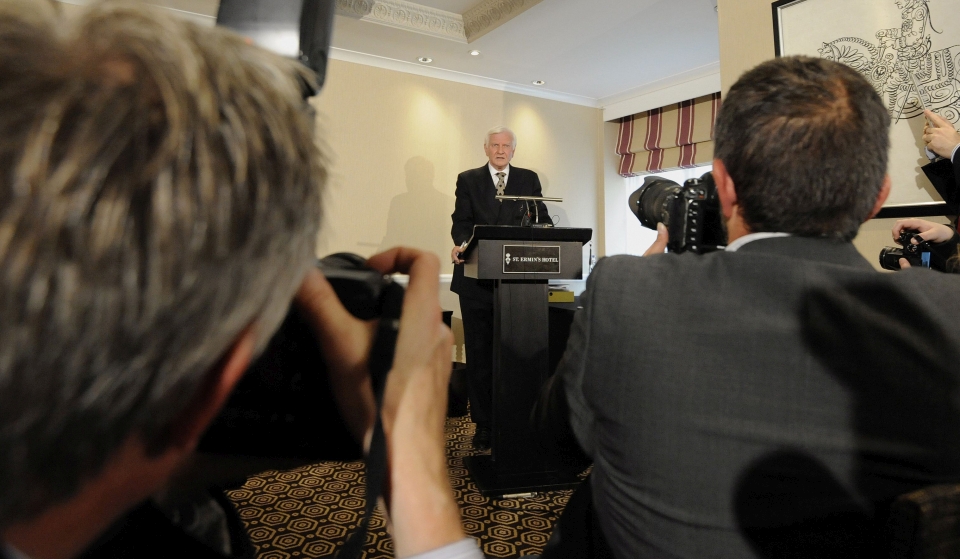 Last week, former Tory MP Harvey Proctor released a statement to the press in which he categorically denied a series of criminal allegations made against him. A man known only as 'Nick' alleged that Proctor was at the centre of a sex-abuse ring responsible for the rape and murder of young boys in the 1970s. Ex-British prime minister Ted Heath was also alleged to have been involved. The police have found no evidence so far to support the allegation. Nick has been granted anonymity and appears in television interviews with his face blacked out. Proctor has never been arrested, but has been voluntarily interviewed. Proctor's statement challenged the police either to arrest him or leave him alone. It suggested that the police were indulging in a 'homosexual witch-hunt, egged on by certain sections of the media'.
Proctor's remarks were extraordinarily brave, and highlighted a number of significant trends in our contemporary justice system. The investigation into Proctor has never really been about establishing the truth of what was being alleged. Of course, what Nick is saying needs to be investigated. But the officer in charge of investigating the allegation against Proctor said at the outset that he believed the allegation to be 'credible and true'. This was a remarkable statement to be made by a policeman, whose job it is to investigate allegations, not assume their truth from the outset. The instinct to believe Nick's allegations has not assisted in any objective investigation of the facts; rather, it has granted an official veneer of credibility to an unproven historical allegation.
Proctor's case is not unique. The recent prosecution of Labour Party peer Lord Janner has followed a similar pattern. Janner has been ruled to be incapable of defending himself against the allegations being brought against him. He is, however, still being prosecuted under an almost obsolete procedure simply to ensure the complainants are given their day in court. The outcome of the case against Janner is already predetermined because of what we know about his mental state. If he is convicted, which is almost certain given that he cannot defend himself, he will receive an absolute discharge, meaning, in effect, there will be no punishment. Many have questioned why an octogenarian man with Alzheimer's should be prosecuted when the outcome of the proceedings is a foregone conclusion.
Both Proctor's and Janner's cases have been pursued in a way that suggests those investigating are more concerned with PR than securing socially desirable outcomes. Both Janner and Proctor are being used as mediums for the police to express their willingness to believe complainants in allegations involving sexual assault. This has become a significant priority for the police after apparent high-profile failures to investigate child abuse properly, including the botched investigation into a paedophile ring in Rotherham. As has been written before on spiked, the drive to 'believe' is becoming increasingly influential in today's justice system.
It's not just the official investigation into Proctor that has undermined justice and due process. The media's treatment of the case has also shown a casual disregard for due process and the presumption of innocence. At a time when society is more sensitive than ever about homophobia and prejudice, the latent homophobia against Proctor has gone almost unnoticed. In an interview on Channel 4 News, Proctor was questioned about his previous convictions for unknowingly sleeping with underage male prostitutes as though this were, in some way, comparable with the allegation that he raped and murdered an underage boy. Despite the fact that we usually refrain from asking those involved in sex cases about their sexual past, certain interviewers seem perfectly happy to parade Proctor's past before him as though it were at all relevant to determining the truth of Nick's allegations. Some legal commentators have pointed out that this casual cross-examination of Proctor by over-eager members of the media may have rendered any subsequent trial of Proctor impossible, given that the jury's view of Proctor's character would inevitably be tainted.
The Proctor case – as well as others involving historical allegations of sexual abuse – reveals how our justice system can be used by the police to show the public their newfound willingness to 'believe'. The problem is that this is not their job. In fact, 'believing' complainants is the last thing the police should be doing. They should be approaching their investigations with neutrality and a determination to explore every possible avenue. They should be testing an allegation as serious as that being made by Nick, rather than just accepting it as truth.
It should not fall to people like Proctor to say enough is enough. We should all recognise that this absurd and barbaric treatment of defendants in these investigations needs to stop. Proctor's public statement should mark the end of the drive to 'believe' at all costs, and the beginning of the reintroduction of fairness and impartiality into certain sections of the justice system.
Luke Gittos is law editor at spiked, a solicitor practicing criminal law and convenor of the London Legal Salon. He is the author of Why Rape Culture is a Dangerous Myth: From Steubenville to Ched Evans. Why Rape Culture is a Dangerous Myth: From Steubenville to Ched Evans. (Buy this book from Amazon(UK).)
To enquire about republishing spiked's content, a right to reply or to request a correction, please contact the managing editor, Viv Regan.