You can't inherit Holocaust trauma
Survivors' children need to free themselves from their parents' past.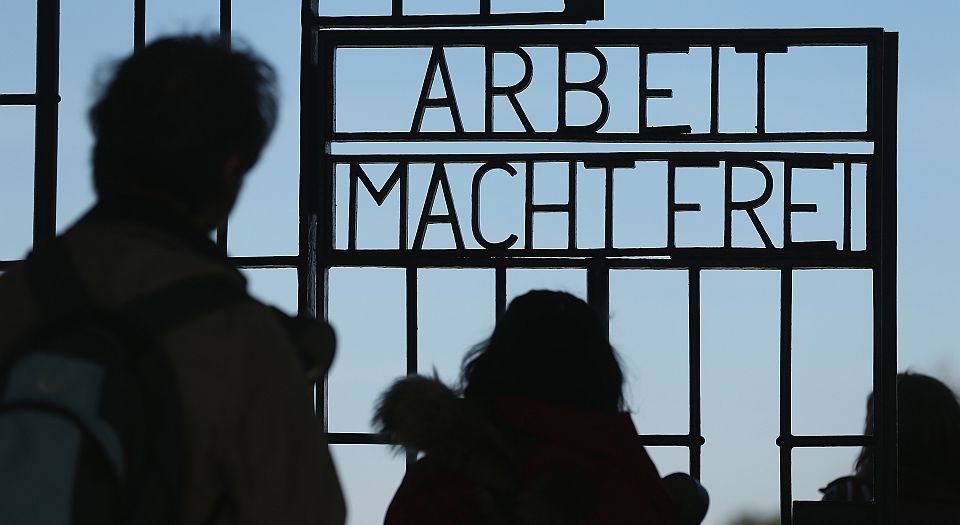 It was only a matter of time before scientists decided that the children of Holocaust survivors are not only psychologically and culturally disoriented, but also genetically altered by the trauma suffered by their parents.
A paper published in Biological Psychiatry concludes there is evidence of the 'transmission of pre-conception parental trauma to child [sic] associated with epigenetic changes in both generations'. The authors claim their research provides a 'potential insight into how severe psychological trauma can have intergenerational effects'. That's another way of saying the trauma experienced by Holocaust survivors leads to genetic changes in their children. As researcher Rachel Yehuda noted, 'the gene changes' observed among the children of the 32 Jewish men and women studied 'could only be attributed to Holocaust exposure in the parents'.
Scientists have become interested in exploring the genetic and physiological influences of the Holocaust on the children and grandchildren of survivors because of the growing trend for seeing victimisation and trauma as intergenerationally reproduced. Researchers' interest has shifted from the survivors of the concentration camps to their children and grandchildren. Hence their elders' direct experience of the concentration camps is perceived as the cause of the emotional pain suffered by subsequent generations.
In recent decades, the claim that the Holocaust continues to traumatise subsequent generations has become so influential that many scientists accept it as a self-evident fact. From this perspective, the role of science is merely to explain the mechanism by which the Holocaust impacts on subsequent generations. Little wonder that numerous research projects are now devoted to measuring the effects of the Holocaust on the children and grandchildren of survivors. One psychologist, Yael Danieli, has worked on developing a survey 'that will help measure the experiences of the children and grandchildren of Holocaust survivors'.
There are several reasons why second- and third-generation survivors are being pathologised in this way. At a time when society has endowed the victim with a quasi-sacred status, many people seek to embrace a victim identity. The Holocaust symbolises the horrors of victimisation. As a result, numerous individuals and organisations have used it as a cultural resource to legitimise their victim identity. As Danieli admits, 'the grandchildren literally forced us to look at them'.
But what does it mean when the grandchildren of survivors demand to be studied as subjects of the indirect victimisation of the Holocaust? The grandchildren are not trying to advance science. Rather, they are looking to science, and, ultimately, to the Holocaust, to provide their existence with meaning.
Those who appropriate the moral status of the Holocaust to construct their persona have every right to do so. What is dubious is the willingness of psychologists and researchers to embrace the claim that trauma can be transmitted from one generation to the next. The very idea of transmitting trauma makes little sense. Trauma is not a state of being that can be transmitted from parent to child. People either directly experience trauma or they don't.
Those who claim trauma can be intergenerationally transmitted often say that parents' child-rearing practices are the medium of such transmission. So, when the concept of the second-generation survivor was originally constructed, the finger of blame was sometimes pointed at an errant parent. Some studies stated that children born to Holocaust survivors became the victims of their parents' own destructive experience. 'These children, now grown men and women, have sometimes been raised in a psychological atmosphere poisoned by the scarring that their survivor parents have brought to their child-rearing tasks', claimed one prominent researcher (1). According to proponents of this thesis, second-generation survivors often grow up in a family atmosphere in which they are stifled by over-protectiveness, shame and mistrust. It is argued, therefore, that traumatised parents damaged the emotional development of their children. As one writer says, 'most members of the second generation whose voices have been heard feel that they have been damaged in some way through their parents' Holocaust experience' (2).
The flimsy basis on which the trauma-transmission arguments are founded has invited the intervention of scientists. They can lend legitimacy to the highly contested assertion about the neverending impact of the Holocaust on survivors and their families. The latest round of genetic and biological research is designed to prove what researchers already assumed was true: a fatalistic vision of the world in which the children of Holocaust victims are the prisoners of their parents' past.
However, whatever scientists discover about the changing genetic make-up of the children of Holocaust survivors, it provides little insight into the meaning and impact of this terrible experience. People's view of their existence, their self-definition as second-generation survivors, is not reducible to their genes. Nor do genetic changes determine how individuals perceive the world. Identity formation is a cultural accomplishment. The attempt to attribute the behavioural patterns of those who identify as second-generation Holocaust survivors to changes in their genes renders people slaves to their genetic destiny.
The Holocaust needs to be understood, rather than experienced as a transcendental, malevolent force that continues to traumatise its targets. Engaging with the tragic consequences of the Holocaust does not demand that it be perpetually treated as a contemporary fact of life. And the children and grandchildren of Holocaust survivors need to define themselves through their own accomplishments, rather than through an experience that has been related to them second or third hand. In other words, they need to grow up.
The relationship between human behaviour and genetics is complex. Science has a responsibility to avoid the kind of advocacy research that sets out to prove what it already suspects to be the truth.
Frank Furedi is a sociologist and commentator. His latest book, First World War: Still No End in Sight, is published by Bloomsbury. (Order this book from Amazon (UK).)
(1) 'The Holocaust and its effect on survivors: an overview', P Chodoff, Political Psychology, 1997, vol 18, no 1, p155
(2) Ian Bloomfield, 'Effects of the Holocaust on the second generation', Counselling, 1997, vol 8, no 4, p288
Picture by: Sean Gallup / Getty
To enquire about republishing spiked's content, a right to reply or to request a correction, please contact the managing editor, Viv Regan.