Can religious freedom survive same-sex marriage?
Five ways same-sex marriage is harming the freedom of faith.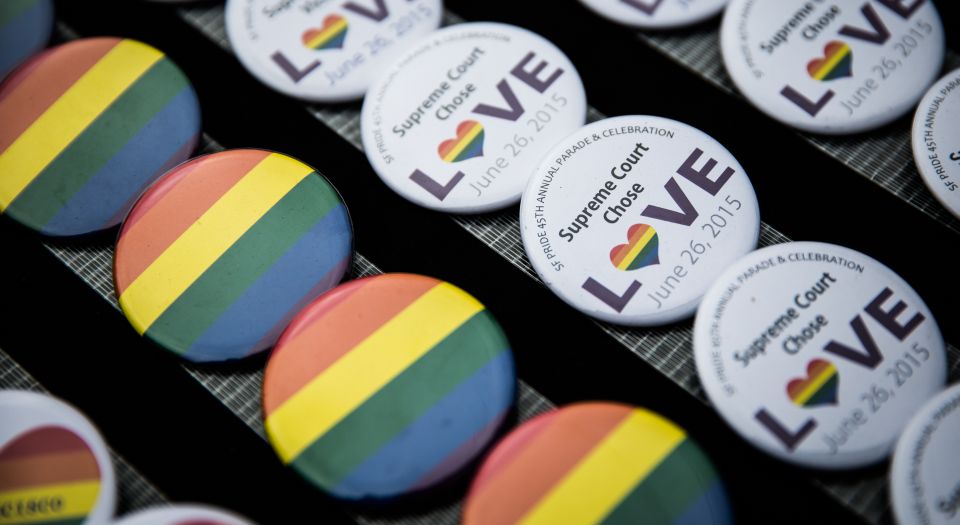 Same-sex marriage presents no threat to freedom of religion, or so we are told. After all, the sky did not fall in the day that the US Supreme Court voted five-to-four, in the case of Obergefell v Hodges, to make same-sex marriage a legal right. On the whole, life went on as normal.
But on both sides of the Atlantic, the evidence is mounting – religious freedom (and freedom in general) will suffer at the altar of same-sex marriage. This is because in the current clamour to legalise same-sex marriage, dissent is not to be tolerated, and opponents of same-sex marriage must be silenced.
Here are five ways in which freedom is – and will be – threatened.
1) The workplace
Anyone involved in work relating to marriage and relationships has faced significant pressure to condone, facilitate and support same-sex marriages – despite the dictates of his or her conscience. In some cases, failure to do so has resulted in the termination of employment.
For example, Lillian Ladele was forced to leave her job as a London-based marriage registrar because she would not officiate same-sex civil unions. Similarly, UK Christian sex therapist Gary McFarlane was dismissed for gross misconduct because he had a conscientious objection to treating same-sex couples.
And other sectors are vulnerable to this process, too. In 2011, Adrian Smith, a housing manager in Manchester, was demoted and had his salary reduced by 40 per cent because he said on his personal Facebook page that same-sex marriage was 'an equality too far'.
What's more, when it was discovered that Brendan Eich, the CEO and founder of internet company Mozilla, donated a small amount of his private income to Proposition 8, a ballot measure to ban gay marriages in California, he was forced to resign. As a columnist for the New York Times explained:
'Many people at Mozilla did not consider Mr Eich's views on gay marriage to be completely irrelevant to his role as chief executive. Even those who argued that he should stay on as chief executive worried that his stance would reduce the company's ability to attract people to their mission.'
Such cases will surely increase if the current trajectory is followed.
2) The marketplace
Same-sex marriage also demands complete orthodoxy in the marketplace; any marriage-related business is under serious threat of being sued and ultimately closed if it does not conform. Bakers, florists, photographers, guest houses, wedding venues and printing companies who have refused to allow their creative talents or facilities to be used to promote or celebrate same-sex marriages have been sued in a number of countries.
The brutal message of these cases is clear: 'If you don't believe in same-sex marriage, then don't run a business involving marriages or relationships.' One can only imagine how much harder it will become for individuals and companies to act according to conscience now that same-sex marriage has been legalised across the world.
3) The public square
Free speech is also under significant threat. Barely a month goes by without another street preacher being arrested on the streets of Britain for daring to read what the Bible says about homosexuality. The same is true on the continent. In 2012, the Bishop of Madrid was investigated by the police for preaching a Good Friday homily that named homosexuality among a list of sins; two years later, a Spanish cardinal suffered a similar fate – as did a Dutch imam and a Belgian bishop.
Although the US First Amendment protects free speech to a higher degree, censorship around this issue still exists – particularly on university campuses and in the media. For example, immediately following the Supreme Court decision, the editorial board of one student paper declared that 'it will no longer accept, nor will it print, op-eds and letters to the editor in opposition to same-sex marriage'.
4) Access to services
If a 'traditional' view of marriage is so intolerable, why should it be given a platform at all? This logic is now being applied to the access of services that are otherwise available to the public. For example, in 2012 several organisations attempted to host a conference on the legal definition of marriage at the Law Society in London. The conference was entitled 'One Man, One Woman', which was the legal definition of marriage at the time. However, the Law Society cancelled the booking, claiming that the conference breached its diversity policy.
Similar calls are being made in the US. My organisation, the Alliance Defending Freedom (ADF), has been actively involved in defending marriage as between one man and one woman across the US. A week after the Supreme Court decision, the ADF hosted a conference in California. Before the event was due to take place, one angry group launched an online petition calling for the conference to be banned, and it quickly gathered over 50,000 signatures. It explained:
'The anti-gay Alliance Defending Freedom is hosting a giant training [sic] in California. They want to train hundreds of lawyers to push for hateful anti-gay laws globally… A global outcry could get [the venue] Marriott to condemn the ADF's anti-gay values and stop the training altogether.'
Nothing came of the petition on this occasion, but time will tell whether this illiberal bullying and hysteria will eventually force those with 'traditional' views from almost every corner of public life.
5) Churches and charities
We are also beginning to see the impact that same-sex marriage is having on private associations – particularly churches and charities.
It is a near certainty that charities in receipt of public funding will soon have to conform to the same-sex marriage mantra or lose their funding. But there is also a possibility that even charities that do not receive any public money will come under pressure for opposing same-sex marriage.
Days after the Supreme Court ruling, Mark Oppenheimer wrote in Time that 'organisations that dissent from settled public policy' should have their tax-exempt status abolished or greatly diminished. After all, the logic goes, why should the public purse subsidise these 'bigoted' dissenters?
There is also a strong likelihood that, if things continue along their current course, even churches will be forced to conform or face the consequences.
In 1989, Denmark became the first country in the world to allow same-sex couples legally to register as domestic partners, and more recently it legalised same-sex marriage. In doing so, the Danish government required the state church to conduct same-sex ceremonies within its churches.
This model is currently the exception, not the rule. But as Denmark was the first country to legalise same-sex unions, it is likely that other countries may follow it down this coercive route in the future.
Conclusion
It is true that the day Obergefell v Hodges was decided, the sky did not fall in. The same was true the day the British parliament enacted the Marriage (Same-Sex) Couples Act in 2013, and the day Ireland voted to change its constitutional definition of marriage in May 2015.
But on both sides of the Atlantic, same-sex marriage continues to restrict religious freedom in far-reaching ways. If members of the public refuse to approve of same-sex marriage, they will be labeled as bigots and shut out of public life.
Given the speed by which all this is happening, it is fair to assume that the worst is yet to come.
Paul Coleman serves as senior legal counsel for ADF International. He is a solicitor of the Senior Courts of England and Wales and has represented many clients before the European Court of Human Rights and other international bodies.
To enquire about republishing spiked's content, a right to reply or to request a correction, please contact the managing editor, Viv Regan.