How to celebrate war crimes: a four-point guide
Croatia shows the world how to get away with murder.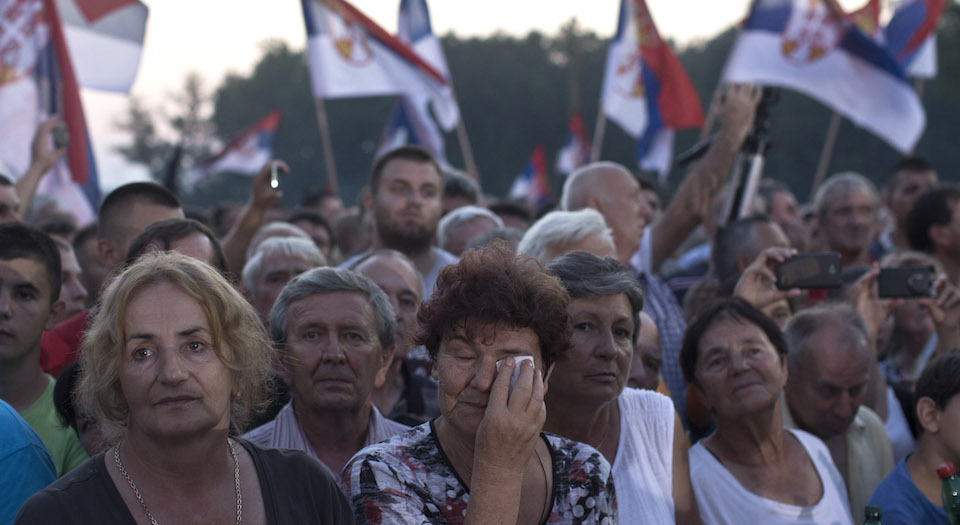 Last week, Croatia gave the world an instructive lesson in how to celebrate war crimes. The occasion was the twentieth-anniversary commemoration of 'Operation Storm', the 1995 military offensive that expelled around 200,000 Serbs from the Krajina region of Croatia, killing about 2,000 of them in the process. Here I distil Croatia's lesson into a handy four-point guide for states wishing to give themselves a hearty pat on the back for past atrocities.
Serbian politicians should take note. Serbia has been getting this wrong for years, which perhaps explains why Croatia has been welcomed as a member of the EU and NATO while Serbia has not.
1) Be as belligerent as possible
When a potentially embarrassing wartime anniversary comes around, don't apologise; get aggressive! Consider staging a big military parade like the one held in Croatia's capital Zagreb last week, complete with tanks and armoured vehicles. Celebrating your attack on civilians as a great military victory sets just the right tone.
You can then follow this up with some more popular events like the concert held in the Krajina city of Knin last Wednesday, where crowds chanted 'Kill the Serbs' and 'We Croats don't drink wine, we drink the blood of Chetniks [Serbs] from Knin'.
Whatever you do, don't go in for any apologetic 'reconciliation' nonsense. Serbia's prime minister Aleksandar Vucic found this out the hard way last month, when he attended a ceremony to mark the twentieth anniversary of the Srebrenica massacre. Apologising for what he called a 'monstrous crime' and blathering on about his 'policy of reconciliation', Vucic was stoned by an angry crowd chanting 'Allahu Akbar'. Well, duh! If only he'd taken a leaf out of Croatia's book.
2) Be proud of your fascist past
Croatia is a world leader in this department, having revived the flag, currency and other symbols of its Second World War pro-Nazi Ustase government in the early 1990s. Of course, it can backfire, as Croatian footballer Josip Simunic found when he was sanctioned for sharing some fascist salutes and chants with an enthusiastic home crowd at a World Cup qualifying match in November 2013. There was also the embarrassing incident of a swastika imprinted on the turf at a June 2015 European Championships qualifier. The whole happy-fascism thing generally goes down better with a domestic audience than an international one. But don't worry too much: if foreigners don't get it, you can always mutter something about ancient medieval symbolism and national identity.
Serbs have again got this terribly wrong. Having been branded as Nazis throughout the 1990s and beyond, they have wasted a lot of energy trying to rebut and repudiate what they regard as a slur on their national character. To be fair, it is difficult to see how they could have done much better, since Serbia is in the tricky position of not having a fascist past to celebrate: whereas the Nazis were welcomed by euphoric crowds when they rolled into Zagreb in 1941, they had to bomb Belgrade into submission. No doubt the Serbs are kicking themselves now for all that 'anti-fascist resistance' rubbish.
3) But don't use the G-word
Remember, labels matter, so while it's fine to go around Sieg-Heil-ing and shouting about drinking the blood of your Untermenschen neighbours, any talk of genocide has to be about what they do, not your own proud record. Croatia's president, Kolinda Grabar-Kitarovic, got this just right when she denounced 'Serbian politicians [who] declare that genocide was carried out during [Operation] Storm against Serbs and compare it with the genocide in Srebrenica'. With a generous hint of sympathy, she advised those misguided Serbs to 'give up on the myths, lies and deception'.
In fact, Serbs probably do dimly recognise the importance of labelling, which is why they have often insisted that Operation Storm was the 'biggest single act of ethnic cleansing' of the Yugoslav wars of the 1990s. The thing with labels, though, is that they have to be big and bold if they're going to stick. This is why the catchy and memorable label for Srebrenica – 'Europe's worst atrocity since the Second World War' – gets used all the time. Find a good label and you don't need to worry about the details. Who cares that the Serbs bussed the women, children and elderly of Srebrenica to safety while Operation Storm targeted civilians? They do genocide, we do liberation!
4) Have friends in high places
Happily for Croatia, it has lots of influential friends, which is why Operation Storm has been widely understood as a Good Thing from the get-go – hardly surprising, since it was carried out with US approval and support. In the media, the Guardian's Martin Woollacott wrote that the attack was 'to be welcomed', describing the killing and mass expulsion of civilians as 'a hold on Serbian aggression' (5 August 1995), while the Independent's editorial said it was 'tempting to feel euphoric' (7 August 1995).
Admittedly, things looked a little dicey for a while, when two Croatian generals were found guilty of war crimes by the International Criminal Tribunal at the Hague in 2011. The commanding officer of Operation Storm, Croatian national hero Ante Gotovina, was sent down for 24 years in a judgement which found that 'Croatian forces committed acts of murder, cruel treatment, inhumane acts, destruction, plunder, persecution and deportation' in a 'systematic attack directed against this Serb civilian population'. Bit of a blip, but not to worry – that verdict was overturned the following year, exonerating the generals and the regime they served.
Unhappy the country that has no such friends! Spare a thought for poor old Serbia, still blamed for everything that happened in the Balkans in the 1990s. Just last month, the US and UK even went to the trouble of proposing a UN resolution about Srebrenica, described by Russia's Vitaly Churkin as a 'destructive document' which 'sought to place the blame on one community'. You can guess which one.
If we're honest, points one to three likely count for nothing if point four is missing. But if you do have friends in the 'international community', rejoice: you can literally get away with murder.
Jason Harrington is a writer based in London.
Picture by: Marko Drobnjakovic / AP / PA Images
To enquire about republishing spiked's content, a right to reply or to request a correction, please contact the managing editor, Viv Regan.