The rage against Uber
In the war on cab apps, the public loses out.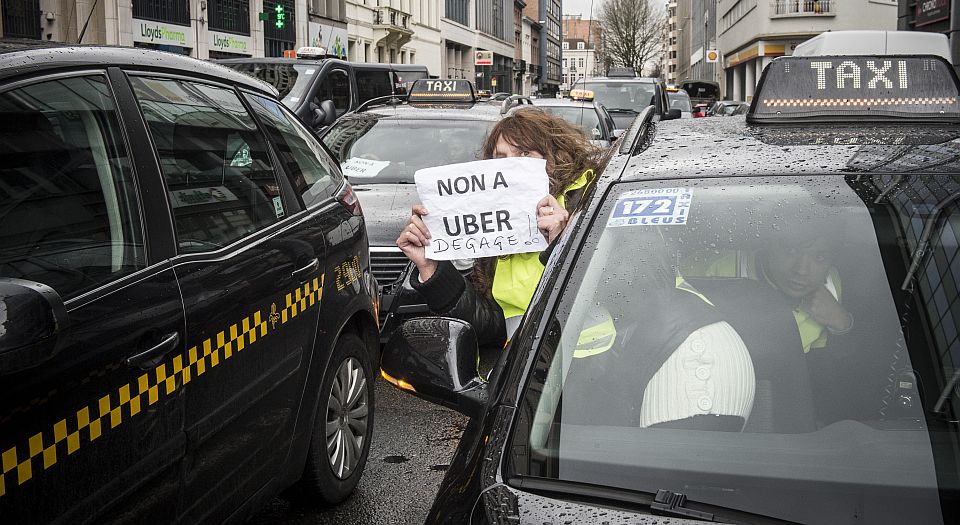 Uber, the private-car-hailing app, has been under siege ever since its market-disrupting operating model proved hugely popular in cities around the world. It has been banned or partially banned in cities in India, the US, Germany, South Korea, Japan, Thailand and South Africa. Meanwhile, licensed taxi drivers have staged protests against the company all around the world.
Critics allege that Uber's practices ride roughshod over the rule of law in many nations. This has led to various challenges or bans, based on the claim that Uber's model, which employs freelance drivers and puts them in contact with potential customers via a smartphone app, isn't conforming to existing laws and regulations. It has been claimed that Uber drivers are effectively employees, and are therefore being denied basic rights and privileges; that Uber is misleading its customers; and that it is failing to pay taxes due.
France's Constitutional Court is due to rule on the legality of Uber's operations in September. The proceedings began after ministers raised concerns about UberPOP, a discount version of the existing app that allows anyone to become a private driver, without any training, and charge for 'ride shares' with members of the public. The app and the entire practice of ride shares were banned by the French government at the end of 2014. However, it was actually still in operation in July 2015, until French taxi drivers started staging huge blockades of the nation's airports and attacking UberPOP drivers, including a car containing grunge rocker Courtney Love. In response, Uber France chose to shut down the app, citing concerns about the safety of its drivers.
Licensed French taxi drivers have complained that Uber is 'unfair competition'. In France, drivers have to shell out as much as €240,000 (£170,000) to get a licence. Meanwhile, Uber drivers, and especially UberPOP drivers, can start working with little or no expense. Since UberPOP launched in France, revenues for licensed cabbies have fallen by between 30 and 40 per cent.
While it is perfectly reasonable to expect companies to obey the law in the countries in which they operate, the rage against Uber highlights how stifling regulation of economic life can be. Prior to the emergence of Uber, complaints of never being able to get a cab during peak times were common in every major city in the world. Uber's sidestepping of licensing laws and other regulations that limit enterprise has enabled it to increase supply and meet demand.
What's more, Uber's cheaper fares have saved customers money, expanded our transport options and provided a source of income for a whole new sector of drivers. While the debate about Uber drivers' pay and employment rights rumbles on, it is clear that banning the service, and forcing these drivers to go through the same costly licensing systems as everyone else, does no one any favours.
It is the competition that Uber provides that is driving its popularity with drivers and customers. But this is precisely what is enraging licensed taxi drivers. Uber is disrupting the private-hire market the world over; it is making a significant challenge to deeply embedded interests in the licensed-taxi community. The licensing of private-car hire is a form of guild behaviour: it raises the cost of entry for competitors into the market; it is policed by state and regulatory bodies; and it limits the pool of providers, ensuring higher revenues at a cost to the consumer. In Brazil, licensed taxi drivers have openly admitted that their main problem with Uber is the impact it has had on their revenues.
While the long-term impact of Uber is not yet known, the evidence suggests it has had a largely positive impact, especially for customers. Uber very quickly gained critical mass in cities such as London, and is now a common travel option for commuters and late-night revellers in the city. Fears that the introduction of Uber would mean more cars on the road and more traffic disruption have not materialised. What's more, the issue of customer safety, which was central to the London Taxi Driver Association's anti-Uber protest in 2014, is a red herring. Safety when using private cars is never guaranteed – even in licensed taxis. But it appears people are quite willing to take a small risk in order to reap the rewards of the service. Licensed taxi drivers in London, as in Brazil, are only defending their economic interests.
The opposition to Uber comes not from concerned customers, or its allegedly put-upon drivers, but from entrenched interests within the licensed-taxi hire industry, from drivers to regulators. The taxi-hire industry sees its own relevance threatened by this new, disruptive technology. History is filled with examples of 'producer' groups defending their (usually privileged) positions in the market by any means necessary. But then, as now, it comes at the ultimate expense of the public, and the kind of innovation that is making all of our lives simpler, easier and cheaper.
Rob Harries is a writer and researcher based in London.
Picture by: Wiktor Dabkowski / DPA/Press Association Images
To enquire about republishing spiked's content, a right to reply or to request a correction, please contact the managing editor, Viv Regan.