Even in America, You Can't Say That!
We need to defend free speech whether it's for Donald Trump or Jerry Seinfeld.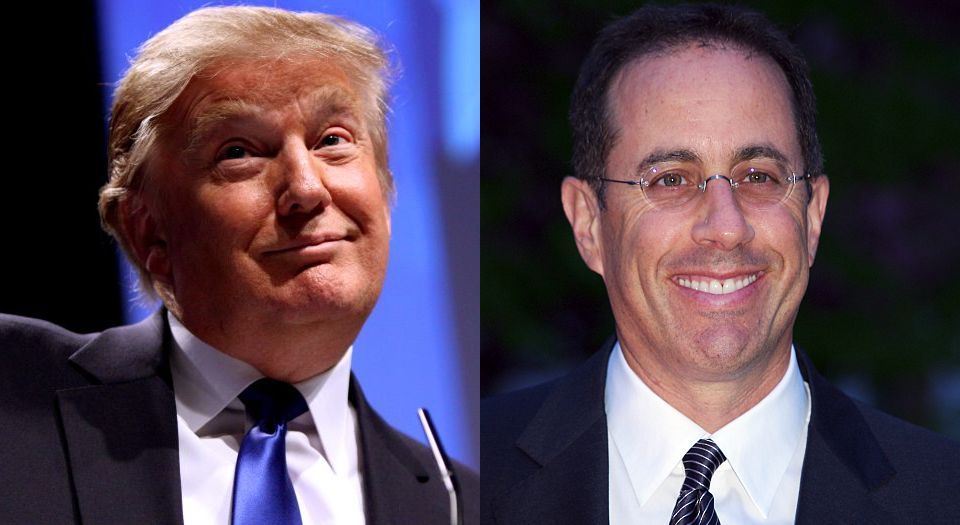 More people are now being arrested and jailed in the UK for what they say or believe than at any time since the eighteenth century. That alone is enough to have some of us over here looking upon the US with admiration and barely disguised envy. In America, after all, freedom of expression still appears safe behind the 14-word barricade of the First Amendment to the Constitution, which declares that 'Congress shall make no law abridging the freedom of speech, or of the press'.
Yet even in the US today, free speech faces new threats. Writing my book Trigger Warning: Is the Fear of Being Offensive Killing Free Speech? (the US edition is published this week), I was struck by how free speech is being challenged by similar trends across Anglo-American culture. The threat comes not from jackbooted political censorship, but from a more insidious culture of conformism chanting 'You can't say that!'.
Here are just three quick examples of where the free-speech wars are being fought in US society today.
In presidential politics
Donald Trump, the 'billionaire buffoon' and Republican presidential hopeful, has been rocking the boat with ridiculous campaign speeches – notably his attack on illegal Mexican immigrants to the US, accused of 'bringing drugs, and bringing crime, and they're rapists'.
Democratic presidential frontrunner Hillary Clinton reacted to The Donald's diatribe with barely suppressed outrage. Her response, however, was not to counter Trump's arguments (such as they are). Instead she effectively announced 'He can't say that!'.
Clinton acknowledged that America does need 'a candid national conversation about race and about discrimination, prejudice, hatred'. Almost inevitably, however, the next word out of her mouth was 'But…'. And the but was that we cannot have the likes of Donald Trump candidly expressing his hatred and prejudice. 'We should not accept it', said Clinton. 'You don't talk like that on talk radio. You don't talk like that on the kind of political campaigns.' Free speech and candid national conversations are all well and good, it seems, so long as you don't say anything disagreeable.
Most revealing were Clinton's reasons for wanting to shut Trump up. Saying 'very inflammatory things about Mexicans', she suggested, could 'trigger people who are less than stable', possibly to launch South Carolina-style racist attacks. Her real fear and loathing was not directed at Trump, but at the Americans who make up his audience and who she apparently imagines as a wooden-headed mob waiting to be set alight by an 'inflammatory' word. As ever, your view of free speech ultimately reflects your faith in humanity – or lack of it.
The Trump affair also confirmed another new threat to free speech in the US and the West: the rise of a clique of anti-free-speech activists who I call the 'reverse-Voltaires', and whose cry turns the French writer's principled support for free speech inside out: 'I know I'll despise and be offended by whatever you are going to say, and I will defend to the end of free speech my right to stop you saying it.' The reverse-Voltaires do not wish to dispute ideas or arguments that offend them. They would rather deny the other person's right to say it in the first place.
Their favourite weapons are the Twitterstorm and the online petition, which they deploy to create an easy impression of public opinion on the march, an invisible army chanting 'You can't say that!'. So it was that online petitions demanding Trump be hounded out of decent society quickly garnered thousands of signatures. In response, everybody from NBC to Macy's caved in and cut their ties to Trump.
Many of us may not wish to defend what The Donald said about Mexicans and much else. But we must defend his right to say it, if free speech is to have any real meaning for us. As Hustler publisher Larry Flynt put it with characteristic bluntness, 'If the First Amendment will defend a scumbag like me, it will protect all of you'.
On the comedy circuit
Jerry Seinfeld recently followed Chris Rock's lead in announcing that the offensiveness police has made it impossible to tell edgy jokes, particularly on college campuses. As Rock put it, student audiences are 'too conservative. Not in their political views – not like they're voting Republican – but in their social views and their willingness not to offend anyone.'
Perhaps more revealing than Seinfeld's comments was the 'You can't say that!' response it provoked. This was typified by a San Diego State college student who wrote him the inevitable 'open letter' lecturing the reasonably successful millionaire comedian about how only comedy routines with the politically correct 'message' can 'work as humour'. The student, Anthony Bertaux, generously conceded that 'provocative humour' dealing with race and gender 'can be crass and vulgar, but underlying it must be a context that spurs social dialogue about these respective issues. There needs to be a message, a central truth behind comedy for it to work as humour.' The message is that the party line counts more than the punchline in deciding whether a joke 'works'. This might seem funny if it were not a serious example of a fashionable disdain for free speech from US college campuses to the comedy circuit.
By its nature comedy is always controversial, pushing as it must at the limits of what passes for taste and decency in any era. That is why there have long been attempts to define 'acceptable' humour and to censor what is not. However, as with other issues in the Anglo-American free-speech wars, the terrain has shifted. Once the complaints were about blasphemous and indecent comedy, and the censors were conservative politicians, policemen and priests. Now the protests are more often against comedians accused of breaking the new taboos – racism, sexism, homophobia, transphobia, Islamophobia, anti-Semitism and the other usual suspects. And the demands to shut them down tend to be led not by old-fashioned prudes but by radical online activists, the liberal media and even other comedians.
We have come a long way since the upsurge of modern radical comedy in the 1960s, when the Jewish comedian Lenny Bruce could be arrested and sentenced to the workhouse in America and barred from Britain for using the word 'cocksucker' on stage. Bruce was posthumously pardoned in 2003 by Republican New York governor George Pataki, who acknowledged how far things had changed. 'Freedom of speech is one of the greatest American liberties', Pataki said, 'and I hope this pardon serves as a reminder of the precious freedoms we are fighting to preserve'.
These days Lenny Bruce is revered as a pioneering comedy hero. Yet if the young Lenny were magically to appear on the New York stage today, what reception might he get? A very mixed one, to judge by the 'shut her down' reaction to the great Joan Rivers before her death last year. His routine about a psychopathic rapist meeting up with a nymphomaniac after they each escape from their respective institutions, or suggestion that he enjoyed sex with a chicken, or description of his audience as 'seven niggers, six spics, five micks, four kykes, three guineas, and one wop', might not get him arrested for obscenity by the US state or barred from entering Britain, but it surely would see him accused of racism and sexism and possibly the abuse of animals and the mentally ill by the outraged illiberal liberals of the 'shut it down' lobby, who would try to have him banned from campuses. And Bruce's insistence that he used the n-word and other offensive epithets 'just to make a point', that 'it's the suppression of the word that gives it the power, the violence, the viciousness', would not wash with the new comedy censors, who claim the right to decide what jokes others should be allowed to tell or to laugh at, all in the public interest of course.
The most bitter free-speech battles these days can often be fought in the muddy lowlands of sport or comedy, far from the cultural highground. The wish to dictate not just what jokes a comedian should tell, but also what we should laugh at, is the clearest conceivable attempt at thought control. What could be more intrusive than the attempt to police something as reflexive as a snort of laughter? The trends towards a more conformist and intolerant world of comedy put at risk one of the most important sorts of release we have left in a dour world. The pulling of comedy's teeth should be no laughing matter. If comedians are not allowed to upset and offend, what chance have the rest of us got?
Inside the American mind
One of the important gains of the Enlightenment was the drawing of a firm line between the private and public spheres of life. The autonomous individual would have a public voice, and a private space in which to think and speak free from the watchful eye of any intolerant inquisitor. That line is now being seriously blurred. There is no place to hide from encroachments on free speech in the US as well as the UK – even, it seems, inside your own mind.
We need only recall the 2014 affair of Donald Sterling, billionaire owner of the LA Clippers basketball team. The US media got hold of a secretly recorded conversation, in which Sterling told a female friend, 'It bothers me a lot that you want to broadcast that you're associating with black people', after she had posted online a photo of her posing with basketball legend Magic Johnson. The nationwide 'secret racism' storm that followed blew Sterling out of the Clippers and the National Basketball Association.
Sterling's words were not defensible. Yet he should never have had to defend them. His offensive words ought not to have put Sterling in the public stocks, because they were spoken in private. The notion of interrogating a person's private thoughts at the point of a hot poker went out with the Inquisition. And a good thing, too. As the English philosopher Thomas Hobbes understood, unlike our public speech, 'The secret thoughts of a man run over all things, holy, profane, clean, obscene, grave and light, without shame, or blame'.
No longer, it seems. Shaming and blaming men for their 'secret thoughts' is now apparently back in style. The result of fudging the line between private and public is disastrous for freedom of thought and speech, as one Washington Post columnist spelt out in response to the Sterling scandal: 'If you don't want your words broadcast in the public sphere, don't say them… Such potential exposure forces us to more carefully select our words and edit our thoughts.' We are now expected not simply to mind our language, but even to 'edit' our private thoughts to make sure they don't infringe on cultural etiquette.
That ought to be a frightening, unedited, thought. Yet things have now gone so far that there was hardly a word of protest raised against the monstering of a public figure for his private words. The novelist Joyce Carol Oates felt moved to ask if she was 'the only person in the US surprised that a private conversation, no matter how ugly, can be the basis for such public recrimination?'. (She wasn't quite the only one – see spiked's excellent coverage – but the minority was small.) In an article headed 'End of Free Speech in America', she asserted the basic truth that in a democratic society we should be free to 'say anything in private, no matter how stupid, cruel, self-serving or plain wrong, and not be criminalised'. It is a dark sign of the times that those sensible words could themselves now seem shocking to many, even in the land of the free and the home of the First Amendment.
Mick Hume is spiked's editor-at-large. His book, Trigger Warning: Is the Fear of Being Offensive Killing Free Speech?, is published by Harper Collins. (Order this book from Amazon(USA) and Amazon(UK).)
Picture by: Wikimedia Commons/Gage Skidmore/David Shankbone
To enquire about republishing spiked's content, a right to reply or to request a correction, please contact the managing editor, Viv Regan.