Turning slavery into the West's original sin
Today's obsession with slavery has more to do with misanthropy than history.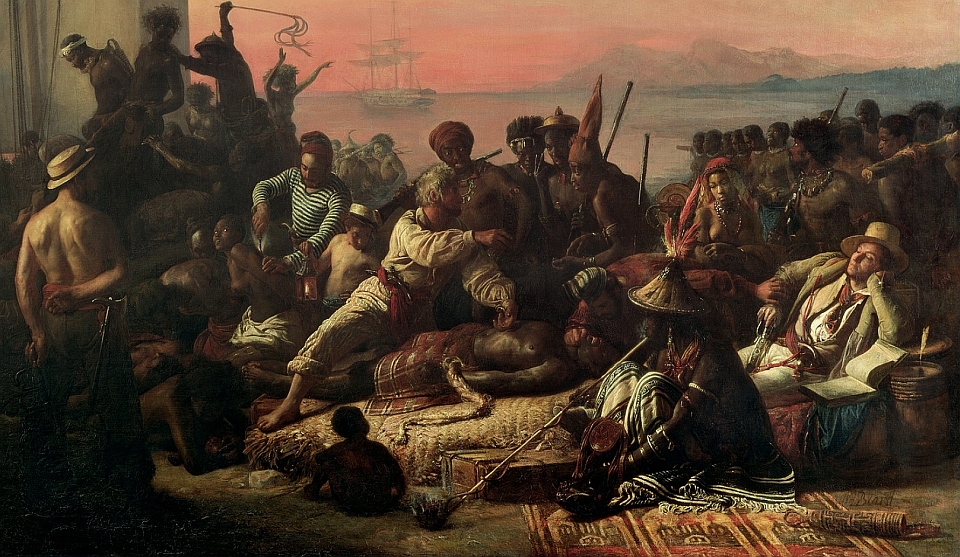 Once upon a time, the historical past was an object of veneration and glorification. A nation's past was often represented as a heroic age, and public figures used to invoke the Good Old Days. But today, the past, national or otherwise, has come to serve a very different purpose. It is invariably presented as a story shaped by malevolence, oppression, exploitation and abuse. It forms a past that demands condemnation, a past of which we are meant to be ashamed. Such sentiments are not confined to a small number of sensation-seeking historians. Popular culture is now dominated by a sense of the past as the Bad Old Days.
Though history is occasionally still used as a PR tool, an instrument of national glorification, it is far more likely to function as a cautionary tale about the moral failings of humanity in general, and British society in particular. The past has become a means for the moral condemnation of people living in the present. Even the horrors of slavery are summoned up to indict and implicate the contemporary world.
Historic slavery as popular entertainment
The transformation of the tragic era of the Atlantic slave trade into a current-affairs item serves as an example of the way in which history is being converted into a moral indictment of the present. There is now a veritable industry in highlighting people's family connections to their eighteenth- and nineteenth-century slave-owning ancestors. The implication of all this is clear: your appalling ancestors and their inhuman behaviour defines who you really are.
Earlier this year, Hollywood star Ben Affleck fully played the part of the guilt-ridden progeny of slave owners. When he agreed to participate in US reality-TV show Finding Your Roots, he did not expect to discover that he was related to slave-owning ancestors. That he then lobbied the show to ditch references to his embarrassing relatives shows that Affleck had fully internalised the conviction that he, as an individual, would be judged by the standards of behaviour of his long-deceased ancestors.
It is not only in the US that the media revel in exposing the connection between prominent individuals and nineteenth-century slave owners. A new online archive of slave owners – part of the Legacies of British Slave Ownership project – has become a resource used by tabloids to embarrass celebs and other public figures. Take the 'scoop' from Brighton's Argus newspaper in April 2013: it informed readers that the ancestors of Samantha Cameron, Lord Gage of Firle Place, Brighton Rock author Graham Greene and Lord Hailsham were all slave owners. It triumphantly announced that 'while it has already been revealed that an ancestor of David Cameron was a slave owner', it was 'not widely known that a distant ancestor of Samantha Cameron, was also a slave owner'.
The language used by the Argus is self-consciously in the mould of yellow journalism. The past is 'revealed', and, in true tabloid fashion, the article signs off with 'Mrs Cameron declined to comment'. The implication of this 'declined to comment' is that Samantha Cameron was either rightly humiliated or else has something sordid to hide.
In January, a Daily Mail headline ran: 'Pictured: brutal Barbados slave plantation where Benedict Cumberbatch's ancestors built their multimillion-pound fortune on backs of "250 negroes".' Just to make its readers aware of actor Cumberbatch's moral failings, the Mail helpfully informed them that it 'can show pictures of inside the plantations where hundreds of men and women toiled as slaves while [Cumberbatch's] ancestors reaped the rewards'. Readers are also told that Cumberbatch had already performed the necessary act of contrition – he had 'revealed his shame at his family history'.
You don't need a PhD in media studies to know that when you read a Telegraph headline that says 'Slaves at the root of the fortune that created Richard Dawkins' family estate', the subsequent account will not be very sympathetic. 'The ancestors of Richard Dawkins, the atheist campaigner against superstition, intolerance and suffering, built their fortune using slaves, it has been revealed', noted the Telegraph. The purpose of this statement is to highlight the contrast between the lofty values upheld by Dawkins and the sordid details of his ancestral origins. His beliefs are not contested through argument; they are morally devalued through Dawkins' origins.
The Telegraph contemptuously draws attention to a man who has 'rallied against the evils of religion, and lectured the world on the virtues of atheism'. But now, we are told, Dawkins 'the secularist campaigner against "intolerance and suffering" must face an awkward revelation: he is descended from slave owners and his family estate was bought with a fortune created by forced labour'. The only conclusion to be drawn from the Mail story is that Dawkins' protests against suffering are the hypocritical musings of a self-serving beneficiary of an ill-gained fortune.
Disorienting the present
The opportunistic manipulation of historical memory is not confined to the score-settling impulse of sections of the media. A recently aired BBC programme, Britain's Forgotten Slave Owners, made a genuine effort to deal with the historical past in a serious manner. Nevertheless, it couldn't help but implicate contemporary Britain in the ancestral legacy of the slave trade. It stressed the all-pervasive nature of slave ownership, how it was normal, and pointed the finger at ordinary middle-class citizens who exploited slave labour. The focus on the normal and everyday aspect of slave ownership was about drawing attention to its all-pervasive character. This point was underlined by Nick Draper, co-director of the Legacies of British Slave Ownership project: 'What has struck us [is the] accumulation of hundreds and eventually thousands of specific imprints left by slave owners across the whole country.' He added that 'very few towns or even villages in Britain have no historical connections at all with slave ownership'.
The claim that virtually all of Britain has a 'historical connection' with slave ownership is, in one sense, irrefutable. But historical connections are just that: historical. The attempt to mobilise historical connections to make a statement about the contemporary world requires more than a helpful reminder that many British people's ancestors exploited slaves. The project of transforming the slave trade into Britain's original sin is not about learning from the past; rather, it is about taking an epic human catastrophe out of context, and eroding the distinction between the present and the past.
The obsession with using an old injustice like slavery as an indictment of the present actually undermines our ability to grasp the historical specificity of the Atlantic slave trade. Modern-day slavery-hunters are remarkably uninterested in the past; their focus is on using historical connections to devalue individuals and communities in the present. A Freudian would call it a displacement activity – an activity that distracts attention from distinctly contemporary injustices.
Our estrangement from the past
Contemporary Western culture has become deeply estranged from its past traditions and history. The past, as we have seen, is often presented as a very dark place where human degradation, abuse, victimisation and genocide were normal features of daily life. One aim of this type of sanctimonious history is to create a moral distance between the present and the legacy of the past. The other objective is to convert the injustices of the past into a moral resource that can be used to claim attention, respect and authority.
If one judges the past in accordance with the norms, values and sensibilities of the present, then what people did in previous centuries will be almost entirely and automatically condemned. Many aspects of the codes of behaviour that guided the past conduct and behaviour of people would be unacceptable to people living in the 21st century. Attitudes and behaviour constantly change. Today, most people regard the physical chastisement of children as a form of abuse. Yet, not so long ago, the failure physically to punish a son was condemned by many as a symptom of parental irresponsibility.
Those who read history backwards in order to demonstrate their moral superiority over the behaviour of people in the past actually evade the question of how to gain moral clarity in relation to the challenges facing society today. Setting right the injustices of our time will not be done through confusing them with the misdeeds of the past.
In principle, one can condemn Ancient Egyptian Pharaohs for mistreating their slaves, or the numerous warlords and kings for massacring their prisoners. Anyone can give an hour-long sermon denouncing Christian pogroms against medieval Jewish communities, the Atlantic slave trade, the Armenian genocide, or the Holocaust.
For some, even remembrance is too provocative. They claim that the very act of commemorating a war is an act of militarism. Last year, for instance, a group of celebrities spearheaded something called the No Glory in War campaign. Fronted by actors Jude Law and Alan Rickman and pop-music boffin Brian Eno, No Glory in War was planning on holding a concert at the Barbican late last year protesting the commemoration of the Great War. 'It was a total disaster that was unnecessary and destroyed a generation', said Eno of the war. Who would disagree with such a banal statement? Who would stand up and say, 'Actually, the Great War was fantastic'? Maybe No Glory in War should rebrand itself as a campaign to state the bleeding obvious.
What we need is an approach to history that respects the distinction between the present and the past; an approach that does not read history backwards or roll the past forward into a contemporary drama. Unfortunately, in a world fascinated by historical crimes, the Biblical sins of the father are interwoven with our own moral failings today. The result is confusion as to what constitutes our responsibility as human beings, and what does not.
Frank Furedi is a sociologist and commentator. His latest book, First World War: Still No End in Sight, is published by Bloomsbury. (Order this book from Amazon (UK).)
Picture by: Wikimedia Commons.
To enquire about republishing spiked's content, a right to reply or to request a correction, please contact the managing editor, Viv Regan.