Donald Trump: a presidential punchbag
In an age of personality politics, The Donald wins hands down.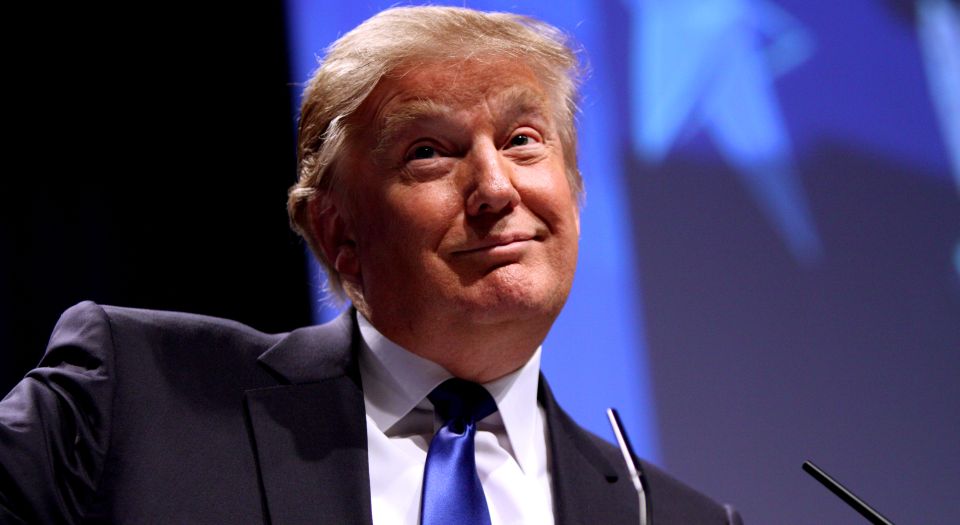 There was a moment last week when it looked like Donald Trump was going to give the Confederate flag a run for its money as America's most offensive symbol.
As the debate over 'that flag' was descending into an absurd game of one-upmanship and corporate self-preservation – TV Land attempting to cancel reruns of The Dukes of Hazzard being one of the most egregious examples – the Trump brand was becoming as undesirable as the General Lee. Companies including NBC (host of Trump's The Apprentice), Univision, Macy's and NASCAR have all chosen to disassociate themselves from Trump brands since the now-infamous remarks he made during his presidential-campaign announcement speech.
Trump, who announced his candidacy for the Republican nomination on 16 June, began his speech by raising concerns about the challenges facing the US today, including foreign trade and immigration. In characteristically blunt language, he described Mexican immigrants as 'rapists' who are 'bringing drugs' and 'bringing crime', before adding: 'Some, I assume, are good people.' He went on to claim that he would build a 'great, great wall' on America's southern border.
It was a speech full of bragging, ego, wacky claims and outright bizarre statements. (This gem stood out for me: 'Islamic terrorism is eating up large portions of the Middle East. They've become rich. I'm in competition with them. They just built a hotel in Syria.') But it was his comments on Mexicans that created the most backlash and which continue to dominate headlines. Given ample opportunity to 'clarify' his comments, Trump has shown no sign of backing down.
Trump's comments on Mexican immigrants were crass, wrong and, one suspects, deliberately inflammatory. By most credible accounts, Trump has no real chance of becoming president, either. But he is dominating the headlines and is seemingly able to dictate the topics of his fellow GOP candidates' stump speeches. What is going on?
First, Trump's poll numbers continue to make Republican Party officials anxious. Fringe candidates like Trump are appealing to a large group of voters who are disillusioned with mainstream politics. With only the Top 10 best-polling candidates making it on to the first televised GOP debate on 6 August, Republican insiders worry that Trump will get in at the exclusion of a 'credible' candidate.
Second, whether liberal observers like it or not, immigration is a concern among many Americans, though not necessarily in the prejudiced way expressed by Trump. People are worried about their jobs and security, and some of what Trump says does resonate with them. Not Trump's suggestion that immigrants are lurking around every corner, waiting to steal people's job or rape them; Trump gives the electorate too little credit with that type of alarmist drivel. But Americans have real worries about their lack of job prospects, and for many Americans the 2008 depression has not yet ended. In fact, without exception, immigration is a key issue for all of the 19 (and counting) declared Republican candidates. While leading Republican candidate Jeb Bush was quick to announce his disdain for Trump, some candidates are more sympathetic towards him. Ted Cruz told NBC on Sunday that he 'salute[s] Donald Trump for focusing on the need to address illegal immigration'.
Among all the cries of outrage and disgust at Trump's views on immigration, there has been a complete lack of robust debate about the merits, or otherwise, of immigration. Leading Democrat candidate Hillary Clinton has promised a 'path to citizenship' for 11million unregistered immigrants, while Cruz has guaranteed to deport immigrants and keep them out. In the GOP, there is constant one-upmanship over who can be the toughest on immigration; meanwhile, the Democrats compete for who can be the nicest to the poor little immigrants. But both sides treat immigrants as either helpless victims or potential devils. What the debate needs is a candidate willing to stand up for immigrants as strong individuals, looking to improve their lives and the lives of their families. Much like those who have aspired to join the American Dream for centuries, immigrants today provide the US with a great opportunity to reinvigorate its flagging economy. Unfortunately, that part of the debate is completely absent.
What's more, Trump has given mainstream candidates an excuse to dodge the big, important issues. It's easy to focus on bashing Trump if it means you don't need to answer those pesky questions on economic stagnation, infrastructure repair or how you intend to deal with ISIS. Those same three issues were raised repeatedly in Trump's speech. Trump decried the state of US infrastructure: 'We're becoming a Third World country, because of our infrastructure.' He talked tough on ISIS: 'Nobody would be tougher on ISIS than Donald Trump. Nobody.' It may be easier to denounce Trump as a racist idiot than to address the concerns he raises, but GOP leaders shouldn't forget recent events in the UK. The political and media elites spent months discounting and disparaging one allegedly racist idiot — Nigel Farage — only to find out that his party attracted 14 per cent of the popular vote at the General Election.
Perhaps the most interesting thing of all in the debate about Trump is the man himself. Trump has created a brand known around the world, with name recognition that most candidates spend millions of dollars trying to create. However, beyond recognition (after all, Clinton and Bush do pretty well on that front, too), Trump is the ultimate embodiment of today's politics of personality. In a race where candidates want to promote their identities over their ideas – think Clinton running as grandmother-in-chief or Jeb Bush the 'Hispanic' – it is no wonder that a man like Trump, the real-estate magnate turned reality TV celebrity, has become the star of the show. In the absence of invigorating political debate, we are left with the politics of identity and personality. And, when it comes to big personality, The Donald wins hands down.
Neil Ross is US programme director at spiked.
Picture by: Wikimedia Commons/Gage Skidmore
To enquire about republishing spiked's content, a right to reply or to request a correction, please contact the managing editor, Viv Regan.