Time to stop patronising the women's game
Women's football will only achieve parity with the men's if we're comfortable slagging games off.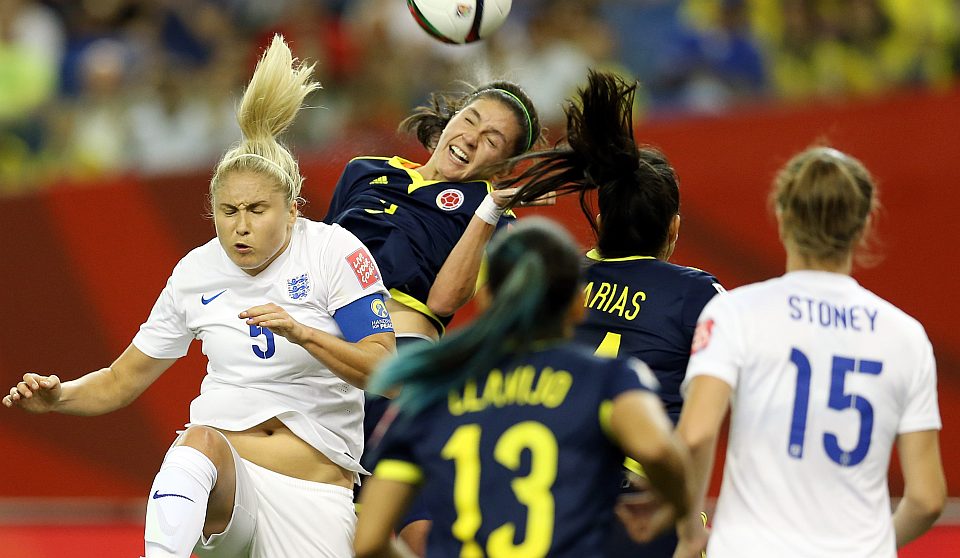 At what point will we know that women's football has arrived? I mean properly arrived. No longer seen as a curiosity; no longer worthily hyped up.
It's starting to happen now. Football pundits on my timeline have been enjoying the Women's World Cup, not because it's the right thing to do, but because they've been hooked on the sporting drama. But, although it is now being taken more seriously, the women's game is still weighed down with metaphorical significance. England's lionesses don't just represent their country, they also carry the burden of representing the whole of womankind. If they fail, it's because women's football is rubbish. If they win, it's because they're playing with passion, national pride and a pure untainted love of the game.
A sure sign that women's football has achieved true equality is when sports writers stop writing articles like this; when we no longer discuss whether the women's game has reached a 'watershed' moment or a 'tipping point'. True parity will only be achieved when we no longer even notice the gender of the players; when we no longer describe France's playmaker Louisa Nécib as the 'Female Zidane'. Equality will have arrived when we just write about the football.
A particularly irksome aspect of the media coverage of women's football is the way it is portrayed as morally superior to the men's game. BBC commentator Jonathan Pearce frequently points out that there's very little dissent or playacting in the women's game. These sentiments were echoed by Glenn Moore in the Independent who pointed out that 'there has been very little diving, barely any dissent and no rolling around in fake agony'. Both the Metro and the Telegraph published listicles on why women's football is better than men's, reeling off the usual catalogue of lazy gripes about the men's game being sullied by money, cynicism, bad behaviour and gamesmanship. I don't see how it helps the cause of equality for the women's game to be used as a moral bat with which to bash the men's game. That's why I was cheering England's unashamed time-wasting tactics against Norway. It showed that the sisters can run down the clock as well as any men's team. And if you think female footballers are innately less aggressive, take a look at the video clip of Colombia's Lady Andrade punching USA striker Abby Wambach in the face during London 2012, or the kicking, punching and hair-pulling thuggery of American defender Elizabeth Lambert.
One of the striking features of the BBC's coverage of the Women's World Cup is that, despite the well-meaning desire to promote the women's game, there's still a strong whiff of condescension about the punditry. Take England's quarter-final against Canada. The game was certainly high on squeaky-bum-time drama, but the quality of football was largely atrocious. Both teams launched aimless long balls, and both were unable to string more than a couple of passes together. If Roy Hodgson's men had played like that, they would have been slaughtered for playing prehistoric 'kick and rush' football. And yet these failings were largely airbrushed out in the commentary. As England grimly hung on to their slender lead, there was barely a murmur of criticism from Jonathan Pearce about England's poor game management. Instead, as the nation bit its collective nails, the discussion turned to food. 'What is quinoa?', he asked his co-commentator Sue Smith.
There have been some high-quality games in the Women's World Cup. The quarter-final between France and Germany was probably the standout game of the tournament, high in technical quality and drama. But there have also been some total stinkers. In the group stages, we saw several horrendously one-sided games. The Ivory Coast and Ecuador were beaten 10-0 and 10-1 respectively by Germany and Switzerland, an illustration of the huge disparity in quality and fitness that exists in a sport that has only been professionalised in a handful of countries. But, just like a non-competitive school sports day, the commentators don't feel able to call out crap football. To me that's just plain patronising. Imagine if the BBC was covering a wretched men's game. Lawro would switch to sneering-sarcasm mode while Alan Green would be lambasting the spectacle as 'woeful'. Paul Scholes described England's recent scoreless friendly with Ireland as a 'waste of an afternoon', while ITV issued a public apology to viewers through its official Twitter account. Would the BBC pundits do the same if they had to sit through an equally forgettable women's game? Not on the evidence of this tournament.
When Daily Mail columnist Martin Samuel had the gall to point out that the quality of the football in the tournament had been poor, he was accused of sexism. But here's the thing: unless we stop treating women's football with kid gloves, it will never be taken seriously as a sport in its own right. In one of the rare non-patronising articles on the tournament, Dave Kidd, writing in the Mirror, said, 'We're not even approaching true equality until England can be criticised without this being seen as a trashing of women's football in general'. I'd go further. The men get booed and pilloried if they flop at a major tournament. But the women just get a condescending pat on the back. Bless, didn't they do well. When the women get booed off by the fans, monstered in the press and trolled on Twitter – when we start to hang effigies of star players outside pubs – that's when true parity will have been achieved.
Duleep Allirajah is spiked's sports columnist. Follow him on Twitter: @DuleepOffside
To enquire about republishing spiked's content, a right to reply or to request a correction, please contact the managing editor, Viv Regan.