Interns, quit your moaning, and seize the day
myInternSwap is not an Old Boys' network 2.0 – it's a good idea.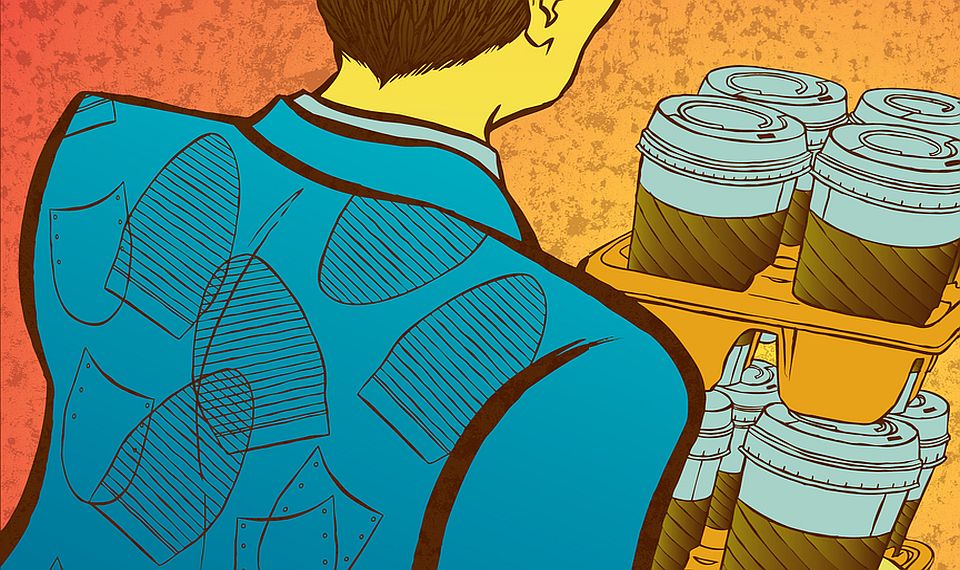 Given the narrative of so-called intern-justice movements like Intern Aware and Interns Anonymous, you'd think that internships were the sole preserve of the elite and well-connected, all but inaccessible for the majority of recent graduates, born without silver spoons in their mouths. Now, a new website, myInternSwap, threatens to 'digitalise' this nepotistic oppression.
myInternSwap allows parents to exchange work experience or internships in their own profession for those in another. So, if you work in finance but your recently graduated son or daughter wants a career in journalism, you can find a parent working in journalism with a son or daughter itching to get into finance, and swap your placement for his or hers.
A win-win, surely? Not according to Tanya de Grunwald, founder of careers website Graduate Fog. Speaking to the Guardian, she said myInternSwap 'encourages parents in managerial roles in desirable professions to trade CV-enhancing career opportunities among themselves, locking out those from less privileged backgrounds'. In a letter to Nick Simmons, founder of myInternSwap, Labour's Andy Burnham wrote that the website should 'act as an "antidote to the Old Boys' network" rather than ending up as the Old Boys' network 2.0'.
A little perspective is needed here. For all the talk of 'locking out' the underprivileged, many of the placements advertised on the myInternSwap would probably not have existed if it wasn't for the website. After all, if the only way to secure an internship is by offering another, myInternSwap provides an incentive for parents to actually create new placements within their organisations. And, as Simmons said in response to de Grunwald's charge of elitism, myInternSwap is 'not restricted to "high-value" or "desirable" professions' – it also covers placements in mid- to low-paying professions, such as the arts, health and education. Far from keeping a limited supply of internships within the hands of an elite, myInternSwap has the potential to enlarge the pool of available placements for all.
But this, for the crusaders against intern injustice, is more bad news. Because, for them, internships are not about skill-enhancement and networking, where hard graft and potentially humiliating tasks translate into opportunity; rather, internships are synonymous with exploitation – a new, insidious form of corporate slavery. Indeed, the handwringing over Old Boys' networks and the alleged inability of poorer students to get their foot in the door often masks other concerns over interns' lack of remuneration. Cue Zoe Williams, writing about the myInternSwap controversy in the Guardian: 'The question is not "who's stitched up internships?"; it's "why should my child have to work for free?"'
A better question is: 'Why should companies – on top of spending valuable resources training people who have absolutely no idea what they're doing – be forced to cough up for your child, too?' A good internship is as much of an investment for the company as it is for the intern: it takes time and effort to train graduates with zero real-world experience of the profession. In exchange, interns are offered a chance at employment within an organisation, networking opportunities, experience of a profession and, at the very least, another valuable addition to the CV. And if, as an intern, you find that none of these things is forthcoming – if your situation genuinely is exploitative – then the solution is simple: leave. No one should work unpaid for no future benefit, but, then again, no one is forcing you to: you needn't remain a perpetual victim of 'the system'. If you really are being exploited, then why stay? Are graduates really this bone-headed?
What really bothers young, agitating interns is the lack of instant benefit: they want immediate reward for their toil. But, if companies are forced to pay inexperienced interns for little immediate return, the whole point of interning will be lost. First, the number of placements will drop drastically: smaller companies simply cannot afford to spend time, effort and money taking on fresh, untrained graduates. But, even worse, internships will no longer bring out in young people those desirable, employer-friendly qualities: initiative, determination and self-drive. Many of the remaining internships really would become unskilled, short-term, poorly paid lackey jobs, where employers cut back on training and allow graduates to make a quick buck without much future gain.
Granted, with most internships based in London, it is tough for those graduates without much parental backing, or a mate's couch to sleep on. But the answer is not to invite the state to meddle in this reciprocal employer-intern trade-off – which will only reinforce the sense among young people that the state is something to be relied upon; rather, it's for graduates to recognise that, on top of a degree, an internship is just another rung on the ladder to success. It's not ideal, and, to finance, it might require some scrupulous saving of the student loan, a cut to the binge-drink fund and a load of part-time work, but it's the best way to demonstrate the qualities future employers want and need. Don't let this whinging about Old Boys' networks and exploitation remove that opportunity.
Blair Spowart is a student at the University of Edinburgh.
To enquire about republishing spiked's content, a right to reply or to request a correction, please contact the managing editor, Viv Regan.