The myth of nationalism's resurgence
Contrary to the post-election fearmongering, nationalism is not on the march.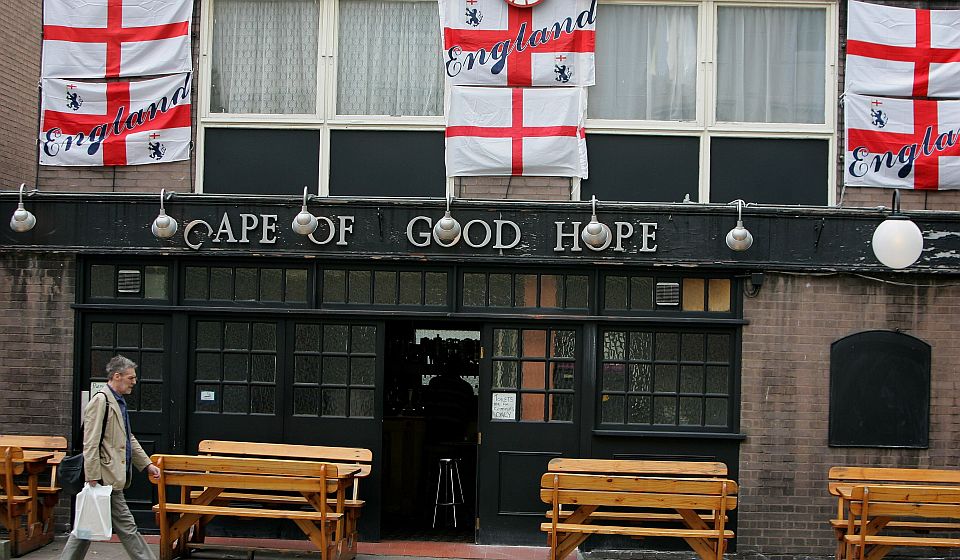 Having spent a few weeks sifting through the wreckage of Labour's General Election defeat, leadership hopeful Yvette Cooper reckons she knows what happened: Labour had ignored the big issues of our time. Uncertainty over Europe was one Labour had dodged, she said. The threat of the Islamic State, another. And, the big one, the rise of nationalism.
Now, there's little doubt that the future of the EU and the success of the black-clad nihilists currently cutting a grisly dash across Iraq and Syria are big issues. They certainly deserved more than a couple of cursory soundbites during what was, admittedly, one of the most airless and empty election campaigns in recent British history – and that's saying something. But the rise of nationalism? A big issue? It just doesn't ring true. Where are these proud, assertive displays of English or, its sibling, British superiority? Where is the burgeoning sense of national purpose around which the natives are excitedly gathered? With what are people even supposedly meant to be identifying? Warm beer and village cricket? Even England's national football team now prompts jaded annoyance and lager-sponsored bunting rather than full-throated, St George's flag-draped support. (As for Scotland, so virulent is the nationalism there that the Nats' vision of post-independence Scotland combines being more deeply enmeshed in the EU with continued allegiance to the queen. It's not exactly Scotland über alles.)
But that's the thing about the likes of Cooper and her Westminster-bubbled friends. So disconnected are they, that they see in the public, in the shifting of the electoral sands, what they want to see – and it's usually something to be frightened of. Hence, at the moment, what they are determined to see is nationalism on the march. For Labour, it's the phenomenon that explains what went wrong, the trend that makes sense of its party-political travails, both in Scotland and in England, and the reason, it seems, for the Tories' electoral success.
This explains the left-leaning hype coming nationalism's way. Thanks to the Conservative Party's 'fanning' of English resentment, wrote one Guardian commentator, 'English nationalism is set to become a mighty force over the next five years'. Ex-Labour leader Gordon Brown thought likewise, and accused UK prime minister David Cameron of 'whipping up English nationalism'. A Mirror columnist also accused the Tories of stoking the flames of nationalism 'to incite a Pictish revolt in a cynical and unprincipled gamble with the future of the UK'. One academic even claimed the existence of 'shy English nationalists' as the force that determined the election.
What's odd, of course, is that given the supposed rise of nationalism, given the belief that Cameron and Co have uncorked the nationalist bottle and intoxicated the nation, you'd expect to see some evidence of this swollen sense of English or British mission, some demonstration of national pride, some identification with the power of the nation state and its ability to project that power across the globe. But it's not there. A few faded flags hanging from windows do not a nationalist resurgence make.
Yes, there is considerable support for a UK exit from the EU. And, yes, immigration is experienced by quite a few as an economic and cultural threat. But such sentiments do not equate to nationalism; rather, they express people's desire for a little bit more control over their lives. Nationalism is something else entirely. As George Orwell put it: 'The abiding purpose of every nationalist is to secure more power and more prestige, not for himself but for the nation or other unit in which he has chosen to sink his own individuality.' This is why, if nationalism really was sweeping the British Isles, and, in the case of Scotland, sweeping the Union asunder, you'd expect just a little bit of enthusiasm for armed intervention abroad. You'd expect there to be a desire to affirm national prestige on the world stage. You'd expect a sizeable majority of people to be pushing for an assertion of national power. Yet all available evidence points in the opposite direction. According to recent YouGov polling, public opinion remains resolutely against any army involvement in any of the world's high-profile, Islamist-affected trouble spots, from Nigeria to Syria and Iraq (between 60 and 50 per cent oppose involvement compared with just 20 to 30 per cent favouring it).
Admittedly, there has been a bit of a shift in favour of drone or missile attacks on ISIS. But that in itself is telling. With such remote-control intervention, the immediate consequences are virtually non-existent, the personal risk absent. What that tells us, in short, is that very few in Britain, or in England or Scotland, have 'sunk their own individuality into the nation' – nobody, that is, really thinks the cause of the nation is worth dying for.
Compare that with the Falklands War in 1982, during which British and English nationalism enjoyed something of a renaissance. Back then, Margaret Thatcher's Conservative government was able to mobilise a fading, but persisting, nationalist sentiment, to semi-militarise British politics. As Mick Hume recalled on spiked, 'it led to the memorable image of a warship returning to port in 1982 displaying a banner warning "Call off the rail strike, or we'll call an air-strike"'. This showed the extent to which vast sections of British society were prepared to rally to the nationalist cause, with opinion polls showing a huge majority in favour of military action, and, more pointedly, in favour of the pursuance of British state interests abroad.
The 'Falklands Factor' may have helped Thatcher back into Downing Street in 1983, but it did not mark a long-term rebirth for British nationalism. If anything, it was a last gasp. With the ebb and end of the Cold War fuelling the British state's increasing insecurity and uncertainty, not to mention its loss of purpose, nationalism lost its moorings – and its support. Indeed, as New Labour's Tony Blair discovered, going in search of national purpose abroad can actually damage your political standing, rather than enhance it.
Still, there is something changing, as shown by the rise of UKIP and the SNP. But it's not nationalism in any traditional sense. After all, nationalism depends on a confident sense of national purpose, a sense that there is something bigger than oneself, embodied in the nation state, with which one can identify. In fact, it's the absence of that 'God, queen and country' sentiment, that something with which people can identify, and in which they can invest themselves, that sheds light on what is really happening. Because what appears to the political and media class as nationalism rising is really the British nation state, its institutions and authority, slowly but surely collapsing. The wellspring for the devolving tendencies we see around us today is not nationalism – it's fragmentation. And it's a fragmentation, a disintegration, that emanates from the hollow centre of British national life, not its supposedly rabid nationalist fringes.
Tim Black is deputy editor at spiked.
To enquire about republishing spiked's content, a right to reply or to request a correction, please contact the managing editor, Viv Regan.