Women's football: still not a spectator sport
No one is watching the Women's World Cup – and it's not because of chauvinism.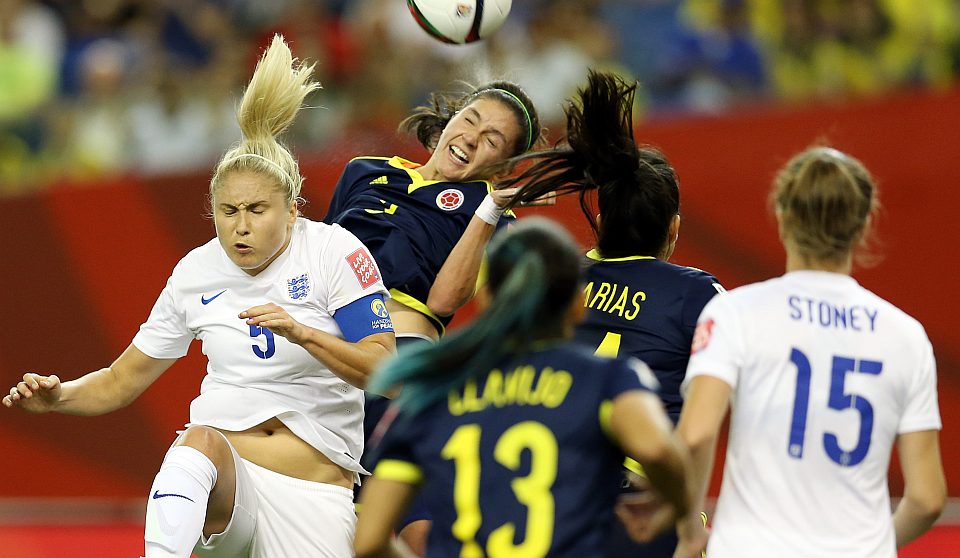 Women's football has been struggling to be taken seriously for years. Its proponents complain that the playing field – in terms of sponsorship, salaries and broadcast coverage – has been uneven. That was certainly true in 1921, when the English FA banned women from playing on the grounds that 'the game of football is quite unsuitable for females'. But do the complaints about the lack of parity ring true today? Clearly, the women's game isn't the lucrative money-making operation that elite men's football has become. But this is due to the logic of the market, not deep-rooted chauvinism.
The antiquated notion that football isn't suitable for women is now plainly contradicted by reality. Women's football is now the most popular team sport for women in Britain – with 1.4million women and girls playing regularly. But, while there has been exponential growth in women's football as a participation sport, it is still yet to take off as a spectator sport. Although attendances are on the up, the average gate at Women's Super League matches in England was 728 last season. Unsurprisingly, many desperately hope that the 2015 Women's World Cup in Canada will spark public interest in the game. This time, the broadcasters can't be slated for ignoring the tournament – for the first time in its history, the BBC will be broadcasting every game live.
I've been following the World Cup games. Look, I'm a football obsessive, ergo I'll watch pretty much any type of football – non-league football, park football, beach football, giraffe football. If there's a round ball and goalposts, I'll probably watch it. But, while I'm glued to the Women's World Cup, hardly anyone I know seems to be smitten with the tournament. I cajoled my daughter into watching the first England match with me, but she quickly got bored and started playing games on her phone. The tournament is certainly not a watercooler conversation topic at her school. Nor is it much of a talking point where I work. I conducted an, admittedly, unscientific survey in the office – that is, I talked to various female colleagues – but none of them had succumbed to women's football fever.
So why has the tournament, thus far, failed to ignite public interest in the UK? Is it because sneering chauvinist attitudes towards the women's game are still pervasive? Or is it because women's football is, well, a bit rubbish. Oliver Holt, writing in the Mail on Sunday, bemoaned the negative reaction to the tournament. 'The misogynists and the fools came crashing through England's hedgerows like a herd of T-Rex that hadn't been fed for a while', he thundered. 'Some of the reaction to the start of a football tournament eagerly awaited by so many was sad, ignorant, arrogant and really rather stupid.' Holt's argument is that women's football should be enjoyed as a sporting contest in its own right, not measured against the men's game. He does have a point. Just because women's football lacks the physical power, pace and athleticism of the men's game, that doesn't mean it can't deliver thrills, spills and skills. Both Nigeria's dramatic 3-3 draw with Sweden and Colombia's shock 2-0 win over France provided great sporting drama.
Part of the problem, I suspect, is that public interest in England is largely dependent on the fortunes of the national team. Women's football is still waiting for its Gazza moment. It doesn't need to be victory – heroic defeat in the semi-finals will do. However, England's limp performance in their opening match against France was a total passion-killer. If the team can progress to the quarter-finals or beyond we might see an upsurge in public enthusiasm. The British public craves those fleeting moments of frenzied communion that major sporting events can provide. The euphoria that swept the nation during the 2012 Olympics illustrated that we Brits can be transformed into face-painted, flag-waving ultras as soon as we catch a whiff of sporting success. Hell, we can go batshit crazy over minority sports, the rules of which we barely comprehend, as long as there's a Brit in with a shout of glory.
If Mark Sampson's team gets within touching distance of the final, we'll be unfurling our St George's flags and dusting off our vuvuzelas. But any outbreak of World Cup flag-waving won't necessarily translate into bums on seats in women's club football. Gazza's tears in 1990 sparked the reinvigoration of a sport that was in the doldrums but still retained mass popularity. I simply don't see a successful World Cup campaign having the same impact on women's club football, which has no dormant fans. This has nothing to do with chauvinism on the part of sponsors or broadcasters. It's simply that no amount of media exposure or marketing can create a culture of watching women's football. If it is to take off as a spectator sport, the women's game has to match the appeal of the men's game. I'm not talking about the quality of football, but about the social dimension – the sense of community and identity that football fandom provides. Women's football is not alone in this respect. Cricket is in a similar situation. The England team is still a box-office attraction, but the crowds – if that's not a misnomer – at county championship games are paltry.
Women's football is developing both in quality and professionalism, but it's time those in the pro and anti camps stopped using the men's game as the benchmark against which to measure its worth. Yes, the derogatory comparisons with men's Sunday-league football are stupid. But, it's also time to drop the specious claims that the women's game is entitled to parity in broadcast coverage, sponsorship or salaries. A sport that can only attract a few hundred spectators to league games cannot expect the same financial rewards as its male counterpart. Women's football deserves to be taken seriously, but there is no God-given right to obscene wages, mock-Tudor mansions and Baby Bentleys.
Duleep Allirajah is spiked's sports columnist. Follow him on Twitter: @DuleepOffside
Picture by: PA images.
To enquire about republishing spiked's content, a right to reply or to request a correction, please contact the managing editor, Viv Regan.