Greenpeace: global warriors against development
Who can blame India for wanting to get rid of these eco-meddlers?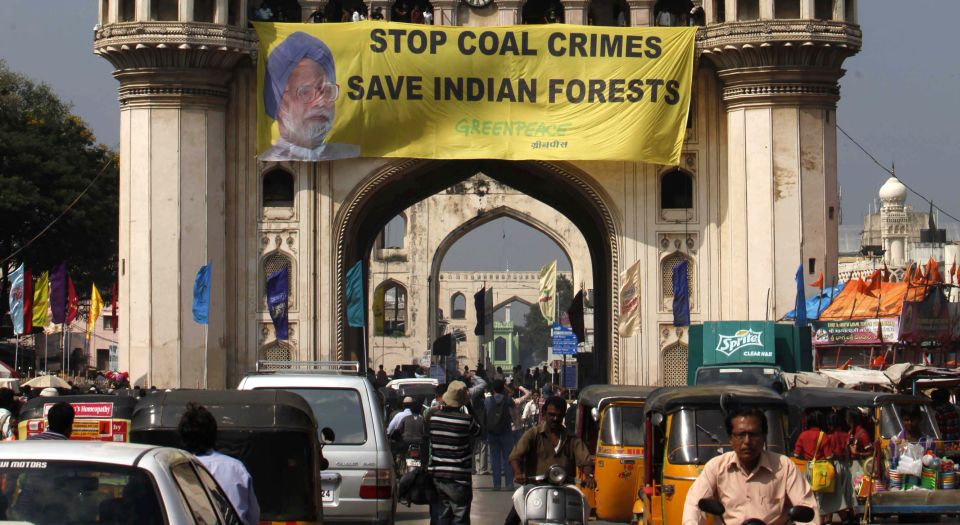 Greenpeace is back in the news. Not because its members have once again dressed up as orangutans or scaled skyscrapers in protest of some impending environmental disaster. This time it's Greenpeace's allegedly unfair treatment at the hands of the Indian government that has hit headlines.
Last week, Greenpeace activist and Australian national Aaron Gray-Block was denied entry into India by immigration officials in New Delhi, who were acting on a directive issued by the Indian government. This wasn't the first time that the government has attempted to scupper Greenpeace's activities. Last year, British Greenpeace activist Ben Hargreaves was also denied entry. Meanwhile, Greenpeace India staffer Priya Pillai was prevented from travelling to the UK earlier this year, where she was set to talk to British MPs about the environmental harm presented by coal mines in India.
Greenpeace is expressing outrage at the clampdown, crying that the Indian government's actions are an affront to freedom and democracy. But, while it is fair to suggest that the Indian government is suppressing Greenpeace's activities in India, it is hard not to sympathise with its attitude towards Greenpeace and its ilk. Besides, cries of censorship and undemocratic behaviour are rather rich coming from an organisation that rejects democratic debate, is not representative of any electorate and would rather appeal to the British state to help curb India's coal-mining activities than attempt to win support from the Indian masses for its cause.
India's National Democratic Alliance (NDA) government, headed by prime minister Narendra Modi, has frozen the bank accounts of Greenpeace India and stopped the inflow of foreign funds. It is also contemplating revoking Greenpeace's charity status. The government, which won an overwhelming parliamentary majority in last year's election, on a manifesto committed to economic growth and development, is accusing Greenpeace of undermining India's economic progress by stalling mining, GM and energy projects.
This is not an unfair accusation, and India is not alone in its distaste for Greenpeace and its high-profile antics. Russia arrested and imprisoned 30 Greenpeace activists for preventing oil drilling in Arctic waters. New Zealand decided to revoke the charity status of Greenpeace because its activists routinely trespassed on private property. In the past few years, Indonesia has also detained, deported or simply refused entry to numerous Greenpeace activists who were campaigning against its palm-oil industry, including Greenpeace UK's executive director John Sauven.
According to Samit Aich, Greenpeace India's executive director, there is a direct parallel between the attack on Greenpeace and India's recent banning of India's Daughter, a documentary about the 2012 Delhi gang rape. Both events, he claims, reflect the Indian government's refusal to face up to the country's problems. Maybe. But a far more likely explanation is that the Indian government does not want Western agendas and prejudices to determine its affairs.
When justifying the decision to deny Sauven entry to Indonesia, Maryoto Sumadi, the spokesman for Indonesia's immigration department, summed it up well: 'It is the right of our country, just like any country, to deny entry to people in accordance with our national interests.' He's got a point. Picture a staunchly republican group of Indian activists, generously funded by thousands of Indians, coming to Britain to disrupt the royal wedding and hector the British government for maintaining such a backward institution. I can't imagine it would go down well.
The Indian government has alleged that international NGOs like Greenpeace are pushing an anti-development agenda drawn up in Western nations. A leaked report from the Indian Intelligence Bureau said that 'a significant number of Indian NGOs, funded by donors based in the US, UK, Germany and the Netherlands, have been noticed to be using people-centric issues to create an environment which lends itself to stalling development projects'. This is all, of course, true. Groups like Greenpeace enjoy the support of the Western political elite, and their campaigns echo elite views and prejudices. As a result, Greenpeace oversimplifies complex issues in foreign countries, ignoring the political and material desires of the people.
While renewable energy might be all the rage in the West, 35 to 40 per cent of the population of India still live without electricity. Coal meets 54.5 per cent of India's energy needs, and 61.5 per cent of the installed power-generation capacity. It also plays a key role in industries like steel and cement. India has the fourth-largest coal reserve in the world, and yet this potential is untapped because of delays and disruption, necessitating the import of coal from Indonesia and Australia. It is ludicrous for groups like Greenpeace to talk about India switching to expensive renewable energy when the country needs cheap coal-fired power in the here and now.
As in most developing countries, big development projects in India are fraught with problems thrown up by displacement, land acquisition, conflicts with locals and tribes, compensation, permits and bureaucracy. Greenpeace often exploits and exacerbates these difficulties. Rather than trying to open up the debate, win the argument and rally the Indian masses to its cause, Greenpeace merely pretends to act on behalf of blighted locals. Greenpeace India may brag that 77,768 Indian citizens donate to its cause, but this is still a minuscule constituency in a country of over 1.2 billion.
Unfortunately, in resorting to using state machinery to restrict the activities of Greenpeace, the Indian government is also guilty of bypassing the demos in order to tackle challenges to its political programme. In the process, Modi's government is also allowing Greenpeace to play martyr. The issues that are stalling development projects in India often centre on the concerns of local populations. These are people that need to be engaged with. It is the vacuum left by the mainstream parties' withdrawal from public discussion of these issues that Greenpeace seeks to fill.
Sadhvi Sharma is a PhD student in the Rajaratnam School of International Studies (RSIS) at the Nanyang Technological University in Singapore.
Picture by: Mahesh Kumar A/AP/Press Association Images
To enquire about republishing spiked's content, a right to reply or to request a correction, please contact the managing editor, Viv Regan.