The Look of Silence: humanity persists
Joshua Oppenheimer's stunning new documentary about the Indonesian purges refuses to pity its subjects.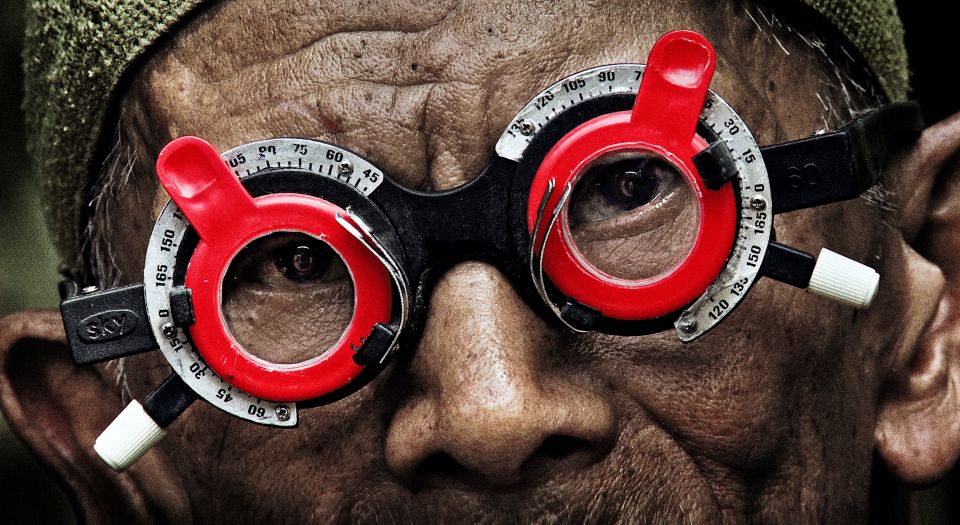 Joshua Oppenheimer has followed up his barnstorming 2013 film, The Act of Killing, with his second docu-art piece about Indonesia's 1965-66 purges, The Look of Silence. At a time when human-rights abuses, genocide and crimes against humanity spark a twisted obsession among metropolitan types, the killing of over a million Indonesian 'communists' – a catch-all that included union workers, dissidents and ethnic Chinese – at the hands of the Suharto military's rent-a-thugs, barely registers in Western imaginations.
There's no mystery as to why. The Suharto coup and the subsequent pogroms were cheered at the time by a West happy to welcome a decisive victory over the yellow-red peril. And, in Indonesia itself – in part, in response to The Act of Killing – the political establishment has only just started to recognise that the purges were anything but a glorious, patriotic struggle.
With both films, which were made in parallel over 10 years, Oppenheimer's goal is not to document an understudied chapter in world history, but to slice through the fug of official lies and lay bare the human tragedy of what happened. However, he comes to his subject, not as a Western-liberal white knight, poised to liberate the consciousness of the pitiable oppressed. Instead, it is the self-revelation of his interviewees, almost all of whom know full well what took place, that takes centre stage.
In The Act of Killing, we were introduced to the purge's perpetrators – gangsters and paramilitary men who, after Oppenheimer offered to make a film about their version of events, happily acted out their crimes for camera, often in lurid costume. It was the mix of this absurdity, along with brief, startling admissions of guilt and regret, which allowed Oppenheimer to hammer home the barbarity of the killings. Now, in The Look of Silence, he turns his focus on to the survivors – not in order to dwell, voyeuristically, on their trauma, but to explore the unnerving experience of living in a society in which the cold-blooded murder of your family and friends is celebrated.
The focus of the film is Adi, a dignified, fortysomething optician, whose older brother, Ramli, was one of the victims of the purges. After managing to escape the first attempt on his life, turning up at his parents' home with his 'guts hanging out', Ramli was recaptured and butchered to death. His murder, as the only one that was, in part, witnessed by civilians, became a symbol of the brutal reality beneath the state-backed lies of militia men. Adi's encounters with those behind his brother's murder form the crux of The Look of Silence. We see Adi watch Oppenheimer's rushes, reeling at interviews in which mass murderers laugh and joke about their crimes. Then, in a series of intense meetings with the ageing members of the death squads, Adi tries to get them to admit to the truth of what happened while, disarmingly, giving them eye tests.
The encounters feel at once perilous and benign. These men, though hunched and wrinkled, still hold positions of power, influence and wealth. Adi's soft-spoken questioning could still have had deadly consequences; at one point, one of the killers admits that, had it been the old days, Adi would not have made it home. But there is a chilly acceptance here, too. Most of his subjects nod along to Adi's characterisation of events – choosing to pass the buck, or simply conclude that 'the past is the past'. Oppenheimer unearths a society that is far from brainwashed by state propaganda, but still willing, nonetheless, to maintain a convenient fiction.
There are times in which these exchanges begin to feel exploitative. At one point, Oppenheimer tries to show the family of a now-deceased militia leader clip after clip of him bragging about his exploits; they twist and turn in their seats. But, ultimately, these encounters are an attempt on the part of Adi to find some sort of reconciliation. This arrives most powerfully when he embraces the daughter of the man who most likely ordered Ramli's death; after hearing Adi's story, there are tears in her eyes.
Oppenheimer, by his own estimation, is not a journalist. He is a filmmaker interested, above all, in images, characters and the human story that exists beneath his historical subject. Balancing an attempt to probe at the truth and evoke deeper emotions can, on occasion, fall into contrivance, aimed at eliciting the required response either from his subjects or from us. But the result is, nevertheless, deeply affecting. He highlights the undiminished resolve of the survivors, especially in the lighthearted deviations from Adi's tête-à-têtes – be it Adi's elderly mother's joking about his decrepit father's odour or his children playing with 'jumping beans', which becomes a recurring theme throughout.
The Look of Silence is a paean to the need to seek the truth, to transcend the tragedies that befall us and to live on. In each of these frames, humanity persists. The result is remarkable.
Tom Slater is assistant editor at spiked. Follow him on Twitter: @Tom_Slater_
Watch the trailer for The Look of Silence:
To enquire about republishing spiked's content, a right to reply or to request a correction, please contact the managing editor, Viv Regan.