Gay marriage: the 'right side of history'?
The redefinition of marriage will do more harm than good.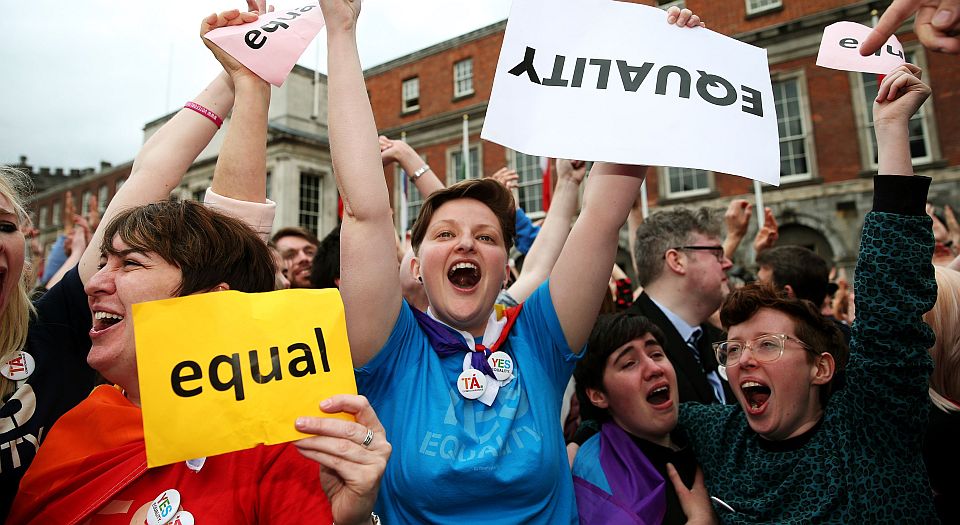 Ireland's recent decision to legalise same-sex marriage has been heralded by some as a turning point in history. In one way, the Irish vote was historic. It was the first time a country ushered in a redefinition of marriage by the process of referendum, as opposed to a parliamentary vote or judicial interpretation.
But did the vote represent a turning point? Is a process now unfolding that will inevitably lead to the gender-neutral redefinition of marriage worldwide? After all, if the supposedly Catholic country of Ireland can legalise same-sex marriage, why can't it be done elsewhere? Why not everywhere?
Indeed, after the Irish referendum, US vice president Joe Biden urged the world to 'keep the momentum going' and proclaimed that 'the progress is undeniable'. But there are a number of reasons why the vote in Ireland needs to be considered more carefully.
Firstly, though you wouldn't know it from all the media hype recently, only a fraction of countries have actually redefined marriage in this way. Currently, less than 10 per cent of the nations of the world allow same-sex marriage, and the vast majority of these countries are in Western Europe.
Secondly, pointing to nations such as Ireland and extrapolating a pattern ignores the strong counter-trends. Indeed, every year for the past four years, a different European country has amended its constitution to clarify that marriage is between a man and a woman.
In 2012, Hungary adopted a new constitution that defines the institution of marriage 'as the union of a man and a woman'. In 2013, Croatia followed suit and amended its constitution to define marriage as 'a life union of a woman and a man'. In 2014, Slovakia's National Council voted 123 to 18 to constitutionally define marriage as 'a unique union between a man and a woman'. And, in January 2015, despite major pressure from the European Union and wealthy Western campaign groups, the Macedonian parliament voted by 72 votes to 4 to amend its constitution to state 'Marriage shall be a life union solely of one woman and one man'.
In addition to these more recent changes, numerous other European countries have retained longstanding constitutional definitions of marriage as between one man and one woman.
But perhaps the most problematic argument in favour of redefining marriage is the idea that to do so is to be on the 'right side of history'. We shouldn't just accept that there is a 'right side of history' and that all those who question same-sex marriage are on the 'wrong' side of it. The 'right side of history' statement is just an appeal to a future that hasn't yet unfolded. It isn't an argument in favour of same-sex marriage, simply an assertion: 'It doesn't matter whether you think redefining marriage is good or bad. It will happen, so make sure you're on the winning team.'
But there are many reasons why pursuing the redefinition of marriage is far removed from pursuing 'the right side of history'. Not least of which is the example of Western Europe, where the most 'progress' is apparently being made. This region can hardly be considered a bastion of good family policy.
Europe's dramatically low birth rates, for example, have been well documented, and the current average of 1.5 births per woman is at least 25 per cent lower than that needed to sustain the population. As a result, the continent is walking into a demographic crisis, and the knock-on effects on the European economy are beginning to be felt. With so few children being born and more and more adults moving into retirement, the troubling implications for future generations are obvious.
And, as European countries try to grapple with new definitions of marriage and the family, the rise of commercial surrogacy and other practices that commoditise children have risen sharply.
Who can legitimately say that in going down this road we are pursuing 'the right side of history'? Instead of calls to follow the 'progress' of Western Europe, we should instead be pursuing a culture that affirms true marriage and recognises its public purpose – namely, to fulfil a child's right to have a mother and a father, not adults' right to demand state approval of their relationships.
Paul Coleman serves as senior legal counsel for ADF International. He is a solicitor of the Senior Courts of England and Wales and has represented many clients before the European Court of Human Rights and other international bodies.
To enquire about republishing spiked's content, a right to reply or to request a correction, please contact the managing editor, Viv Regan.