The teen angst of the Protein World protests
Feminism poses a bigger threat to womanhood than those ads ever could.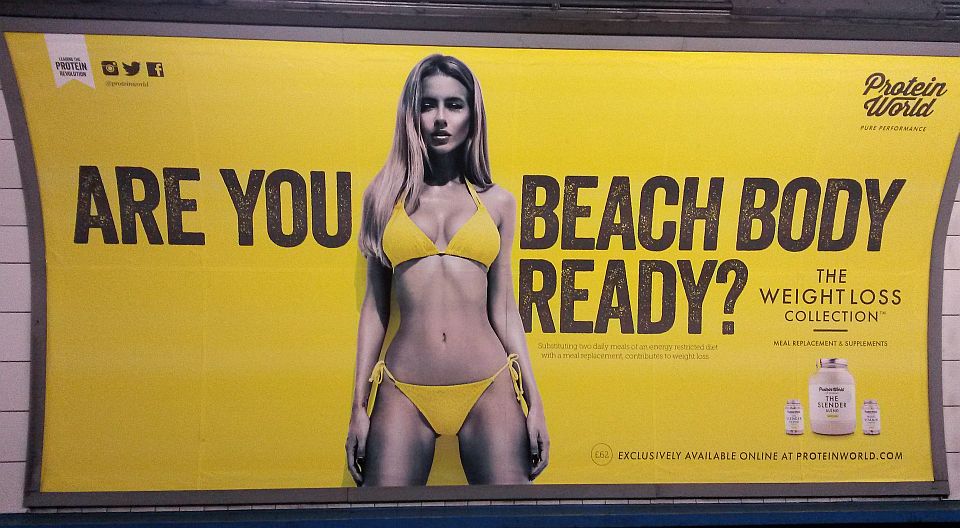 You know you've caused a stir when someone starts a Change.org petition. And, on that basis, the people behind Protein World's latest ad campaign must be pretty pleased with themselves. Feminists everywhere are spitting out their coconut water at Protein World's billboard campaign for diet supplements, featuring a bikini-clad Australian model in front of the words 'Are you beach body ready?'. Cropping up over the past few weeks on the London Underground, the posters sparked outrage and disgust on Twitter.
The feminist commentariat insists that the model, Renee Somerfield, is an unrealistic portrayal of womanhood, and, therefore, the advert could potentially hurt women's allegedly delicate feelings. 'Not everyone's priority is having a "beach body"', fumes the Change.org petition, which has got over 50,000 signatures. 'Making somebody feel guilty for not prioritising it by questioning their personal choices is a step too far.' Now, a demonstration has been organised in Hyde Park on Saturday in protest at Protein World's promotion of 'negative body issues'.
For those who know anything about feminist outrage, this response was all too predictable. However, one interesting difference to this campaign is that those calling for the yellow billboards to be censored make no reference to sex, 'rape culture' or the objectification of women – as is the wont of most feminist-led campaigns. Instead, feminists are challenging the perceived nastiness of the words on the ad. The advert's crime is that it 'body shames' the sort of people Katie Hopkins likes to call 'angry chubsters'.
It's odd that the feminist whinge squad chose to focus their energies on this particular weight-loss scheme. No one made a fuss two months ago when a nationwide government campaign called This Girl Can tried to use the image of women's jiggling arses to encourage us to get out and get active. Before that, the NHS scheme Change 4 Life had ads which effectively told us we were all fat because we didn't realise apples were healthier than Wotsits. So, let's get this straight: it's a terrible insult when a relatively small-time company questions your weight, but when the state tells you how to live and how to look, that's okay?
Attempts to deface the adverts on the London Underground have underlined how painfully pathetic is the rage against these posters. The best the pious vandals could muster was the puntastic '#EachBody'sReady'. Most kept it simple by just scrawling 'FUCK OFF' along the bottom. Contrary to wishful faux-radical thinking, these scrawls of discontent are utterly meaningless. All they indicate is how intolerant some sections of society have become.
The campaign against these adverts reflects feminism's schizophrenic attitude to women's bodies. One minute, feminists are celebrating the sexually liberated slut in a mini-skirt, the next they're celebrating the career woman in the pencil skirt. Torn between a vision of womanhood that is sexually liberated and a vision of womanhood that is sexually enslaved, it's no wonder modern feminists are confused about which type of boobs it is okay to flash.
The reaction to the Protein World posters shows that feminists aren't so much concerned with actual female nudity as they are with how feeble-minded women might interpret these images. The adverts' focus on weight plays, they say, on women's insecurities, harming the female psyche by impressing upon it one, oppressive vision of womanhood. These feminists have, essentially, taken the secondary-school girls' toilet conversation and turned it into a political campaign.
Protein World is not a threat to young women. (Fair play to whoever runs its Twitter account, incidentally, for responding to the critics with a clear-cut '#GetAGrip'.) No, the biggest threat to young women today is modern feminism in all its censorious glory. By insisting that these posters be censored by the state – the petitioners have complained directly to the Advertising Standards Agency (ASA) – these feminists are promoting an image of womanhood that is inherently vulnerable.
The obsequious patronising of women and their bodies is nothing new. At school my friends and I used to hate campaigns that used the word 'curvy' to make us feel good about ourselves. We thought it was just a nice way of saying fat. Young girls will inevitably worry about the way they look, but it's something that most of us (thankfully) grow out of by the time we leave school. But if grown women want to miss meals and chow down on powder, then let them. Banning a poster which advertises where to buy it won't stop them. However, restricting women's choices and attempting to shield them from negative images does encourage young women to take all of that teenage body-image crap seriously. Those going on the demonstration on Saturday are projecting the same vanity and self-obsession as any advert for weight loss. Girls, weight isn't a political issue. Get over yourselves.
Ella Whelan is staff writer at spiked. Follow her on Twitter: @Ella_M_Whelan
Picture by: PA Images.
To enquire about republishing spiked's content, a right to reply or to request a correction, please contact the managing editor, Viv Regan.