Why not let kids walk home alone?
The case of the Meitiv children shows how little adults trust each other.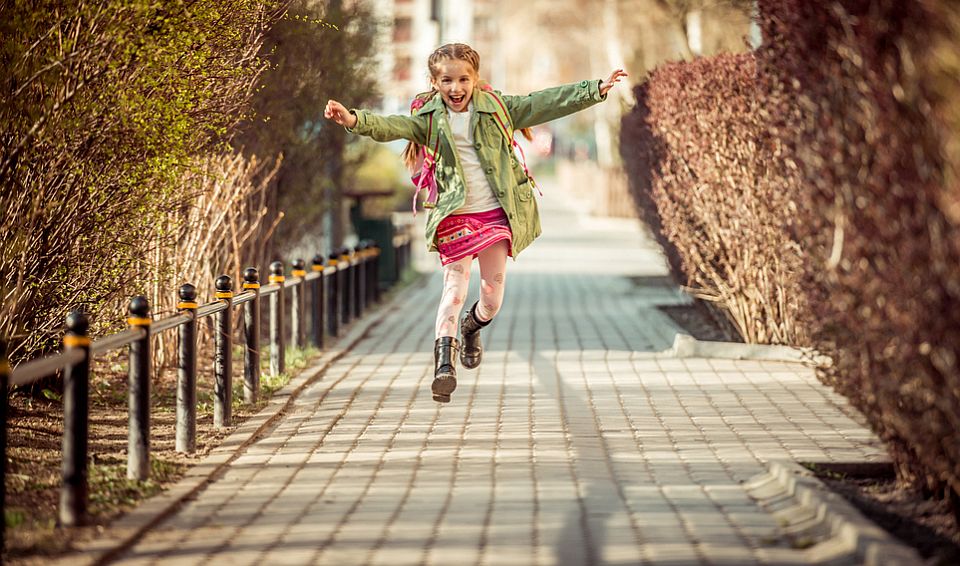 When I started secondary school in 1985 aged 11, it was taken for granted that I'd make the hour-long journey there and back on my own. After all, like every other child I knew, I'd spent the past four or five years playing out in the street or going between park, shops and library, either on my own or with friends.
That November there was a trip planned for the school netball team. It was on a Saturday, no one had to wear school uniform and there would be time to go shopping: we were giddy with excitement like only 11-year-old girls can be. On the day, I left home while it was still dark and went to stand at my usual bus stop. It was cold, I was no doubt dressed completely inappropriately and although I waited and waited, no bus came. The horrible possibility that I wasn't going to get to school on time began to sink in. Eventually a bus did appear, but it had a 'Not In Service' sign displayed at the front. I flagged it down to ask the driver what was happening and he explained that buses ran to a different timetable at weekends and the bus I needed didn't run at all.
I can't remember if I actually cried, but I must have been close to tears. Then the driver told me he was heading back to the depot but would drop me off at school first; what's more, he added, I could keep the fare for extra spending money. With an entire double-decker bus all to myself, I travelled from one town to the next, as the driver, true to his word, took me not just to the bus stop but right into the school carpark. I waved him goodbye and ran off to join my friends with just seconds to spare.
I had a great time on the trip but I never told anyone how I got to school that day. I had a vague sense of having done something wrong but I wasn't sure exactly what. Of course, looking back at this incident three decades later, when stories about paedophilia are a backdrop to everyday life, I see how things could have ended differently. But my trust in this stranger wasn't misplaced and, if I'd remained standing at the side of the road, at best I'd have been cold and miserable.
Today, my own daughter is rapidly approaching the age I was then, but she's unlikely ever to find herself in a similar situation. She'll be driven from home to school for Saturday morning trips and if for some reason she's not, the idea of an unknown adult stopping to help her out is hard to imagine. Even if someone did, she probably wouldn't let them. Sadly, many adults are afraid to engage with children in public; they worry their actions will be misconstrued. Demands that volunteers coming into contact with children undergo criminal-records checks and rules that prevent parents taking photos of their own children at school or the swimming pool contribute to the shadow of suspicion cast over relationships between adults and children. Children are imbued with messages about stranger danger and think twice before asking for help.
The Scottish government plans to take this suspicion a step further and formally appoint a so-called named person, such as a teacher, social worker or health visitor, for every child. These state-sanctioned officials will have responsibility, above and beyond that of the parents, for safeguarding children's development and wellbeing. As Josie Appleton has pointed out on spiked, such an arrangement inserts 'a surveying, coercive authority – a spy – in the midst of every family'. The message behind the named-person proposals is clear: the state does not trust parents to bring up their own children. Many interactions between grown-ups and children are now characterised by this lack of trust and conducted defensively, with adults seeking to cover their own backs rather than spontaneously act in the best interests of the child. Sadly, if children are out in public on their own, some adults are more likely to call the police than talk to either the children or their parents.
In America, the Meitivs are only the most recent in a long line of families to hit the headlines, after a passerby informed the police that the 10-year-old boy and his six-year-old sister were spotted walking unaccompanied on their way home from a local park. The parents believe in allowing their children freedom to explore the world on their own and gain independence – a practice that's become known as 'free-range parenting', but not that long ago was just called family life. As a result of the stranger's interference, the two children, untroubled by a walk they'd made before, were picked up by the police and held for five-and-a-half hours before their parents could see them. The family have not only become a national news story, they are also under the jurisdiction of the Child Protective Services. The supposedly well-meaning person who dialled 911 could have saved the family a great deal of trauma if they'd just asked the children if they were ok, or, if still concerned, spoken directly to the parents.
Children are quick to spot when grown-ups disagree with each other, and involving the police in the Meitivs' family life exposed the lack of trust between different groups of adults and between adults and children. Hopefully the Meitiv children will be allowed to continue walking home from the park unaccompanied but if they are, and ever happen to find themselves in need of help, my bet is that they will think twice before asking a passing adult. Children need freedom to grow up, take risks and gain independence. This freedom is more easily granted when both children and parents see other adults as trusted allies rather than spies or paedophiles lying in wait. Children who grow up sheltered and suspicious of others move from wariness about 'stranger danger' to a fear of 'rape culture'. How sad that if my exciting bus ride were to happen today, the driver would likely lose his job and I might return home to find my parents had been arrested.
Joanna Williams is education editor at spiked. She is also a senior lecturer in higher education at the University of Kent and the author of Consuming Higher Education: Why Learning Can't Be Bought. (Buy this book from Amazon(UK).)
Picture by: Shutterstock.
To enquire about republishing spiked's content, a right to reply or to request a correction, please contact the managing editor, Viv Regan.