They're all guilty of witch-hunting tabloid hacks
The crusade against tabloid journalism spreads far wider than the bungling CPS.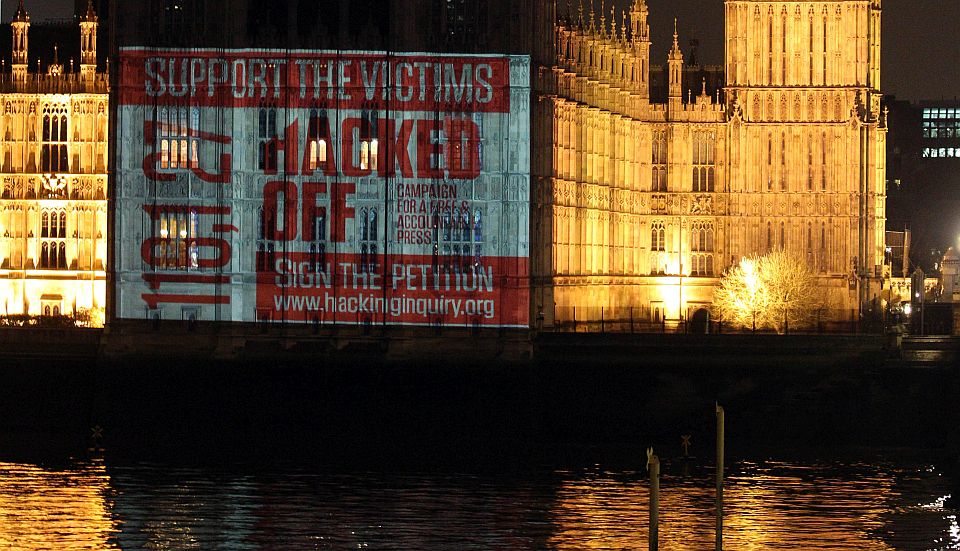 It was a victory for journalism and justice on Friday, when a jury acquitted four more tabloid journalists of trumped-charges of 'conspiracy to commit misconduct in public office', and humiliated prosecutors then abandoned the planned trials and retrials of nine others. Their £20million Operation Elveden stands exposed as the result of a political crusade, if not a conspiracy, to criminalise tabloid journalism. Yet the guilty men and women behind that crusade, launched from the heart of Britain's political and cultural elite, have not yet given up on their campaign to tame press freedom. It is high time they were all held to account.
Sun journalists Brandon Malinsky, Neil Millard and Tom Wells were cleared on Friday, along with former Mirror reporter Graham Brough. The Crown Prosecution Service (CPS) quickly dropped the cases against nine others also charged as a result of the Metropolitan Police's huge Operation Elveden, investigating allegations of corrupt payments to public officials. That means that, of the 27 journalists brought to court under Elveden, only one stands convicted – and he pleaded guilty as part of a deal to reduce his sentence for phone-hacking. (Three Sun journalists still face trial for allegedly paying police officers for information.)
The two other reporters originally found guilty of making payments for information have now had their convictions overturned on appeal. Upholding one of those appeals, which was only able to be reported after Friday's verdicts, Britain's top judge Lord Justice Thomas rebuked the CPS for using the criminal law to pursue journalists in this way. 'What concerns me', said the Lord Chief Justice, 'is the freedom of the press and the desire of officials to contain information. We must ensure the press is protected — we can't use criminal sanctions to undermine their position.'
With even m'lud apparently turning against it, the CPS stands exposed, in the words of the Sun's typically brilliant front page on Saturday, as the 'Crown Persecution Service'. Prosecutors have not only wheeled out a thirteenth-century law to charge public employees for allegedly selling information, but have also effectively made up an additional offence of 'conspiracy to commit misconduct in public office', in order to charge journalists who are not public officials at all. Jurors, however, have refused to convict journalists of such trumped-up charges for doing their jobs by reporting stories that the authorities want to keep secret. As I wrote on spiked when four other Sun reporters were cleared, the cases have proved only that they were '"Guilty" of being journalists'.
Now there are growing calls for CPS chief Alison Saunders to go, accused of leading what even a leading Tory MP says turned into 'a general witch-hunt against the Sun'. Yet we should not allow all the blame to be attached to a few over-zealous CPS officials and lawyers. The authoritarian fiasco of Operation Elveden is only the end result of a campaign to sanitise Britain's unruly press, involving everybody from political leaders and top judges to police chiefs, celebrity crusaders and assorted media snobs. All of them share the same contempt for what one top prosecutor called 'the gutter press'.
The phone-hacking scandal at the News of the World, which exploded in the summer of 2011, provided the pretext for all those for whom the 'popular' in popular press is a dirty word. Under pressure from Labour, the Lib Dems and the Hacked Off lobby for state-backed regulation of the press, Tory prime minister David Cameron announced a major inquiry to be led by Lord Justice Leveson. The Leveson Inquiry would not just look into hacking, but was tasked with probing the entire 'culture, ethics and practice' of the UK press and coming up with proposals for a 'tough' new regulator.
It was the Leveson Inquiry, let us recall, that gave the stamp of official approval to the witch-hunt. It was a showtrial in which the tabloids were found guilty even before proceedings began. The tone was set from the start when Hacked Off's celebrity voiceover artists, Hugh Grant and Steve Coogan, told Lord Justice Leveson that Britain's tabloid press had nurtured 'a culture of pure evil' and that tabloid hacks were 'sociopaths' inhabiting 'an amoral universe'. (This theme was pursued at a recent Hacked Off rally when another former funny man, John Cleese, 'jokingly' compared journalists to murderers.)
Sue Akers, then deputy assistant commissioner of the Metropolitan Police, turned up at the Leveson Inquiry to announce that there was 'a culture at the Sun of illegal payments' – this at a time in February 2012 when nobody at the paper had been charged with, never mind convicted of, any such 'crime'. Moreover, Akers said, Sun journalists had used dubious methods to gain information merely to publish 'stories which I would describe as salacious gossip, not what I would describe as being remotely in the public interest'. In the atmosphere created around Leveson, a top cop felt free to issue guidelines on what sort of news should be deemed fit to publish, as part of the attempt to police the tabloid press.
Meanwhile, outside the inquiry, Akers' colleagues in the Met were putting her words into practice. Acting as what I described as 'the armed wing of the Leveson Inquiry', they arrested more than 60 tabloid journalists. Apparently taking seriously the comparison with violent criminals, police treated these journalists more like suspected jihadists, arresting many of them in dawn raids on their family homes. As Trevor Kavanagh of the Sun wrote after Friday's verdicts: 'Police ransacked homes, held terrified children in their nighties, ripped up floorboards and confiscated bags of private papers, love letters and computers still not returned. Not one scrap of this "evidence" was ever used in court.'
After being left hanging on police bail for years, almost all of those arrested or charged under Operation Elveden have finally walked free, thanks to jurors with the good sense to see through the witch-hunt. Yet the political-legal crusade to tame the tabloids continues.
Leveson's proposals for tighter rules and tougher measures against unruly investigative journalists were endorsed by the political parties. His call for a press regulator backed by law led to a 2013 deal between Britain's political leaders and Hacked Off to impose a regulator underpinned by a Royal Charter – Britain's first system of state-backed press regulation since 1695. When newspaper publishers refused to line up meekly to receive a right royal thrashing, Hacked Off got more than 200 leading figures from the UK's allegedly liberal cultural elite to endorse a demand that the press bend the knee to the Royal Charter.
In the current election campaign, the Labour Party and Liberal Democrats promise to force through Leveson in full if elected – with the clear threat to legislate to force the free press to accept state-backed regulation if it won't vote for its own funeral. The former head of the CPS who launched the Elveden prosecutions, Keir Starmer, is now standing to be a Labour MP in the General Election.
The Lib Dems are also trying to pose as the friends of press freedom, promising to create a 'public-interest defence' in law (which would give judges, rather than the public, more power to decide what should be published) and even to pass a 'US-style first amendment' into UK law. Presumably that law would be along the lines proposed by the Lib Dems' beloved Lord Justice Leveson, who said that it should give the government the right to intervene in media affairs 'insofar as it is for a legitimate purpose and is necessary in a democratic society'. Such a Fox-in-charge of the-Chicken-Coop Act would be nothing like the US First Amendment, which simply states that Congress shall make no law 'abridging the freedom of speech, or of the press'.
The mindset behind the Lib Dem proposals was made clear on Friday when Evan Harris – the ex-MP who reportedly wrote them – went into a little huff in a Guardian readers' comments section after the tabloid journalists were acquitted. Harris insisted that it was not necessarily true that the jurors had acquitted them because they saw a 'public interest' in the tabloid stories. For Britain's illiberal liberals, the 'public interest' must mean the sort of high-minded stuff that they are interested in, not the 'salacious gossip' favoured by the vulgar tabloids and their vulgar readers. As another contributor to that comments' section responded to Harris, 'You must be gutted that several dozen journalists are not in jail right now'. But then Evan Harris, supposed champion of press freedom, is the parliamentary face of Hugh Grant's tabloid-hating Hacked Off.
Amid all the fingerpointing at the CPS today, we should also remember that there has been little or no political or media opposition to the tabloid-hunting crusade that has now gone on for almost four years. The allegedly liberal Guardian has often been in the forefront of the tabloid-bashing ranks, while the BBC has acted as official cheerleader for Lord Justice Leveson, the police and the CPS (and then as chief mourner, when the juries failed to go along with the script). The attitude of the UK's civil liberties lobby was set when the head of Liberty, Shami Chakrabarti, sat on the good Lord Justice's handpicked panel during the Leveson tabloid showtrial – acting more like a member of the Star Chamber than a fighter for press freedom.
It will take rather more than a couple of fresh faces at the Crown Persecution Service or in Scotland Yard to put right all the damage that has been done to press freedom in Britain. We need to remind them all that freedom of speech and of the press must mean exactly that – not the 'freedom' to say and publish only that of which judges, policemen and assorted prigs approve.
Mick Hume is spiked's editor-at-large. His book, There is No Such Thing as a Free Press… And We Need One More Than Ever, is published by Societas. (Order this book from Amazon(UK).) Visit his website here.
To enquire about republishing spiked's content, a right to reply or to request a correction, please contact the managing editor, Viv Regan.