What do we want? To be treated like children!
Recent university occupations expose how infantilised students have become.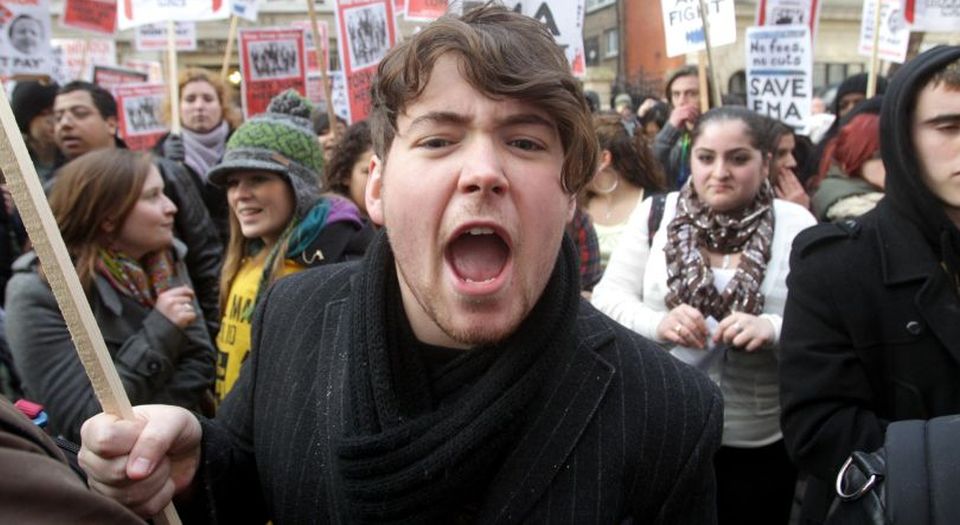 It's springtime in London and the air is once again thick with student revolt and dry shampoo. Over recent weeks, student occupations have sprung up at the London School of Economics (LSE), Goldsmiths, the University of the Arts London (UAL) and King's College London, as shower-dodging young radicals have camped out in meeting rooms, lobbies and academic buildings in what one King's student has dubbed 'a nationwide protest against our increasingly neoliberal, undemocratic and restrictive education system'.
Taking their lead from a similar occupation at the University of Amsterdam, this string of recent occupations began at UAL last month after the university administration announced plans to cut hundreds of foundation-course places in arts and design. A protest resulted in the invasion of a college building, the pulling of the fire alarm and the police being called, before the protesters set up camp at Central Saint Martins. Students at King's, Goldsmiths and LSE soon followed suit.
After giving their respective encampments a suitably twee nickname (LSE students have renamed the meeting room they're held up in 'Free University of London'), the protesters issued their demands. Aside from the odd quirk and spelling mistake, they are all more or less singing from the same hymn sheet, calling for an end to tuition fees, a living wage for all staff, and more student input into decision-making and curricula.
The protests have inevitably been greeted by teary-eyed leftish commentators as a gleeful return to the spirit of '68, or, at least, the spirit of 2010, when students marched on Westminster in their thousands to protest against the coalition government's hike in tuition fees. Owen Jones, who spoke at the LSE occupation, has hailed it as the beginning of a 'broader movement' against Tory-led austerity. But, for all the revolutionary bluster, student radicals and their media cheerleaders seem to be complicit in the same wilful illusion.
With no broader political base, no grander message or strategy beyond some curt demands, student radicals in recent years have struggled to make the HE establishment blink. The 2010 protests petered out before you could say 'fuck fees', and since then student radicals have continued to shrink in influence. Most nights, the LSE occupation, according to the organisers themselves, only has about 10 people in it. Despite the abolition of tuition fees being the one issue (almost) all students agree on, student radicals are, on almost all campuses, the sort of people you cross the quad to avoid.
These occupiers are blaring on behalf of students who are, at best, indifferent to them. If it wasn't for their mates in the media, the occupations would barely be a story. But it would be wrong to say the occupations are insignificant. In their own way, these pongy warriors have at least demonstrated just how pointless and infantile modern student politics has become.
Many have reached for comparisons to the British student occupations in the late Sixties, sparked after a wave of rebellion in Paris and Prague. But this simply doesn't hold up. In 1968, student occupations were mounted at universities including LSE and the University of Essex in response to the Vietnam War and universities' links to repressive regimes in Rhodesia and South Africa. While then, as now, these student radicals were far from history-makers – riven with naivety, a penchant for shouting down the opposition and mired in People's Front of Judea-esque sectarianism – they were at least optimistic and outward looking. They wanted to take control, rattle power and remake the world in their image. Today's student occupiers, by contrast, are only really demanding to be looked after better, and to have their own narrow needs slavishly met.
The shallow obsession with tuition fees is particularly telling. While free university education could well have its place in a broader political project, the demands being made here are incredibly narrow. As Joanna Williams pointed out recently on spiked, the higher-education sector is still heavily subsidised and state-regulated. The cries of 'neoliberalism' are simply untrue. In the end, all these students are really demanding is for free education to be delivered to them by means of a rebalancing of the accounts. This is less a challenge to monolithic capitalism than an entitled whine – an act of consumer protest from students who feel they aren't receiving the service they deserve.
The internalisation of the student-fees hike as a form of 'exploitation' speaks to the infantilisation of student politics. Dig deeper into the demands Occupy Goldsmiths and you'll find yet more indications that all these students want is to be protected like fragile toddlers. Along with some other familiar batshit SU favourites, they demand that trigger warnings be used in all lectures and that a Safe Space policy (cracking down on potentially upsetting speech) is enforced throughout campus. Fans of the recent jazz-hands debacle at the National Union of Students' (NUS) Women's Conference, in which delegates were rinsed on Twitter for insisting that the potentially 'triggering' act of clapping was banned in favour of the old Al Jolson favourite, will be pleased to know that this, too, is standard procedure in Occupy Goldsmiths meetings.
Whether it's from the scourge of neoliberalism or the tyranny of applause, the student radicals of today only really want to be protected. What do we want? To be treated like children! When do we want it? Forever! That is just about the least radical demand there is.
Tom Slater is assistant editor at spiked and coordinator of the Down With Campus Censorship! campaign.
To enquire about republishing spiked's content, a right to reply or to request a correction, please contact the managing editor, Viv Regan.