Porno Britain: have we no shame?
Porn-watchers shouldn't be demonised. But they shouldn't be celebrated either.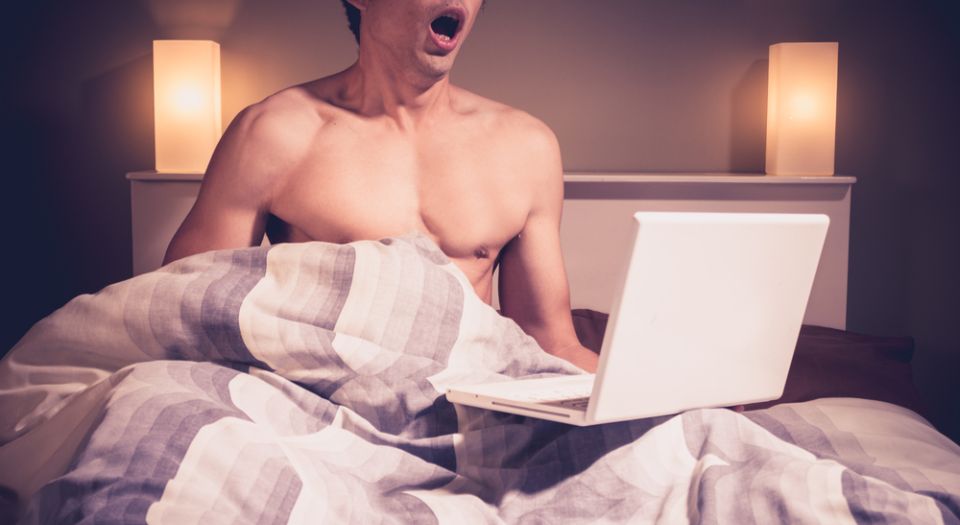 Shame is underrated. As the Easter weekend looms, a million pointless chocolate fasts are broken and we all celebrate Christ's resurrection and the Easter Bunny's birthday, this much-maligned Christian concept is in need of a revival.
No one has any shame any more. Take Labour MP and self-avowed king of Britain's working classes, Simon Danczuk. In the same week in which he gleefully called for Katie Hopkins to be arrested for taking the piss out of his botched photo op, he's admitted, openly, to watching porn.
He was caught out after 'accidentally' favouriting a porn site on Twitter. Danczuk laid the blame with a dodgy iPhone charger, but took the opportunity to fess up anyway. 'Let's be truthful about this. If I am being asked have I ever used porn, then the answer is yes', he said. 'I am a man of the world. I wouldn't deny that sort of thing. I think we should not be too sanctimonious about this.'
And if the image of the Rochdale MP bashing the bishop was still not quite impressed in your mind, the story continued to run and run. Commentators congratulated Danczuk as if he had come out of the closet. In the Telegraph, Martin Daubney hailed him as the most honest politician in Britain. Owen Jones said it made Danczuk, his long-term rival for the role of self-avowed king of Britain's working classes, more human.
Unsurprisingly, Danczuk's wife, Karen, the Labour councillor notorious for her cleavage selfies, also got stuck in: 'Come on, if you're not watching it yourself you really need to. It's healthy.'
This scandal-that-wasn't reflects just how acceptable porn has become. Similar revelations a few weeks ago that three top-flight judges had been perusing naughty sites on the job was met with the same, 'haven't we all…' nonchalance. Aside from the ongoing concern about the ease with which children can access the hard stuff, it seems that porn is officially the new normal.
Nowadays, you have to be either a blue-rinse prude or a throwback Dworkinite feminist to oppose porn. And, indeed, Eighties rad fems like Julie Bindel are now being purged from the sisterhood, due, in part, to their opposition to the sex industry. Yes, there's still concern about the allegedly misogynist mind-warping effect of hetero porn's 'male gaze'. But even the most right-on of feminists tell us that porn itself is fine, so long as you source yourself some of the 'ethical' alternatives.
But this new, let-it-all-hangout permissiveness on porn is nothing to be celebrated. Just because people should have the freedom to hold their smartphone in their left hand in the privacy of their own homes, a toilet cubicle or a constituency office, does not mean that it is beyond judgement. It speaks to a low view of humanity that our natural desire for titillation and a sly self-love session trumps our ability to engage that other, more important, organ and judge that perhaps it's not the most constructive or honourable thing to do with one's time.
There's something pretty gross about the mainstreaming of porn. Not only is it now seen as okay, but it's a veritable topic of conversation. Young people openly talk about what porn they enjoy. It's fast becoming folded into the brave new world of sexual identity politics. Fans of bukkake videos or Filipino 'twink' porn will no doubt soon apply for inclusion in the LGBPTTQQIIAA+ bloc.
No, porn doesn't warp people's minds. Even young minds, I'd contend. (As one of the generation who grew up with broadband, and parents who couldn't figure out how to get the filters to work, I hope I'm living proof.) But that doesn't mean there's nothing wrong with it. Porn is sex at its most alienated and voyeuristic. As Luke Gittos pointed out recently on spiked, it speaks to a deep-seated crisis of intimacy that the rampant pursuit of sexual self-fulfilment is now so celebrated.
People getting their rocks off to illicit smut has always existed. But it was, traditionally, something to be hidden. A dirty little pleasure that we all, at one point or another, succumb to in a moment of youthful curiosity or horny boredom. The taboo surrounding porn was not just the result of an uptight society. It spoke to the realisation that cultivating real sexual relationships, connecting and canoodling with real people, was by far more fulfilling. That pang of post-wank shame is a moral corrective. We lose it at our peril.
Tom Slater is assistant editor at spiked. Follow him on Twitter: @Tom_Slater_
To enquire about republishing spiked's content, a right to reply or to request a correction, please contact the managing editor, Viv Regan.