Video reviews: a reffing mistake
Refereeing errors don't detract from football – they add to the drama.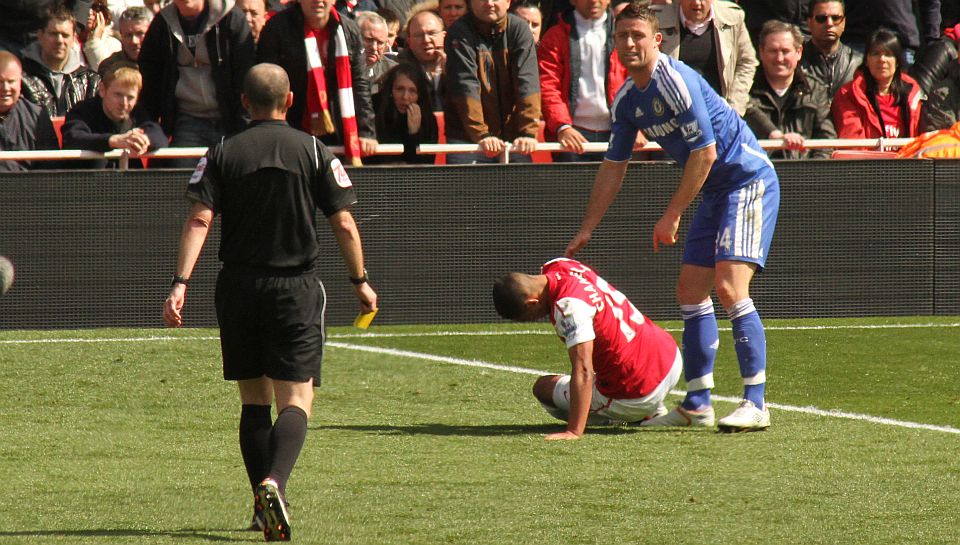 Referees need help. It's become the refrain du jour from managers and pundits alike. You could read it as a softening of traditional hostility towards the officials. The referee used to be a pantomime villain. He was 'the bastard in the black' – until he started wearing red or blue or yellow. Then we started getting all touchy-feely. 'The referee needs help' is a taunt befitting of our therapeutic age. But the 'help' offered isn't a Specsavers discount card. Nor is it counselling, mindfulness training or resilience building. It's video technology. Yes, that old chestnut. Despite the growing clamour, I remain a confirmed video sceptic. Or to put it in terrace parlance: 'The referee's a wanker. And that's the way we like it.'
Neil Swarbrick's horror show at the Etihad on Saturday, in which he sent off the wrong West Brom player, has amplified calls for the introduction of video reviews. Swarbrick's blunder is the second case of mistaken identity in the space of a month. Roger East showed the red card to Sunderland's Wes Brown when video replays clearly showed that John O'Shea had committed the foul on Manchester United's Radamel Falcao. Advocates of video reviews would argue that, in these situations, play has been stopped so a video review wouldn't disrupt the flow of the game. Personally, I can't see what the fuss is all about. Sunderland would have been reduced to 10 men whoever received their marching orders. I reckon that losing Wes Brown instead of John O'Shea made no material difference to the outcome of the match – they're both equally useless. Plus we had the added comedy value of Gus Poyet going bananas on the touchline. I don't know about you, but I'd pay good money to watch that.
Roger East's mistake was perhaps more excusable than Swarbrick's. He thought he saw Brown commit a foul. To the naked eye, it wasn't immediately clear who made contact with Falcao. It was an honest mistake. Swarbrick, however, ought to have seen that it was Craig Dawson, and not Gareth McAuley, who had brought down Wilfried Bony. Aggrieved West Brom manager Tony Pulis has led the demands for video reviews. 'Refereeing is not easy, especially at the level we are at now and how quick the game is', said Pulis. 'This product is one of the greatest products this country now sells all over the world, but it is no good moaning about referees. What we have to do is find a way to help referees out.'
Pulis' argument – that the game is now quicker and the stakes are so much higher – is a familiar one. But the argument doesn't stack up. Pulis' use of the word 'product' will grate with traditionalists but, even if viewed simply as a commercial proposition, I don't see how refereeing blunders damage the Premier League 'product'. They certainly didn't seem to impede Richard Scudamore's ability to flog the Premier League broadcasting rights for an eye-watering £5.1 billion. And why should they? Football is not precision engineering, it's a form of entertainment and, consequently, human error isn't inherently damaging to the game. Quite the opposite. A refereeing howler can get the crowd going, fire up the players and inject some needle. A dodgy refereeing decision isn't anathema to the sporting drama; it's an integral part of the drama.
Moreover, I just don't buy the argument that refereeing mistakes can have devastating financial consequences. Is it plausible that, over the course of an entire 38-game season, a single refereeing decision can financially ruin a club? I don't think so. In the same way, it's not plausible that one fateful slip by Steven Gerrard cost Liverpool the title last season. It was chronic defensive weaknesses that did for Brendan Rodgers' men. Pinning the blame on individual mishaps, or errors by players, or referees is a convenient way of masking systemic flaws.
To me, the recent spate of bad decisions doesn't strengthen the case for video technology one single iota. The beauty of football is that it's a flowing game. Unlike tennis, cricket or rugby union, in which there are natural breaks in play, the flow of a football match would be disrupted if we kept stopping for video reviews. You could argue that a review could work in situations where the game has been halted, such as the recent red-card incidents. But cases of mistaken identity are as rare as a QPR away win. Human error and controversy cannot be surgically excised from football. Most of the controversial decisions you'll see are for incidents such as handball, fouls or offside. These decisions involve a large slice of subjectivity. Could a player have stayed on his feet? Did a player control the ball with his hand? Was a player in an offside position interfering with play? Often it's still difficult to answer these questions, even with the benefit of several video replays.
As I said, football isn't science; it's a sporting drama. An integral part of football's appeal is the dramatic tension between human excellence and fallibility. In fact, it's a bit like Hamlet. If the Prince of Denmark had been on anti-psychotic drugs and, consequently, didn't see ghosts, the ensuing tragedy wouldn't have unfolded. Ophelia wouldn't have been banished to a nunnery and they would have all lived happily ever after. And what a crushingly boring play that would have been. Of course we want artistry, skill and wonder goals, but a mass brawl or a refereeing howler can be just as entertaining. Football without mishaps and mistakes would be just too sterile. If I can't hurl dog's abuse at the referee, football will be a poorer spectacle.
Duleep Allirajah is spiked's sports columnist. Follow him on Twitter: @DuleepOffside
Picture by: Wikimedia Commons.
To enquire about republishing spiked's content, a right to reply or to request a correction, please contact the managing editor, Viv Regan.