The D&G protest: direct action or a two-minute hate?
The demo against the offending designers was a limp, censorious affair.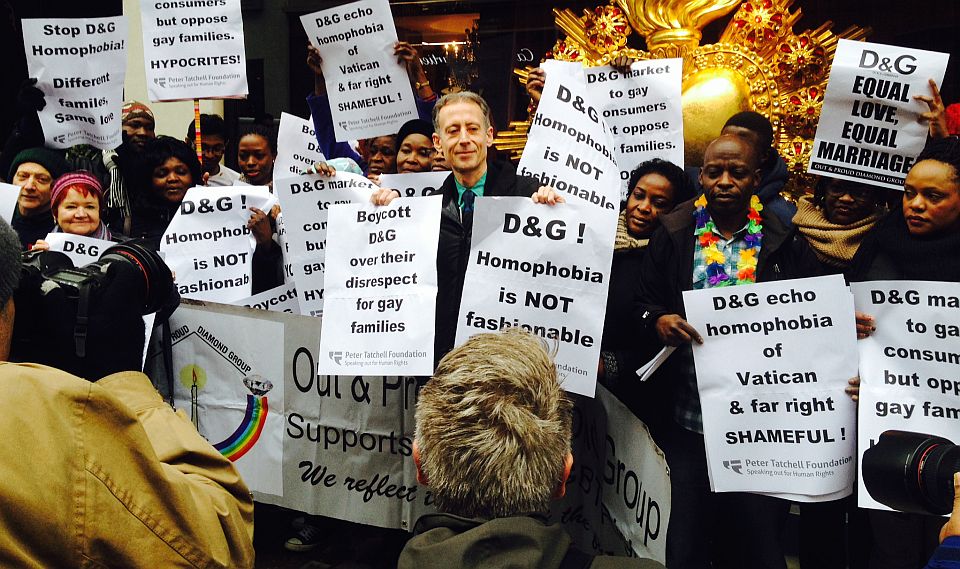 Yesterday lunchtime on Old Bond Street, home of London's swanky designer outlets, trouble was brewing. A demonstration, organised by the Peter Tatchell Foundation – billed at a bitesize 1pm-2pm – took place outside of Dolce and Gabbana.
This week, the Italian fashion-designer duo set off a Twitterstorm-in-a-teacup when Stefano Gabbana told an Italian magazine that he thought gay couples having 'synthetic babies' – that is, via IVF – is wrong. 'The family is not a fad', he said, 'I am opposed to the idea of a child growing up with two gay parents'.
Elton John, who has fathered two children through surrogates, vowed to boycott D&G in response. Victoria Beckham followed suit. And Tatchell, the unwavering figurehead of British gay-rights activism, quickly organised the protest.
Tatchell's literature declares that Gabbana was 'hypocritical' – the designer, in the past, expressed interest in fathering a baby via IVF – and that, in expressing his traditionalist views, he was adding to the 'intolerance often suffered by same-sex parents and their children'. In response, Tatchell is demanding a full apology.
But D&G are hardly the intolerant ones in this debate. As Brendan O'Neill wrote this week on spiked, the response to Gabbana's comments was one of sheer belligerence: 'shut up, or else', rather than 'we disagree, and here's why…'. James, one fresh-faced protester, told me he felt that D&G's remarks had sold out their gay audience. I asked him whether he felt uncomfortable, with the tactics. Surely, in trying to push the opposition out of the conversation – in threatening each dissenting voice with a threat of boycott – he was using the same censorious methods used to silence gay groups in the past. 'No, not really', was his answer, as a chorus of 'D&G, SHAME!' erupted.
The response to D&G-gate was sadly typical of modern gay-rights campaigners. Having fought tooth-and-nail to have a place in the conversation, to seize the right to speak their minds, organise politically and live their lives as they see fit, they are now trying to use the censorious methods of the old establishment in order to shore up these progressive gains. With Christian bakers in Northern Ireland being hauled before equalities courts for refusing to bake a gay-friendly cake, to top CEOs being hounded out of jobs for opposing gay marriages, gay-friendly progressives are fast asserting themselves as the gatekeepers of all debate on gay issues.
But while such intolerance is shocking and counterproductive, actively avoiding the open debate about gay issues necessary to drive the conversation forward, the scene yesterday felt somehow more benign. With barely 35 protesters at the peak of the demo, flanked by almost as many journalists, it felt less like a meaningful piece of direct action and more a two-minute hate with a photo-op attached.
The vast majority of the picketers were African gay-rights campaigners. One of the organisers, Edwin Sesange, spoke to me passionately about the fight for gay rights in Uganda. 'D&G', he said, 'are adding to the stigma and shame' experienced by gay people across the world. But against the backdrop of the brutal authoritarianism still suffered by gay people around the world, this protest felt all the more limp.
The debate on gay rights in the UK is far from over. And that's the point. We need more discussion, not less. Having valiantly fought their way into the public square, gay-rights groups need to engage in the contentious new issues sexual equality has produced, rather than appropriate the methods of the old intolerance.
Tom Slater is assistant editor at spiked. Follow him on Twitter: @Tom_Slater_
Picture by: Tom Slater.
To enquire about republishing spiked's content, a right to reply or to request a correction, please contact the managing editor, Viv Regan.