Why frat boys, even racist ones, should have free speech
Racist views can only be tackled through open debate, not censorship.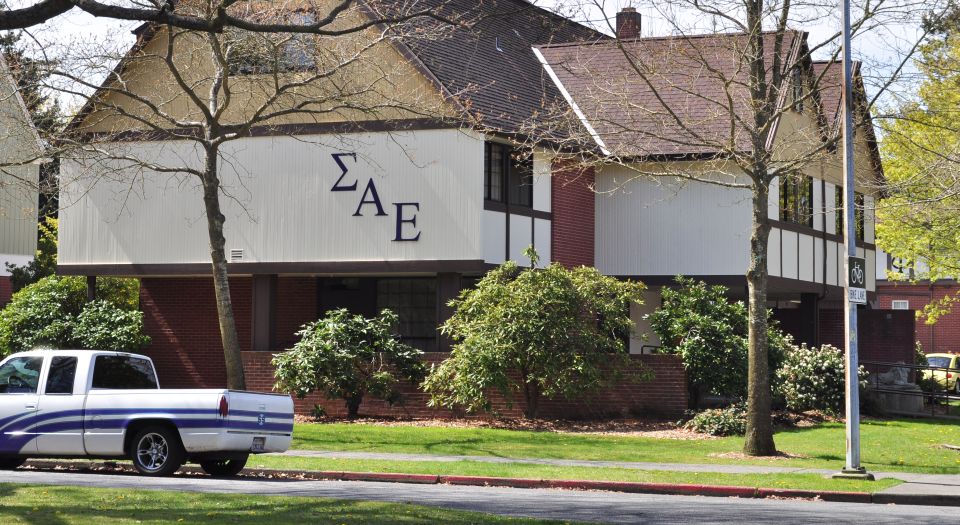 Last week, a video emerged that shocked the US. Members of a University of Oklahoma (OU) fraternity, Sigma Alpha Epsilon (SAE), were caught singing a horribly racist song while on a bus:
'There will never be a nigger at SAE.
There will never be a nigger at SAE.
You can hang him from a tree,
But he'll never sign with me.
There will never be a nigger at SAE.'
The video caused uproar on the OU campus, and across the US, after the national media picked up on it. In response, OU president David Boren quickly expelled two of the young men identified in the video, claiming their chanting created a 'hostile educational environment', and shut down the SAE fraternity on campus. Boren was widely praised for taking 'decisive action'. The Huffington Post summed up the views of many in a tweet: 'Take note, @President_Boren shows you how to respond to a frat-racism controversy.'
Given the chant's derogatory language and reference to lynching, it is obvious why nearly everyone (myself included) found it repugnant. Many supported the punishments handed down by Boren because they saw in those actions a way to express their own revulsion at the frat members' chant, and to show solidarity with black students.
It is admirable that people wish to make moral judgements. However, today's moral imagination is very limited, and there is a widespread belief that the only way to take a stand is to call for silence and expulsion – from school, job or social life generally. It is as if we have forgotten that there are many ways to oppose racist views without crossing the line into authoritarianism. Rather than argue against such views, show why they are wrongheaded, express disgust with them and organise against them, the reflex is always to call for censorship.
This recourse to censorship not only undermines the values of a free society — it also avoids the real issue at hand. Indeed, the move to censor does not confront racist views, it runs away from them. It is an immature response, one that says: 'l don't want to hear it, make it go away.' It assumes that students are too young and fragile to handle unpleasant views, and calls on mommy and daddy — in the form of the university president — to deal with the scary stuff. In particular, this stance adopts a patronising view of black students, as if they are in need of special protection. All in all, these actions seek to turn the campus into a childlike fairytale world, sealed off from the rest of society.
Attempts to ban racist speech, or other forms of so-called hate speech, are ineffective as well. France has had laws forbidding Holocaust denial in place for decades, and yet anti-Semitism in the country has increased. Censoring racist views endows them with more significance than they ought to have, and turns losers into martyrs. It is far better for a society to know that such views exist, in order to confront and defeat them. It is only through open debate that we can challenge bigoted views.
Many admit that Boren's response was exceptionally harsh, but they say it is justified because the SAE video is especially abhorrent. But the hullabaloo over the SAE chant is far from unique, and is only further evidence of a social trend that dismisses the value of free speech. Boren's actions were in fact entirely consistent with the intolerant sentiment on US campuses, where the impulse is to squash any speech that is deemed to be offensive. In a university environment where students and administrators 'disinvite' speakers, demand 'trigger warnings' on everything (including on works of literature like The Great Gatsby), faint at the sight of a sleepwalking man statue, and ban t-shirts with Game of Thrones slogans, Boren's actions fit right in.
Furthermore, the uproar over the SAE video, and Boren's actions in response, are also very much in line with a censorious climate that lies outside of academia. In recent years, various celebrities, comedians and others have been condemned and banished from polite society for saying inappropriate things. As Greg Lukianoff writes in Freedom From Speech, the US is in the midst of a 'national obsession with punishing jokes, rants, drunken tirades, and even deeply held beliefs'.
The way that the SAE video controversy has evolved is very similar to the way events have unfolded for other casualties of speech policing, like the basketball team-owner Donald Sterling. As with Sterling, a transgression, committed under the influence, is secretly recorded. It is then released, and, with no substantiation, the incident is interpreted as indicative of a broader social problem. There are then calls to punish the individual and make them disappear from society, with claims being made that shutting down the individual (somehow) addresses putative social issues.
Some will argue that the SAE chant should not be considered protected free speech, because such views have no moral worth. Academic freedom is not threatened because the views expressed in the chant are not intellectual ideas, they are simply prejudices, goes the argument. 'No one with a frontal lobe would mistake this drunken anthem for part of an uninhibited and robust debate about race relations', writes Kent Greenfield in the Atlantic. 'The chant was a spew of hatred, a promise to discriminate, a celebration of privilege, and an assertion of the right to violence – all wrapped up in a catchy ditty.'
But who decides what is considered to be acceptable speech? One man's hate speech is another's profoundly held moral conviction. The student government at the University of California-Irvine recently voted to remove all American flags, on the grounds that the flags represent hate speech. Should anti-Israel campaigners, like the Boycott, Divestment and Sanctions (BDS) movement, be expelled for being anti-Semitic? How about Christian students who disagree with gay marriage? It is also not hard to see how such an intolerant atmosphere could inhibit academic freedom as well. Many have labelled Charles Murray's book, The Bell Curve, as racist — could a faculty member be dismissed for putting this book on the syllabus?
If we continue to go along with the notion that any idea that is 'offensive' must be silenced, then we will create a climate in which it will become impossible to explore and advance new ideas. We are becoming a 'you can't say that' society, rather than a 'you're wrong' society. History has shown that yesterday's hate speech might become today's progressive outlook. Ideas like atheism and gay rights were once considered immoral or wicked, but, after years of intellectual struggle against censors, they eventually came to be seen as reasonable.
Placing a moral value on free speech says we value the ability to challenge conventional notions, orthodoxies and the powers-that-be. It says we recognise that the free flow of ideas — good and bad, smart and dumb — is a vital means to progress as a society. And it says that these potential gains from free speech are so great that we are willing to tolerate — while arguing against — any racist ideas that might emerge.
Let's face up to bigoted ideas, not run away from them, and let's have some confidence that our arguments will win.
Sean Collins is a writer based in New York. Visit his blog, The American Situation.
To enquire about republishing spiked's content, a right to reply or to request a correction, please contact the managing editor, Viv Regan.