TS Eliot among the bankers and Bloomsberries
Robert Crawford's biography provides a sympathetic portrait of the poet as a young man.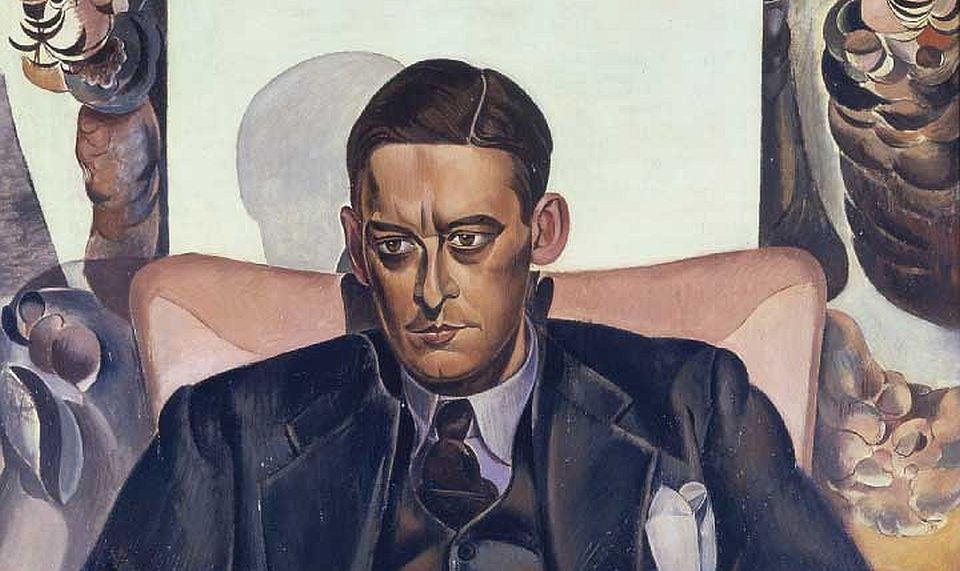 The Waste Land has stimulated, perplexed and antagonised millions of readers since its appearance in 1922. A multilingual collage of myth and observation, composed with sections of verse both original and filched, this epic poem popularised literary modernism (even though it was not the first modernist poem). Using new sources, and with the freedom to quote the poet's writings, Robert Crawford has combined biography and literary analysis, in Young Eliot: From St Louis to The Waste Land, to illuminate one of the most complex and influential poems in the English language and assess its author, TS Eliot.
The Eliot family were upper-class Unitarians from New England who moved to St Louis, Missouri, before the birth of Tom. Born in 1888, young Tom grew up in a bubble of Puritan gentility in the commercial bustle of a polluted Midwestern city. Long before Tom became an expatriate American in London, he had already lived his life as an outsider. While he was a Harvard student, Eliot toured London, Paris and Germany and found his passion for European culture deepening. In 1911, while in Munich, Eliot wrote his first masterpiece, The Love Song of J Alfred Prufrock, in which the protagonist is an indecisive onlooker of life, aware of his impotence and marginality as if 'etherised upon a table'. He effectively captures the situation of a man hemmed in by moral and social inhibitions that prevent him from functioning. 'Do I dare?', he asks himself, to eat a peach or change my fashion.
Crawford's biography shows how Eliot's life experiences and reading material were woven into the rich tapestry of The Waste Land and other poems. The foundation of Eliot's outlook was the extensive reading he undertook for classes in philosophy, anthropology, English literature, modern and ancient languages (including French, German, Latin, Ancient Greek, Sanskrit and Pali), and comparative literature. The philosophy of Henri Bergson and the poetry of Jules Laforgue liberated him intellectually, and Buddhist sutras contained new religious perspectives on suffering. The example of Eliot as poet-cum-thinker is a testament to the value of a wide-ranging liberal-arts education. Crawford observes: 'No other major twentieth-century poet was so thoroughly and strenuously educated.'
When war was declared in 1914, Eliot was in Germany and had to make a dash for London. He was to spend the rest of his life in London, though he did not set out to do so. When, in 1915, Eliot met a vivacious party girl, Vivien Haigh-Wood, he faced his own Prufrockian dilemma: 'Do I dare?' Anxious for sexual experience and charmed by Vivien, Eliot nerved himself up to dare. The couple married before Eliot's family was informed, an indication that Eliot knew his parents would oppose his choice.
The marriage was a disaster. Inter-family tension, poverty and insecurity wore the couple down. Vivien was afflicted by a battery of ailments physiological, psychosomatic and strategic: chilblains, neuralgia, neuritis, colitis, migraines, tooth pain, eye trouble, insomnia, influenza, rheumatism, bronchitis, anorexia and (possibly) gynaecological problems. Her illnesses and their treatments (frequently costly and ineffective) exhausted them both. Eliot suffered his own ill health. They were sexually incompatible and Vivien soon embarked on an affair with philosopher Bertrand Russell. Eliot was haunted by feelings of inadequacy and guilt over an unfulfilled yearning for an American friend, Emily Hale, to whom he believed he should have proposed. Vivien's wounding infidelity and Eliot's lingering sexual dysfunction cast a shadow over their moments of intimacy. The couple found themselves locked in a nightmarish union that would unhinge Vivien and drive Eliot to a breakdown. Crawford's narration (like that of other even-handed authors) will not fail to elicit sympathy from readers for both Vivien and Eliot.
A year after his wedding, Eliot wrote that he was experiencing 'the most awful nightmare of anxiety that the mind of man could conceive'. When a chance to teach at Harvard came up, Eliot first prevaricated then declined, unable to leave his wife behind in England. (Vivien refused to sail to America for fear of submarines – an eminently reasonable concern.) Eliot's teaching position at a school was succeeded by a job in the information department of Lloyd's Bank in the City, where he summarised foreign-language press reports. This six-day-a-week job was supplemented by lecturing work and book reviewing.
Once America declared war on Germany, Eliot – physically unfit to serve as a combatant – intended to assist in the war effort by using his language skills, but the application process descended into farce, with various military departments not communicating with each other, references having to cross the Atlantic and stipulations and expectations changing weekly. Stymied, Eliot resumed his arduous job at Lloyd's. Desperately overworked and depressed, friends saw Eliot visibly deteriorating.
By 1921, Eliot could no longer continue and went on sick leave, leaving Vivien behind. During convalescence and under psychological treatment, Eliot wrote drafts of The Waste Land in Margate and Lausanne. When he returned, Vivien (a talented story writer with an ear for dialogue) contributed a few lines and commented on the text, and Ezra Pound cut the poem by almost half its length. Eliot checked proofs while nursing his bedridden wife, not suspecting he was on the verge of international acclaim and notoriety.
Crawford subscribes to the broadly biographical interpretation of Eliot's masterpiece. Others have seen The Waste Land as an intellectual effort, but as Crawford points out, despite the obscure references, much of the material is personal to Eliot's difficult marriage, and the poem has a fragmentary quality that hardly conforms to a clockwork-precise theorem.
Anyone who has been reading the volumes of Eliot's correspondence (of which five volumes have been published, with another perhaps 10 or 12 to come) will be familiar with the dramatis personae of this biography: the American writer Conrad Aiken, the Bloomsbury set of Virginia and Leonard Woolf, Ottoline Morrell, Aldous Huxley, poets Wyndham Lewis and Ezra Pound and the impishly libertine Bertrand Russell. Crawford surmises that Eliot's relationship with socialite Mary Hutchinson was platonic, and he dismisses the idea that Eliot was either an active or a repressed homosexual.
For readers of Peter Ackroyd's and Lyndall Gordon's biographies, there is relatively little in Crawford's book that could be counted as revelatory. There certainly is nothing in this biography as lurid as that presented in Carole Seymour-Jones's biography of Vivien. Crawford calls his subject 'Tom' throughout in order to detach him from the aloof mystique of the cultural icon 'Eliot'. Quotes from Virginia Woolf's diary and the letters of acquaintances keep the poet vibrant for us, though Eliot was often described as inscrutable. Comments from friends indicate they were concerned by Vivien's increasingly erratic and neurotic behaviour.
In contrast to the frequent leitmotif of Eliot's sexual frustration, Crawford mentions but does not dwell on his subject's occasional misogyny and anti-Semitism. Neither of those facets figured large in Eliot's psychological outlook, though anti-Jewish feeling does surface in more than a handful of early poems. (Eliot's support for Action Français, the far-right political party, is rather underplayed in this study.) Eliot's scatological, bawdy limericks have already been published, but the extracts here may startle some readers. Wyndham Lewis declined to publish them in his Vorticist journal Blast, saying he would rather avoid 'words ending in –uck, –unt and –ugger'. When a new volume of Eliot's collected poems is published this autumn, we might see the complete Eliot, including early and unpublished poems that the poet suppressed for so long. Crawford implies that we will have to wait until 2020 for the final volume of this biography. It should be worth the wait.
Alexander Adams is a writer and art critic. He writes for Apollo, the Art Newspaper and the Jackdaw. His book The Crows of Berlin is published by Pig Ear Press. (Order this book from Pig Ear Press bookshop.)
Young Eliot: From St Louis to The Waste Land, by Robert Crawford, is published by Jonathan Cape. (Order this book from Amazon(UK).)
Picture by: Wikimedia commons
To enquire about republishing spiked's content, a right to reply or to request a correction, please contact the managing editor, Viv Regan.