Students, join our fight against campus censorship!
Say no to No Platform and Safe Spaces and yes to some real debate.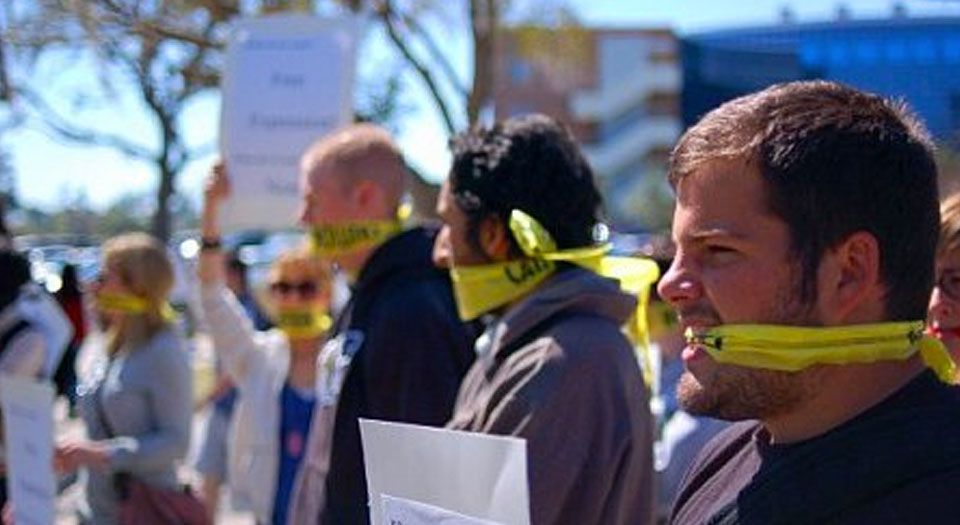 Down With Campus Censorship!, spiked's campaign for free speech on campus, is celebrating its first birthday. And to mark the occasion, we're redoubling our efforts – calling on British students to say no to No Platform, to stuff the Safe Spaces, and to reclaim the university as a space of unfettered debate and the pursuit of knowledge.
We've had a great year, holding debates in partnership with students across the country, discovering passionate student writers and campaigners, and building a growing network of students itching to take on those who say students are too irrational, or too delicate, for the free exchange of ideas. And, earlier this month, the launch of our Free Speech University Rankings (FSUR) – the first of its kind in the UK – made national headlines, proving to the outside world that censorship on campus had reached epidemic proportions and needed to be challenged.
Today, we are relaunching Down With Campus Censorship! (DWCC) with a brand new website chock-full of campaign materials, student reporting, videos, podcasts and info about upcoming debates in Bristol, Cambridge, Edinburgh, King's, Manchester, Oxford and elsewhere.
Censorship on campus has always existed, but it's never felt so free-floating, so unwieldy and indiscriminate. Where, in the past, it was only the most marginal and extreme groups that felt the brunt of SU or university intolerance, today almost any view can be snuffed out. Today, it is the potential to cause offence, rather than the political or moral content of someone's ideas, that can mark them out for censure. Censorship, perhaps now more than ever, is an issue that affects all students.
Over the past year, DWCC has become a rallying point for students of various political persuasions to come together against censorship. We've debated alongside Labourites, Tories, atheists, Catholics, pro-lifers, pro-choicers and feminists – and have come across some inspiring young minds along the way.
So, for the relaunch of DWCC, we will be releasing a series of videos in which students share their stories of coming face to face with the campus thought police. We kick off with three corkers.
Aubrey Allegretti, former editor of the University of Sussex's student newspaper, explains the clampdown on student journalists:

Luisa Peress, a London-based medical student, tells us of the ugly censure of a pro-Israel discussion at King's College:

And finally, Chris Moos, former head of the London School of Economics Students' Union Atheist, Secularist and Humanist Society, tells us of the farcical attempts by university security to get him to cover up his 'Jesus & Mo' t-shirt:

Enjoy the videos, visit the new website, come to the debates, read our campaign pamphlet, plaster our posters in your Union and on your campus, and contact me to find out how you can get involved.
It's time students of all stripes stood up to the new intolerant climate, so that we are freed up to start arguing about everything else.
Tom Slater is assistant editor at spiked and coordinator of the Down With Campus Censorship! campaign. Email him to find out how you can get involved: tom.slater@spiked-online.com
To enquire about republishing spiked's content, a right to reply or to request a correction, please contact the managing editor, Viv Regan.