Whiplash: the tyranny of mediocrity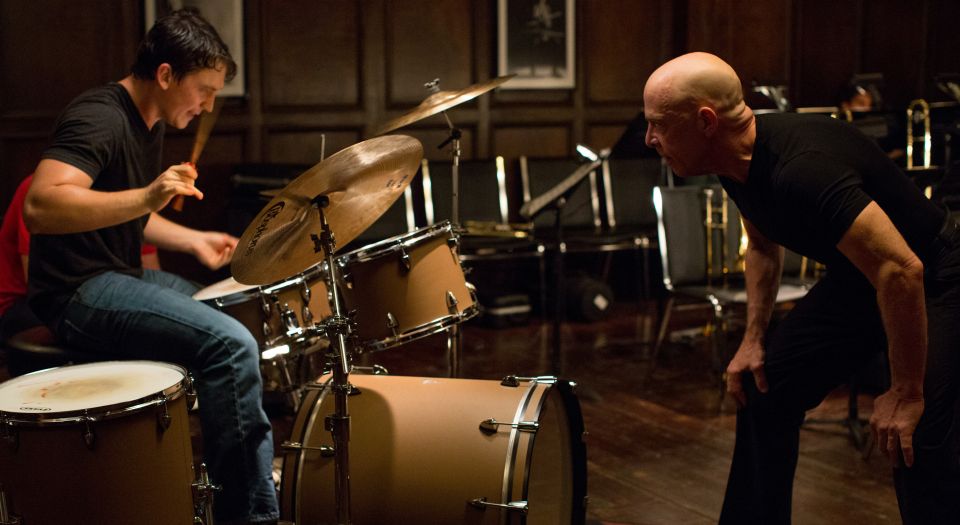 I think the London tube system is fantastic. The contactless Oyster card, the free newspapers, the numerous posters displaying the week's cultural highlights: as far as underground warrens go, I think our one is pretty nifty.
In the winter months, however, I'll admit that the trains can get a tad stuffy. Everyone wraps themselves up in their Christmas jumpers and knitted scarfs, forgetting the trains' sub-Saharan microclimate. Thus they swelter and sweat. Despite this evident humanitarian crisis, not a single person has chosen to represent it in cinematic form. A little bit frustrated, I went to see Whiplash instead.
Written and directed by Damien Chazelle, Whiplash follows the progress of aspiring jazz drummer Andrew Neiman (Miles Teller) under the intensely gruelling tutelage of Terence Fletcher (JK Simmons) at a top New York music school. Could this be School of Rock 2? Ha.
This film concentrates on one theme, and it's not music. Instead, Chazelle uses the music industry as a medium to analyse the extent of mankind's determination to succeed. In a cinematic age where every film's protagonist inevitably suffers from some sort of existential crisis, Whiplash reminds us of the human aspirations that transcend our personal travails. Andrew's raw passion is evident from the first scene to the last.
Equally refreshing is conductor Fletcher's disdain for all things second-rate, a sentiment alien to contemporary society. Phrases such as 'it's the effort that counts!' and 'don't worry, you did a really good job!' have become mantras in the worlds of education and work. Fletcher's response to the fashionable nature of mediocrity? 'There are no two words in the English language more harmful than "good job".'
It's rather fortunate, then, that Simmons' performance is more than just a 'good job'. He is truly fantastic. Rattling off sharply scripted lines like disdainful dynamite, Simmons convincingly terrifies, manipulates and threatens both his musicians and the audience simultaneously.
Whiplash will stare you in the eye, grab you by the collar, and jerk you out of rhythm. You will swelter and sweat; but it's worth it. Just like the tube in winter.
Solomon Roark is a writer living in London. Read his blog here.
Watch the trailer for Whiplash:
To enquire about republishing spiked's content, a right to reply or to request a correction, please contact the managing editor, Viv Regan.