The Hard Problem: dodging the big questions
Tom Stoppard's latest play is an insubstantial pageant of artful materialism.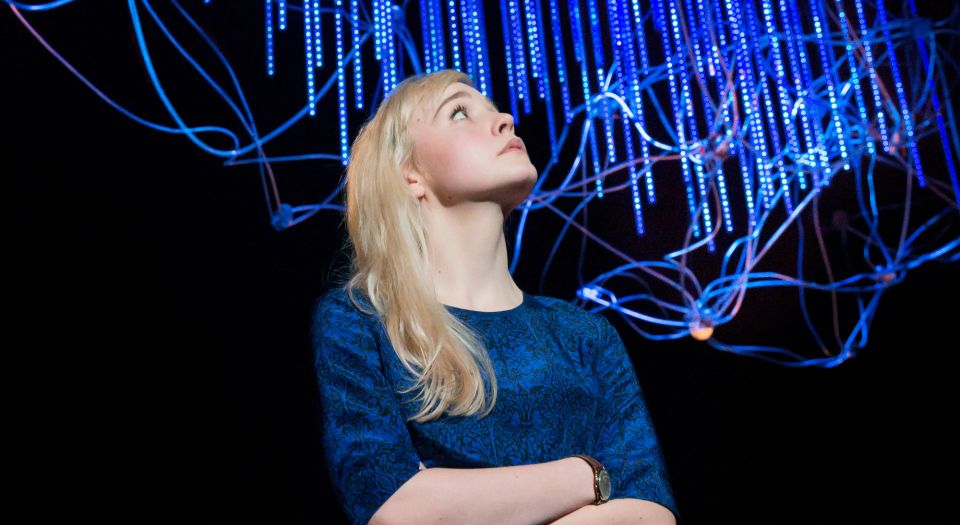 Modern metropolitans may not believe in God, but they sure as hell believe in Tom Stoppard. His latest play at the National Theatre, which explores the mystery of consciousness, sold out well before it opened. Since then it's had its run extended to the end of May. The West End beckons. But what is it about Stoppard that provokes such loyalty from his disciples?
The play's title, The Hard Problem, refers to the Australian philosopher David Chalmers's term for the relationship between mind and brain. This is about as close to metaphysics as a devout modern atheist is willing to go. It is, moreover, a drama that takes Stoppard back to his intellectual roots, as he grapples with philosophy's most intractable questions. In particular, his longstanding concern with 'what is so good about good?' – a poser he first floated in his 1972 play Jumpers.
Here, our protagonist, Hilary, is a student of neuroscience who is up for a prestigious job at the fictional Krohl Institute for Brain Sciences. She aims to do nothing less than overturn the prevailing scientific materialist orthodoxy that says we are all puppets of our brains' biochemical processes. What we know as consciousness is simply a feature of how brains work, say the materialists. There is nothing else to it. No soul, no God, no anything.
Hilary's swaggeringly cynical tutor and part-time boyfriend at Loughborough University (cue laughs at the choice of provincial universities) is a steadfast proponent of this doggedly materialist position. He is aghast and disgusted to find out that Hilary prays before she goes to bed. To God. The reason she gives for doing so is that she surrendered a baby girl for adoption after a teenage pregnancy and longs to be assured of her child's security.
The hard problem for the audience is keeping up with the theory. Naturally, Stoppard does a good deal to make it accessible, with jokes, metaphors and anecdotes. All three combine in one amusing account of the progress of brain worms in cows as they pass from cowpats back into their hosts by hijacking the brains of passing ants and making them climb up grass being munched by the cattle. Stoppard's central conceit, however, remains his persistent desire to account for goodness. For this, he enlists the prisoners' dilemma from game theory, which predicts that two prisoners under separate interrogation may sell each other out even if it's in their best interest to keep shtum.
This scenario is then played out when our heroine discovers that the super-brainy co-author of her high-profile academic paper has fiddled the stats. What should Hilary do? Should they both deny it or should one betray the other? Stoppard suggests that a selfless act in these circumstances can prove the scientific materialists wrong: a moral action need not be motivated by expediency, survival instincts or self-interest. There is more in heaven and earth than is dreamt of in Richard Dawkins' philosophy.
Such abstruse questions can be a bit like asking how many fairies can dance on the head of a pin. More interesting is Stoppard's decision to connect all of this to venture capitalism via his fictional Khrol Institute established by multi-millionaire hedge-fund manager Jerry. A ruthless operator, Jerry represents self-interest in its purest, most rapacious form. But he is also a generous philanthropist a la Bill Gates, George Soros, or, indeed, Travelex founder Lloyd Dorfman, who paid for his name to be all over this publicly owned theatre. Philanthropy, it seems for Stoppard, arises as naturally out of capitalism as consciousness arises out of brain function – or brain worms out of a cowpat. In such a universe, Hilary's old-school faith in God is merely analogue thinking. There is no need for a purpose higher than the good of the herd. Never mind that surplus value fits the bill very nicely.
What is really striking about the play, therefore, is what is hidden in plain view. Seen from a wholly materialist perspective, Hilary's transcendental longings also act as a spiritual fig leaf not only for Jerry's avarice, but also for a utilitarian vision of human beings as biochemical commodities. In addition, the scientism bankrolled by Jerry is steeped in elaborate metaphor – such as speaking of brains as being 'hardwired' for this or that. Far from operating in a moral vacuum, science is at the centre of profound and often unconscious social and financial orientations, not to mention figures of speech.
Stoppard is, of course, well known as a delightfully charming and self-deprecating Anglophile. His generous intelligence and boundless good humour make him a dream dinner-party guest and a revered member of the theatrical establishment. And yet he was once also considered a reactionary figure. Born Tomas Straussler in Czechoslovakia, his opposition to communist regimes in the Seventies and Eighties, rightly or wrongly, meant he was beloved of the stuffy conservative establishment. Since then he has become ever more adored by the now liberal establishment that grew out of Thatcherism.
Part of what has made Stoppard such a theatrical stayer is that his plays, like this one, don't really disturb anything. Which is why capitalism here gets off the hook completely. His plays may appear to go after big game, but they actually follow doctors' Hippocratic orders to do no harm. A little light neurological titillation and that's it. The immaculate innocuousness of Stoppard's enterprise is then perfectly matched by Nicholas Hytner's blithe production that manages to be both labyrinthine and vacuous. An elegant but insubstantial pageant of artful materialism.
This also explains why many of Stoppard's characters lack depth or authenticity. Damien Molony as the atheist boyfriend is a case in point: an academic neuroscientist stacked like a male stripper (a combination that's harder to swallow than creationism). Olivia Vinall's Hilary, by contrast, is an enchanting actress with the levity of a young Felicity Kendall. But her character's story is a flight of fancy buoyed up by outlandish coincidence. And as the stinking rich Jerry barking into his blackberry, Anthony Calf is a winner-takes-all e-fit straight out of Davos.
A decorative, brain-shaped cluster of wire and tubular lights hangs over Bob Crowley's set design and twinkles to the counterpoint of Bach's piano partitas. This, too, serves as a visual metaphor for the delightful emptiness of a perfectly charming enterprise. What's missing is the gnarly, messy, confused, irrational impulses of murderous superstitious humanity with its really hard problems of war, injustice and oppression. Behind Stoppard's apparently benign, apolitical vision of mankind lies a sinister fantasy of submission – allowing the human subject to pass as bio-digital fodder for the gods of global finance.
Patrick Marmion is a freelance journalist, playwright, founder of Soapbox debating forum and a part-time tutor at the University of Kent. Visit his website.
The Hard Problem is at the Dorfman, National Theatre until 27 May 2015.
Picture by: National Theatre
To enquire about republishing spiked's content, a right to reply or to request a correction, please contact the managing editor, Viv Regan.