The truth about the Nazi camp my mum was in
My mother would have recognised but not understood this depiction of Ravensbrück.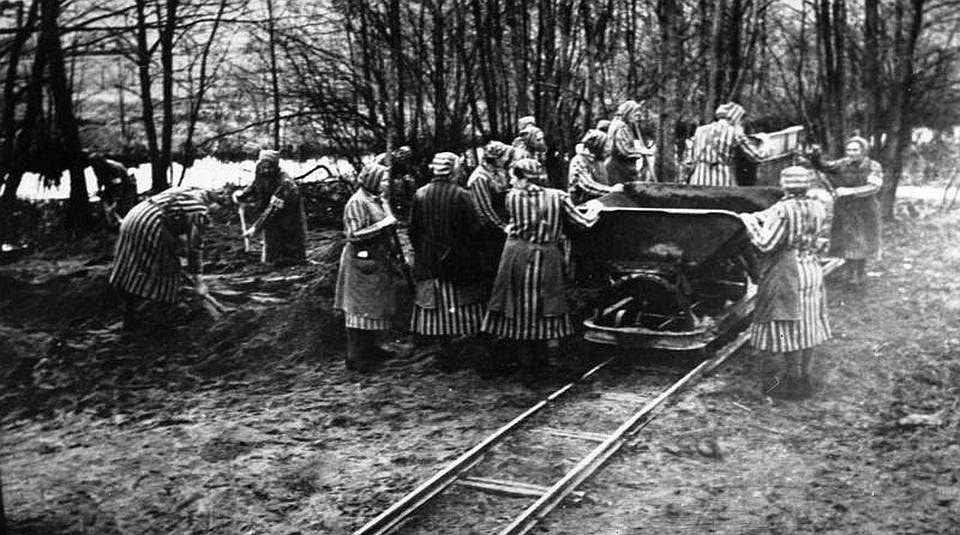 If This Is A Woman, by Sarah Helm, is a well-researched and powerful account of Ravensbrück, the only Nazi concentration camp that was designed specifically for women. Most historical accounts of Ravensbrück – such as Rochelle Saidel's The Jewish Women of Ravensbrück Concentration Camp – tend to focus on specific groups of prisoners. Others offer personal accounts of experiences in the camp, such as the absorbing memoir of Germaine Tillion. Helm's study, however, attempts to capture the different dimensions of the history of Ravensbrück and provide a detailed analysis of how various groups of prisoners experienced life in the camp.
I first heard of Ravensbrück from my mother, Klara Taub, and her two friends, Marika and Zsuzsa. All three were Hungarian Jewish women who had spent time in Ravensbrück before being sent to other concentration camps. They all considered themselves relatively fortunate because they were deported in October 1944, a long time after the German concentration camps were in full operation. According to a certificate issued by her American liberators, Klara was held in a concentration camp from 15 November 1944. After spending about four months in Ravensbrück, she ended up in Buchenwald. Forced by her guards to march to an unknown destination, she was liberated near Weimar on 4 June 1945.
The three friends also considered themselves 'lucky' because they were selected for forced labour in an airplane factory near Ravensbrück. They all believed that the only reason they survived was because conditions in the factory were far better than in the camp. Although they recalled feeling hungry almost all of the time, their food rations were far greater than those of the prisoners back in the camps. Time and again my mother would recall the piece of bread with jam that she was given by a German factory foreman. Her friend Zsuzsa became an accomplished thief and frequently succeeded in smuggling food back into the camp to feed her starving bunk-mates.
Klara Taub's identity card.
The Ravensbrück stories that I grew up with were about the everyday details of human survival in conditions that were predictably horrific, but also unpredictably arbitrary in the way the inmates were dehumanised, degraded and punished. Unsurprisingly, inmates frequently squabbled, fought among themselves and competed for food and privileges. Composed of over 20 nationalities, Ravensbrück's population was unusually heterogeneous. It also contained significant groups of communists, dissidents, resistance members, Jehovah's Witnesses, so-called 'asocials', who were persecuted for their 'immoral' behaviour, and those considered eugenically unfit. As opposed to most of the other death camps, Jews constituted only a minority of the inmates at Ravensbrück.
The Nazi guards used the policy of divide and rule to try to break down the inmates' solidarity. Inciting inter-group rivalry amid intense suffering and hardship was predictably successful. My mother and her friends were convinced that the Polish inmates were worse to the Hungarian Jews than 'even the Germans'. At the same time, they developed a special bond with the Czech prisoners, who they regarded as 'kind'. Squabbles coexisted, then, with spontaneous acts of solidarity and defiance. According to Zsuzsa, sabotage in the airplane factory was fairly routine. She doubted if inmates' factory work contributed much at all to the German war effort.
Helm's study of Ravensbrück feels very familiar to me. But she offers more than a series of personal accounts. She also interweaves individuals' recollections with the wider historical context and dynamics. Paradoxically, what disturbed me most about Helm's account were not the dreadful details of camp life, but the indifference of so many outside the camp to the inmates' plight.
I was surprised to learn that despite attempts to isolate the camp, Ravensbrück inmates continued, to a degree, to interact with the outside world. A few relatively privileged prisoners managed to maintain intermittent correspondence with friends and family. Others succeeded in informing Allied prisoners of war about their predicament. Some of the POWs managed to pass on this information to international bodies like the Red Cross. Yet for reasons known only to the Red Cross, it decided to hush up what it knew. Polish victims of dreadful 'medical experiments', who believed their story had reached the Red Cross and other international agencies, were at a loss to understand why their plight was being ignored. The British authorities, too, were not particularly interested in the messages sent by French POWs on behalf of prisoners from Ravensbrück.
Although approximately 50,000 women were exterminated in Ravensbrück, the Nazis could not quite destroy the inmates' human spirit. While some prisoners behaved shamefully, even collaborating in the running of the camp, others did their utmost to protect as many of their fellow prisoners as they could. Helm provides numerous accounts of women who stood up to lead and protect the prisoners in their block. Arguably, the heroine of this story is Yevgenia Klemm, leader of 500 captured women from the Soviet Red Army. She played an inspirational role, maintaining the morale and discipline of her colleagues. Klemm personified the spirit of resistance in the camp.
Klemm was eventually broken – just not at Ravensbrück. She survived the Nazis, but could not survive the climate of terror and suspicion that prevailed in postwar Russia. The Stalinist regime regarded all prisoners from German camps as potential collaborators, and actively sought to make life difficult for them. In 1946, six Russian inmates from Ravensbrück were found guilty of collaborating with the fascists and sent into exile in Siberia. Klemm was frequently questioned and harassed by the police. Matters came to a head in September 1953, when she was informed that she would no longer be allowed to continue to work as a teacher. The next day, she committed suicide. Human suffering did not end with the liberation of Ravensbrück.
Accounts of the Holocaust and the experience of Nazi concentration camps are invariably marked by the cultural outlook of their authors. In this respect, If This Is A Woman is very much a book that expresses today's zeitgeist. In recent years, the Holocaust has become a moral resource for various forms of identity politics. Regrettably, If This Is A Woman falls into this trap, presenting the story from the standpoint of feminist identity politics. Helm writes that the 'book would try to throw light on the Nazis' crimes against women'. Yet the very concept of a 'crime against women' was entirely alien to those inside Ravensbrück.
Ravensbrück was indeed a concentration camp for women. But the reason people were rounded up and deported to this hell-hole was not because they were women. Some of the earliest inmates at Ravensbrück were Germans, deported on account of their religion. They were Jehovah's Witnesses, whose faith forbade them from supporting militarism. Time and again they were told they could have their freedom if they signed a document renouncing their faith. They refused, and many of them paid with their lives, not because of their sex but because of their religious principles. Other early inmates of the camp, in 1939, were communists and politically radical women. They, too, were imprisoned for their beliefs rather than their sex. The Gypsies and Jews deported to Ravensbrück were sent there for the very same reason their male counterparts were despatched to Auschwitz or Buchenwald – because they were Gypsies and Jews. Similarly, the Poles, the Russians, the Slovaks, the French, the Dutch and all the other prisoners suffered at the hands of the Nazis because of their actions, beliefs or their ethnicity.
Helm's attempt to recast the mass murder and suffering inflicted on the inmates of Ravensbrück as a crime against women is as absurd as describing the agony, torture and death of members of the Jewish male-labour battalions as a 'crime against men'. Neither my mother nor her friends would have perceived their suffering as 'a crime against women'. At a time when we are continually indulging in remembrance, it is important to remember the meaning that those who actually suffered in the Holocaust attached to their own experiences.
In an age when cultural identity and lifestyle have become so politicised, it is tempting to reinterpret the past in accordance with the values of our time. But such wilful anachronism can only distort the meaning that Ravensbrück had for its inmates. Paradoxically, these women's powerful stories, recounted here by Helm, transcend particular groups or identities. They force the reader to reflect on how to preserve our humanity when faced with institutionalised dehumanisation.
Frank Furedi's First World War: Still No End in Sight is published by Bloomsbury. (Order this book from Amazon (UK).)
If This Is A Woman – Inside Ravensbruck: Hitler's Concentration Camp for Women, by Sarah Helm, is published by Little Brown. (Order this book from Amazon(UK).)
Picture by: Wikimedia commons.
To enquire about republishing spiked's content, a right to reply or to request a correction, please contact the managing editor, Viv Regan.