The new war against PC – it's too late and it's picked the wrong target
Why almost everyone is wrong about political correctness.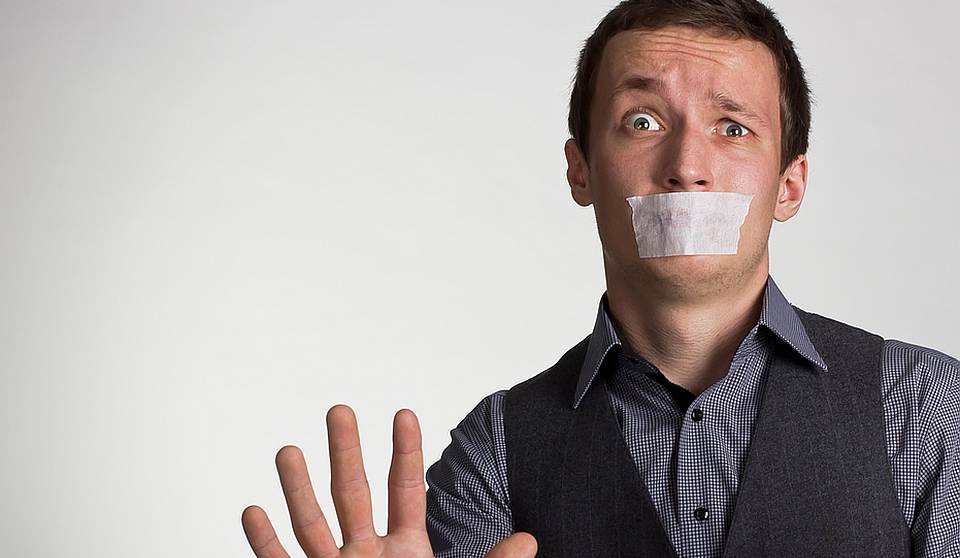 Jonathan Chait's essay on political correctness, 'Not a very PC thing to say', published in New York magazine last week, has provoked a transatlantic debate on PC as a 'system of left-wing ideological repression'. Here, we republish Brendan O'Neill's 2011 Sydney speech on why it's wrong to see PC as the handiwork of small groups of intolerant Cultural Marxists.
My favourite example of political correctness involves the American Navy. In October 2001, shortly after America invaded Afghanistan, some of its Navy personnel were preparing missiles that were going to be fired at al-Qaeda and Taliban strongholds. One of the Navy men decided to write some words on the side of his missile to express his anger about 9/11. So in reference to the 9/11 hijackings, he wrote the following message on his missile: 'Hijack this, you faggots.'
Now, little did he know that even though the American military had rather a lot on its mind at that moment, his message would still cause a massive controversy. When they heard about what had happened, the upper echelons of the Navy were outraged. They expressed 'official disapproval' of the homophobic message. They issued a warning that Navy personnel should 'more closely edit their spontaneous acts of penmanship'. Some unofficial guidelines were issued, covering what could and could not be written on post-9/11 missiles. So it was okay to write things like 'I love New York' but not okay to use words like faggot.
That is my favourite example of political correctness for two reasons. Firstly because it sums up how psychotically obsessed with language politically correct people are. Because what these Navy people were effectively saying is that it is okay to kill people, but not to offend them. It is okay to drop missiles on someone's town or someone's cave, just so long as those missiles don't have anything 'inappropriate' written on them. Heaven forbid that the last thing a member of the Taliban should see before having his head blown off is a word reminding him of the existence of homosexuality.
This really captures the warping of morality that is inherent in political correctness, where one becomes so myopically focused on speech codes, on linguistic representation, that everything else, even matters of life and death, can become subordinate to that.
And the second reason it's my favourite example of political correctness is because it captures a truth about PC that is far too often overlooked. Which is that political correctness is not actually the handiwork of small groups of cultural Marxists or liberal malcontents. The rise and rise of PC is not simply down to the activism and agitation of unrepresentative sections of the chattering classes, who detest vulgar language and what they consider to be offensive ideas. If it was, how could we explain the actions of the US Navy? Why would one of the most powerful, well-armed institutions on Earth buckle under pressure from po-mo feminists or people who read the Guardian?
No, political correctness represents something far more profound than its critics appreciate. The victory of PC is built upon the demise and decay of traditional forms of authority and traditional forms of morality. It is parasitical on what we might call the crisis of conservative thought. In fact, I would argue that the power of PC is directly proportionate to the weakness of the old, taken-for-granted forms of morality.
I can understand the temptation to present political correctness as simply the imposition of a stifling framework by small groups of illiberal liberals, to see it as the conscious project of a cut-off, head-in-the-clouds middle-class elite determined to remake everything and everyone in its own image.
Indeed, there are two striking things about political correctness that would appear to bolster the view that it is the creation of a cabal of grumpy, misanthropic feminists and greens. Firstly, PC largely came to the fore at a time when conservative governments were enjoying fairly strong electoral support. In America and Britain, for example, it really took off in the 1980s, when Reagan and Thatcher were in power. So, many members of the electorate were giving their votes to conservative regimes, yet at the same time PC is born and becomes more and more widespread – boosting the notion that a left-leaning cultural elite far removed from the madding crowd sat down one day and drew up some new rules for regulating everyday life and speech.
And secondly, political correctness does tend to be most vociferously promoted by the media and by sections of academia. In short, by rather rarefied, aloof institutions, which have more than their fair share of worthy people.
Yet to look at political correctness in that way only – as a kind of new Ten Commandments enforced by tiny elites – is to miss what is the foundation stone of PC, the ground upon which it is built. Which is the inability of the traditional moralists to justify themselves and defend their way of life and moral system. It is that inability which, towards the end of the twentieth century, created a moral vacuum that was filled by instinctive and often kneejerk new forms of moral control and censorship.
Because when you have a profound crisis of traditional morality, which governed society for so long, then previously normal and unquestioned ways of behaving get called into question. From speech to interpersonal relations, even to nursery rhymes – nothing can be taken for granted anymore when the old frameworks have been removed. All the given things of the past 200-odd years start to fall apart. Political correctness is really the scaffolding that has been hastily erected to replace the old morality. It represents the tentative takeover by a new kind of modern-day moralist. And the end result is undoubtedly tyrannical and stifling and profoundly antagonistic both to individual autonomy and freedom of speech.
To see how political correctness has its origins in the demise of traditionalism, it is instructive to look at the example of the Girl Guides. For 100 years, the Girl Guides in Britain, and also in Australia, was a very straightforward organisation: it was designed to instil girls with imperial pride. The Guides had a very simple code: swear an oath of loyalty to God, queen and country.
Then, about 15 years ago, the British Girl Guides suddenly rewrote their constitution. They turned one page into about 20 pages. There was no more old-fashioned 'duty to God' – instead the girls promised to 'love my God', in recognition of the fact that in our relativistic times, when both Truth and Christianity are no longer untarnished values, there are many gods. Also, the swearing of an oath of loyalty to the queen was replaced with an expression of sympathy for the queen – 'because it can't be easy for her being photographed everywhere she goes!'.
The important thing here is that nobody invaded the Girl Guides' head office and forced its top women at gunpoint to refashion their values. Rather, the Girl Guides did it themselves, in instinctive recognition of the fact that the three institutions they were previously based around – God, queen and country – no longer enjoyed unquestioned authority. All of those three huge political entities of the modern British bourgeois world – church, monarchy and nationalism – have suffered severe crises of legitimacy over the past 20 to 30 years. The Girl Guides' adoption of a more 'appropriate' way of presenting themselves, their overhauling of their mission, illustrates very well what is the engine of political correctness: not so much an external onslaught by a 'PC lobby', so much as internal moral rot amongst more traditional sections of society.
So political correctness is not a simple case of 'cultural Marxists' storming the citadel; rather the citadel collapsed, and we now have some rather opportunistic, instinctively authoritarian elements in society attempting to build a new moral system on the rubble.
That is why political correctness is so hysterical, so intolerant, so keen to govern everything from how professors communicate with their students to whether teachers can touch their pupils to when it is acceptable to say 'blackboard' – not because it is strong, but because it is weak and isolated. It has no real roots in society or history, like the more traditional forms of morality did. It enjoys no popular legitimacy or public support; in fact, the phrase 'political correctness gone mad' rather reflects the disdain amongst large sections of the public for today's new speech codes and behaviour etiquette. It is the shallowness of PC, its parasitical nature, which makes it so insatiably interventionist.
Because at a time when it is no longer clear what is right and wrong, what is good and bad, who is respectable and who is not, then everything is thrown into a kind of moral chaos, giving rise to a weird hunger among the new elites to clamp down on and closely govern what were previously considered to be normal interactions that required little, if any, external intervention. So even nursery rhymes are being rewritten. In Britain recently, a book of children's ditties refashioned the old classic 'What shall we do with the drunken sailor?', replacing 'drunken sailor' with 'grumpy pirate'. The old song said 'Stick him in a bag and beat him senseless'; the new one says 'Tickle him till he starts to giggle'.
We all laugh at this kind of thing, but it's worth asking: what kind of crazy society rewrites childish songs that have been around for generations and which have never (to the best of our knowledge) led to drunken sailors actually being put in bags and beaten senseless? What kind of society takes such an Orwellian, Ministry of Truth approach, not even to political documents or historic claims, but to songs sung by children in playgrounds and sandpits? Only a society that has utterly lost its moral bearings, which is so morally unanchored, so estranged from given, accepted, natural ways of doing things, that it seeks to recolonise every corner of human interaction.
A more confident moral system would be better able to tolerate deviants. An unconfident, accidental moral system like PC can tolerate no deviancy at all because it continually fears for its own survival.
Too often these days, critics of PC play the victim card. Many right-wing thinkers claim that a conspiratorial cabal of PC loons is ruining our lives. This conveniently absolves these thinkers of having to account for what happened to their morality and traditions. Where did they go? It is far easier to claim that society has been taken hostage by gangs of lentil-eating, language-obsessed nutjobs than it is to face up to and explain the demise of a way of life that had existed for much of the modern era. Indeed, in many ways the term 'political correctness' doesn't really have much basis in reality – it is the invention of traditionalists unable to explain recent historic turns, so instead they fantasise about the onward, unstoppable march of sinister liberals riding roughshod over their superior way of life.
Of course, the demise of traditional morality did not have to be a bad thing. There was much in those old ways which was also censorious and pernicious and stifling of anybody who wanted to experiment with lifestyle or sexual orientation. The problem is that the old, frequently stuffy morality was not successfully pushed aside by a more progressive, human-centred moral outlook – rather it withered and faded and collapsed under the pressure of crises, creating a moral hole that has been filled by those who have influence in the post-traditional world: the increasingly vocal chattering classes.
But let's not play the victim in the face of an apparently all-powerful 'PC police'. No, if you feel like you are being treated as a heretic for thinking or saying the 'wrong things' in our politically correct world, then you should start acting like a proper, self-respecting heretic: have the courage of your convictions and say what you think regardless of the consequences.
Brendan O'Neill is editor of spiked. The above is an edited version of a speech he gave at the Big Ideas Forum organised by the Centre for Independent Studies in Sydney on 1 August 2011.
To enquire about republishing spiked's content, a right to reply or to request a correction, please contact the managing editor, Viv Regan.