In the struggle over abortion access, BPAS isn't backing off
Why restricting clinic protests is not an attack on political freedom.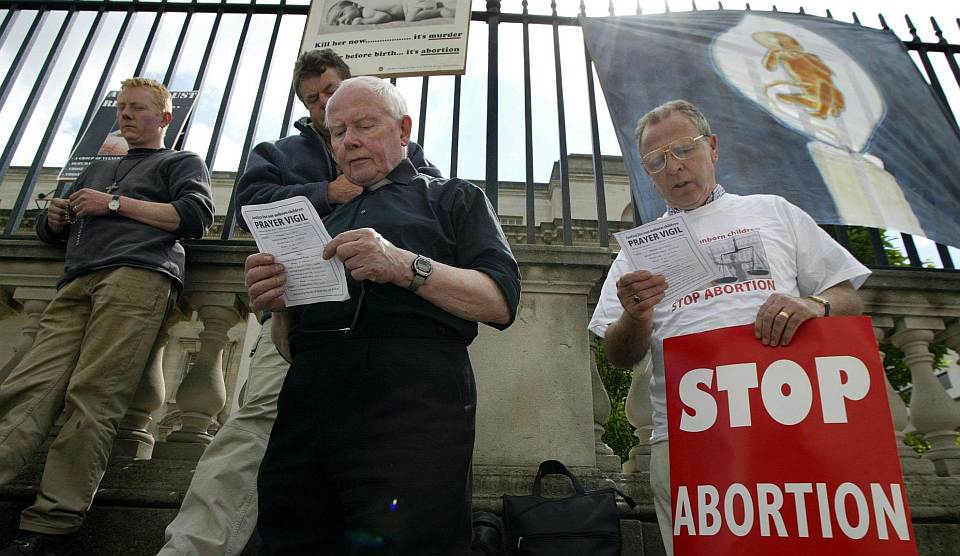 Wendy Kaminer's contribution to the discussion of the British Pregnancy Advisory Service's campaign Back Off, which aims to prevent opponents of abortion from impeding women's free access to services, is much appreciated. She is one of today's few uncompromising advocates of free speech and I respect her greatly. In her article on spiked, she made some very strong points about the importance of public space and freedom of association. But these points also show why she is wrong to oppose our current action to defend bpas clients.
The Back Off campaign aims to constrain a specific form of protest in a very specific way. The demand that protesters 'back off' to a distance from which they cannot confront individual patients is an attempt to reconcile freedom of speech, freedom of assembly and the freedom to access services in an age in which people seem to have forgotten what political protest is all about.
The attempt to create a restricted zone around a clinic inside which protesters cannot approach patients is about solving an immediate and practical problem. It is about resolving a conflict of freedoms with the least compromise of rights and the greatest respect for the freedoms. Should bpas succeed, the protesters will remain free to say, distribute and display whatever they like. Their protest against abortion, as an issue, remains intact, but their interference with patients who are considering or intending to have an abortion is restricted to those patients who wish to approach the protesters.
The activists say that this defeats their object, which is not to 'protest abortion' but to stop women from having one. The point of the protest, they explain, is to change a woman's mind and turn her away from abortion. For the protesters, their freedom of speech and freedom of assembly rest on their freedom to address a specific person, in a specific place at a specific time. Kaminer agrees and points out that many protests involve addressing unwilling listeners. This is true. Between now and the UK General Election, for example, most parliamentary candidates will at some point probably find their entry to an event barred by shouting protesters exercising their freedom of assembly. Politicians, representatives, spokespeople – public figures – are fair game. These are individuals who stand for something. A protest against them is a protest against their stated ideals; to change their minds is to impact on politics.
This is not so when activists interfere with the access to a clinic of an individual pregnant woman who stands for nothing other than herself and her own interests. She is a patient accessing abortion counselling or care, not because she is a champion of abortion, but because she needs a solution to the personal problem of her unwanted pregnancy. She may even oppose abortion (many patients believe that abortion is wrong in principle, but the right thing for them). A woman's decision to end her pregnancy is not a demonstration of belief or conviction. It is nothing more than a practical solution to a private problem.
And the actions that the Back Off campaign strives to end are nothing more than a direct assault on the privacy of patients to access, confidentially, a medical service that has minimal political content.
The actions of Abort67, the main clinic protesters in Britain, are the most degraded form of political expression imaginable. They are not designed to influence policymakers, change laws, or sway public opinion; they are simply attempts to intimidate and embarrass a person acting privately. These protests are not an attempt to debate a choice but rather to stop a woman from exercising her choice. The prohibition of this activity comes at no cost to political freedom, since there is nothing political in trying to intimidate an individual patient.
Could invoking a state restriction on this kind of protest set an unwelcome precedent, maybe leading to a clampdown on other protests? It's possible, of course. There is a risk that this campaign could be used by some as a further step on the slippery slope towards greater policing of public space. But slippery slopes do not cause people to slide inevitably down one path; we can try to choose and determine what kind of precedent is set by what we do and by this campaign. A positive and welcome precedent can be set, too, if we want it to: the precedent of the state backing up patients' private, confidential access to abortion services and treating abortion as normal, lawful healthcare in which a patient is answerable to no one but the doctors responsible for her care.
One thing is clear: there is no zero-sum game in this debate. The outcome has consequences.
Later this year we expect to see challenges to Ground E of England's 1967 Abortion Act, the clause that allows abortion when there is severe risk of serious abnormality. The challenge for those of you who support Abort67's right to target patients entering abortion clinics is this: will you support their right to challenge individual patients attending clinics that specialise in diagnosis of fetal anomaly? Is it legitimate political protest to stop a patient coping with, say, a diagnosis of Downs syndrome or spina bifida and pester her about her intentions? Kaminer may be correct to claim the right to 'engage in unwanted speech on public streets and sidewalks' is particularly valuable; but where would be the political value in such 'protests' against women making decisions about fetal anomaly?
When it comes to respect for freedoms, it is ironic that bpas has bent over backwards to devise a way to exercise its duty of care to patients while according utmost respect to the protesters' freedoms. Bpas is known to be the only pro-choice organisation in Britain prepared to debate freely and openly with its opponents. It has tolerated political demonstrations outside clinics for decades. But the intimidation and interference with the access of our clients crosses beyond what is acceptable.
The protesters have brought the Back Off Campaign upon themselves. They have degraded the definition of political protest and brought scorn by association on to those (and they do exist) who put a reasoned, thoughtful case against our work.
Kaminer says: 'Confronting clinic protesters is not easy. It demands stamina, stoicism and the courage required for citizenship in a free society.' She's right. And that is why we, who support women's freedom to access abortion, and who support the freedom of providers to offer services, must confront those who seek to avoid political debate in preference for picking on individual patients – a non-political act that is not worthy of the title 'protest'. No one should need to demonstrate 'stamina, stoicism and the courage required for citizenship' simply to access lawful care. When a woman is about to undertake a clinical procedure, or make a life-changing decision, she should be free to focus on her own needs. She should be free to feel vulnerable and brittle and scared – most of us do when we're facing a medical intervention.
In this struggle, there has to be a side that wins and a side that loses. Defending Abort67's interventions at clinics does not defend freedoms or the public space. It does no more than accept the most degraded expression of protest today, one that lacks political content and bypasses public opinion and the sphere of policymaking in order to prevent the exercise of private decisions. The woman's choice should be her own. The choice to defend it is yours.
Ann Furedi is the CEO of bpas, the British Pregnancy Advisory Service.
To enquire about republishing spiked's content, a right to reply or to request a correction, please contact the managing editor, Viv Regan.