Syriza's victory: this is no anti-austerity revolution
The new rulers of Greece embody miserable eco-austerity.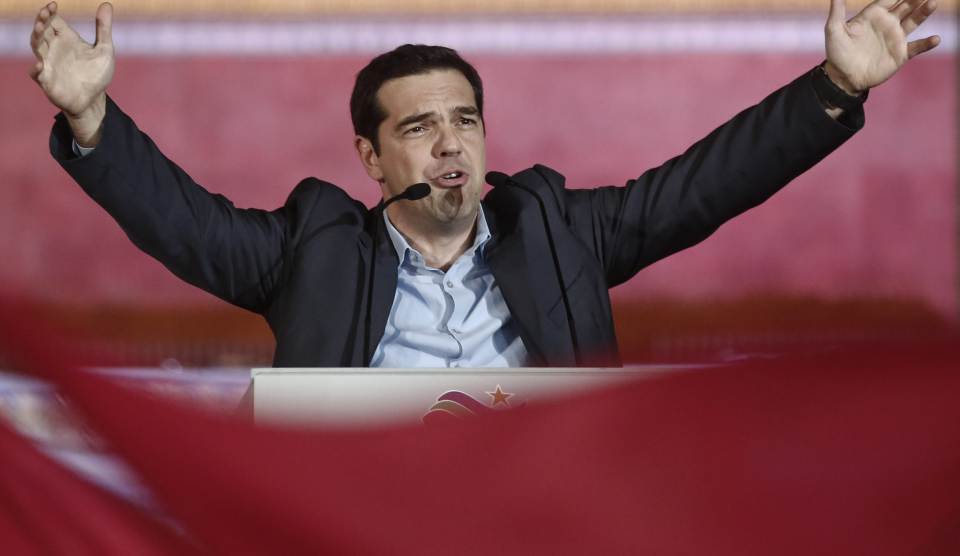 The victory of the left-wing coalition party, Syriza, in this weekend's Greek elections has been accompanied by a whole heap of hype. And not just of the desperate Europhilic, hell-in-a-handcart variety. Many also seem to think that the triumph of Alexis Tsipras and Syriza represents, to use the BBC's words, 'an anti-austerity revolution'. Others talk excitedly and obscurely of 'building a successful transformative movement', or, more bluntly, that 'a Syriza government could spur on other anti-austerity forces across the continent'.
The hope invested in Syriza, especially by those lazily chomping at the anti-capitalist bit outside of Greece, has been striking. Syriza has been turned into the vanguard of anti-austerity resistance, a movement seemingly capable of pointing the way to a more prosperous, possibly even abundant future. And yet there is nothing in the reality of Syriza that justifies this massive investment of hope and hype. More importantly, there is nothing in the reality of Syriza to suggest that it can really challenge the consensus on austerity.
In fact, everything suggests that Syriza is interested in little more than a less severe version of the austerity regime imposed on Greece for the past six years by the so-called Troika: the European Union, International Monetary Fund (IMF) and European Central Bank (ECB). As a Syriza spokesman told BBC Radio 4's Today programme this week, 'there has been a lot of posturing on all sides'. He then sought to reassure other European states that Greece under Syriza was not looking to do anything too radical, like leave the Eurozone: 'A Grexit is not on the cards.' He was echoing the recent mollifying words of Tsipras himself: 'Our goal is to reach a new agreement – within the Eurozone – that would allow the Greek people to breathe… and to live in dignity by restoring debt sustainability and finding a way out of recession through financing growth.'
In fact, what Syriza is promising to do doesn't much sound like 'an anti-austerity revolution' at all. It wants to rearrange the terms of the debt repayments, and, simultaneously, increase public spending to alleviate the 'humanitarian crisis' – which consists of a one-in-four unemployment rate and a steep decline in living standards. Channel 4 News' Paul Mason described Syriza's offering as 'a Keynesian fiscal union with a high welfare state'. Little wonder Syriza's embittered former leader, Alekos Alavanos, said that while Syriza 'has radical left origins, [it is] now a moderate party'.
But there's a deeper problem with Syriza than the disparity between its anti-austerity posturing and the moderation of its actual policies and approach: Syriza is not only unwilling really to challenge austerity; it is ideologically and intellectually incapable of really challenging austerity. It is infused with the very same anti-growth sentiments, the very same scepticism towards material progress, that underpins the idea of austerity. In its core, Syriza supports the project of ensuring that humanity lives within its environmentally and economically limited means.
This should not be a surprise. Syriza's dominant party faction, Synaspismos, may have its origins in the Greek Communist left, but its current incarnation owes just as much to its embrace of the No Logo anti-capitalism, anti-globalisation moment of the late 1990s and early 2000s. As a young Synaspismos member, Tsipras was particularly taken with the anti-G8 protests in Genoa in 2001. 'He saw that this was the future of the left', a comrade told the Financial Times. Three years later, Syriza was formed from the dregs of the anti-globalisation semi-surge, bringing Synaspismos together with assorted anti-capitalist and ecological grouplets.
As such, Syriza, right from the start, was a product of the crisis of the left, of the left's willingness, in the absence of the old socialist and Communist verities, to embrace the anti-progress, anti-modernity narrative of environmentalism. After all, went the thinking, at least it was anti-capitalist – it's just that it was also rather anti-human and anti-aspiration, too. In fact, the problem for the anti-globalisation brigade was not so much capitalism — it was human society's tendency to seek to improve its lot, always producing and consuming more, always transcending extant limits, always developing.
So keen was Synaspismos to shed its attachment to old-left dreams of material abundance that, in 2003, it changed its name from Coalition of the Left and Progress to Coalition of the Left and Ecology. The replacement of 'progress' with 'ecology' has been writ large in Syriza's pronouncements ever since. It is antagonistic towards both nuclear power and to what it calls the 'over-exploitation of natural resources promoted by neoliberal expansionism'. It says that 'natural resources are under attack everywhere'. And it promises to 'create decent jobs, distribute the wealth produced more fairly, and respect the environment'. Just this month, Tsipras outlined his vision in the Spanish newspaper El Pais: 'From the darkness of austerity and of authoritarianism, into the light of democracy, of solidarity and of sustainable development.'
So, yes, Syriza may at points sound like it is challenging the mainstream political-elite consensus on the need for austerity. But dig a little deeper, and a far more familiar, conformist political beast emerges, one that is as committed to cutting back on people's use of resources and consumption habits as the most green-gilled of contemporary miserablists. This is no recipe for anti-austerity — it's an endorsement of its underlying ingredients, from growth scepticism to an acceptance that humanity is approaching the end of the line and that nature is about to limit our aspirations.
Seven years on from the financial crash, seven years in which Western economies have receded and stagnated, and the left is still no closer to coming up with a proper challenge to austerity. For that, we need some future-oriented verve, a commitment to risk-taking and some ballsy disrespecting of the environment and natural limits. One thing is for sure: Syriza is not it.
Tim Black is deputy editor of spiked.
To enquire about republishing spiked's content, a right to reply or to request a correction, please contact the managing editor, Viv Regan.