Trail-blazers, risk-takers and rule-breakers: our people of the year
As we head into 2015, take inspiration from spiked's top people of 2014.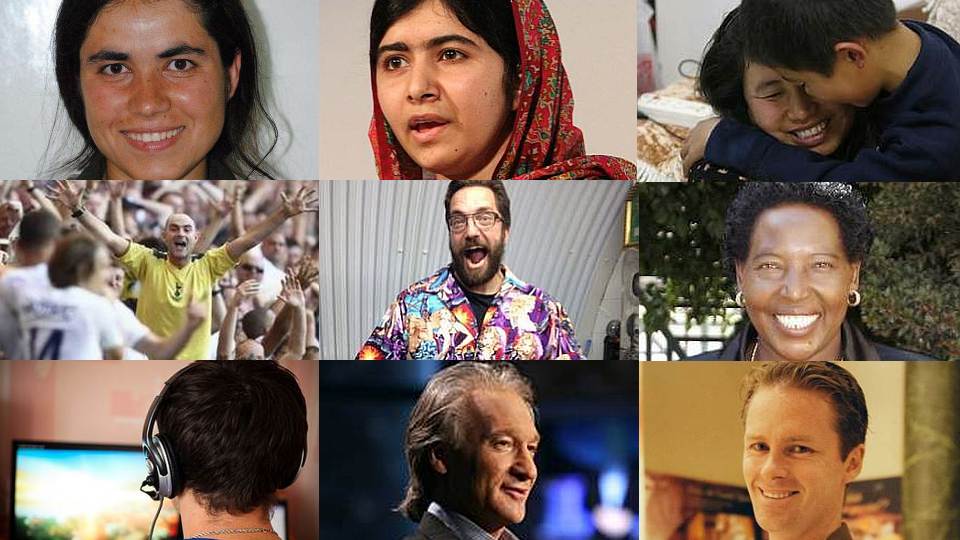 A
rin Mirkan
Kobane in northern Syria had been besieged by Islamic State forces for three weeks when, on 5 October, a 20-year-old Kurdish fighter and mother-of-two, Arin Mirkan, sprinted towards an IS position and let off a hand grenade. It is thought she killed 10 IS members. She also killed herself, though this was no nihilistic suicide bombing — it was a brave act of war on a bloody battlefield. How fitting that the last thing those 10 misogynists of IS will have seen is a woman with convictions and her hair on full display running towards them to land a blow against their abysmal ideology. But Mirkan did more than dent IS — her righteous courage also brought the moral cowardice of the West into stark relief. For while Obama and the others refuse to put one boot on the ground in what they describe as a struggle for civilisation, Mirkan was willing to lay down her life. For her beliefs, her homeland. We need more such principled daring in this young millennium.
---
Malala Yousafzai
Malala Yousafzai's struggle for the right of girls to be educated has long been inspiring. But it took on greater meaning in 2014, the year students in the West demanded trigger warnings on novels and protection from 'offensive' ideas in the classroom. The contrast between Malala's genuinely risky embrace of education and Western students' fear of education is striking: where Malala faced down actual gunman, with the Taliban attempting to assassinate her in 2012, when she was 14, many students over here can't even face the prospect of opening a book that might contain upsetting words. Malala braved the actual trigger of a gun for the right to learn; too many students in the West won't even brave literary passages that might 'trigger' certain emotions. She stands as a reminder that plucky youth still exist.
---
Liu Fei
It's a brave person that takes on the mighty regime of China — step forward Liu Fei, a warehouse worker in Beijing, who this year took the Chinese authorities to court over their treatment of her son. Liu Fei has two children, plus a step-child, a massive no-no under China's one-child policy. So she's been fined $54,000, 14 times her annual salary. And her son, her second biological child, will be denied basic rights, including the right to attend school, until she pays off this impossible fine. She hasn't taken this lying down: she sued the government for denying her child his human rights. Sadly, she lost. But she kickstarted a nationwide debate about the cruelty of the one-child policy. Moreover, she shone a light on the poisonous ideology that underpins the one-child policy: Malthusianism. The one-child policy has received funding from the UN Population Fund and has been praised by Prince Charles' favourite green, Jonathon Porritt, among other Western eco-worriers. Liu Fei delivered a kick to both Chinese authoritarianism and the global fashion for population panic-mongering.
---
The unnamed citizen
The unnamed pregnant woman saw the anti-abortion activists outside an abortion clinic in Southwark, London. She saw them videoing women entering the clinic. She saw their billboard-size posters of the bloody results of abortions. And she didn't like their behaviour. She thought it unpleasant, perhaps even offensive. But here's the twist to this tale of modern citizenship gone right: she didn't call for the police to intervene. Instead, she intervened herself, and told the protesters, passionately and rationally, exactly what she thought. 'You are wrong in what you're doing', she reasoned. 'You don't know why people are doing what they're doing, but you want to be out here judging and filming.' This was citizenship of the old-school, do-it-yourself variety — and it was salutary.
---
Florence Wambugu
Wambugu, award-winning Kenyan plant pathologist and campaigner for biotech, has been getting up the snouts of white, well-off campaigners against GM crops for years. This year she upped the ante with her book Biotechnology in Africa. She unapologetically says Africans should 'sidestep Western interests that do not match those of the local populace' — and she mainly means the Western interest of keeping African agriculture organic, and thus earthy, rather than genetically modified, which is apparently bad. She points out that all farmers in Africa are 'organic', meaning they do back-breaking work for little yield. 'Organic farming has not worked in Africa', she baldly states. In a barb brilliantly aimed at the those delicate, self-obsessed eaters of the West who only want pure and righteous food to pass their lips, she says: 'You people in the developed world are certainly free to debate the merits of GM food, but can we please eat first?'
---
Joan Rivers
What did Joan Rivers make of the Teutonic model Heidi Klum? 'The last time a German looked this hot was when they were pushing Jews into the ovens.' Sadly, Rivers died in September, aged 81. And with her bucket kicked, the world became that bit dimmer. She was the last of the adult comics, the end of the line of quick-quipping stand-ups for whom nothing was beyond a joke. And to those who took offence at her infamous 'meanness', no apology was forthcoming. Ever. 'You're offended? Oh, grow up!' was her all-purpose retort. 'Grow up' — in these infantilised, offence-taking times, could there be a better hollaback than that?
---
The Yid Army
To politicians and nu-fan alike, the soccer sanitisers, football's traditional male, working-class constituency has long appeared too rough and ribald for the Waitrose aisle, and thus they must be corrected. Thank God, then, for the Yid Army, those Jewish or Jew-embracing Spurs fans who refused to cave in to the PC-police demand, backed by the actual police, to stop self-identifying as Yids. Years of celeb campaigning (or Baddiel bothering), plus several arrests, came to nothing in the face of Spurs fans' determination to defend their long-established footballing identity. When the police announced in June that they would no longer arrest Spurs fans for saying 'Yid', it was a small victory for the independence not only of Spurs fans but potentially of other unpopular groups in the UK, too.
---
The Gamergate rebels
Who'd have thought that videogamers, snootily and wrongly written off by modern culture as bedroom-bound blokes with hygiene problems, would be manning the barricades in the fight for freedom of thought? That's what happened this year. In the #Gamergate controversy, which started life as a silly spat over videogame journalism but speedily morphed into a Culture War by media feminists against allegedly sexist videogames, gamers everywhere stopped taking part in pretend wars on their TV screens and instead engaged in a real, moral war for their right to play what they want. In a year in which all sorts, from Sony to Oxford University, caved in to demands to STFU and stop saying or showing offensive stuff, gamers said: 'No.' They put down a flag, and anyone who believes in the freedom to think, to imagine, to pretend, should rally behind it — even if you've never heard of, far less played, GTA or World of Warcraft.
---
Tori Johnson
The actions of Tori Johnson, the gay manager of the Lindt cafe in Sydney that was taken over on 15 December by an unstable Islamist with a gun, stand out in this era in which we're forever implored not to be 'have-a-go heroes'. It's too risky, apparently. In struggling with the Lindt gunman, to protect his fellow hostages, Johnson was doing something that has come naturally to human beings in times of danger for generations — taking an enormous risk in defence of others — but which appears especially brave at a time when we're so often told not to risk our own lives and limbs to save other folks' lives and limbs. Sadly, Johnson was killed, as was Katrina Dawson: Sydney paid tribute to them in its New Year's celebrations this week. A longer-lasting tribute would be a firmer commitment from all of us to stand up to so-called 'lone wolves' and other thugs, as and when they emerge, both to demonstrate our humanity and their weakness.
---
Bill Maher
US chat show host Bill Maher may shoot down all forms of religion, but it has been his volleys at Islam that have really riled gangs of the censor-happy. Invited by the University of California, Berkeley to be its commencement speaker, Maher, having been labelled a 'racist' and 'bigot', promptly faced activists' calls that he be disinvited. But Maher didn't back down; he did what we should all do: turned up, dug in, and struck out at those who silence in the name of sensitivity. 'Don't be afraid to be a crazy person', he said in his eventual speech, 'and understand that the truth is not always popular'. Amen to that.
---
The Muslim Brotherhood 9
Nothing exposed the flimsiness of Western politicians' commitment to democracy more than the 2013 military coup in Egypt. An elected president — Mohamed Morsi of the Muslim Brotherhood (MB) — was swept aside, a military leadership installed, and a vast battery of repressive, speech-killing laws introduced. And yet our leaders praise Egypt's military government for starting a 'transition to democracy'. It's been left to supporters of the now banned MB to fight tooth-and-catapult for the restoration of their democratically chosen leader, a fight for which they've found themselves massacred, sentenced to death, or jailed. This includes nine women, currently standing trial in a military court and facing up to 30 years' imprisonment for taking part in a protest calling for the president they fairly elected two years ago to be reinstalled. Those willing to risk incarceration to fight for their democratic rights deserve our support, whether you like the MB or not (spiked doesn't).
---
Dr Matt Taylor
Matt Taylor and his team at the European Space Agency achieved something hitherto only imagined in the movies: they landed a spacecraft on a comet. Yet this 6.4 billion-mile leap for mankind, this feat of technological daring, was drowned out by media moaning about Taylor's eccentric guns'n'gals shirt. That poor Taylor subsequently felt the need to offer a tear-dropped apology should be seen as an indictment of today's powerful pressure to conform, to toe the politically correct line, to be, above all, appropriate. Bill Maher, the Gamergate guys and some others might be able to withstand such pressure, but Taylor couldn't. Which is sad, because we need more eccentricity — and more tolerance of eccentricity — not less. Because it's the eccentrics, the virtuosos, the wilfully individual, from Socrates to Albert Einstein, who invariably push the boundaries of knowledge, and reveal to the rest of us futures we never thought possible. A society that can't handle a saucy shirt is hardly going to be able to handle universe-quaking ideas. So in 2015, wear what you want, think daringly, and don't apologise for not intoning from the same script as everyone else.
To enquire about republishing spiked's content, a right to reply or to request a correction, please contact the managing editor, Viv Regan.