Iggy Azalea is not the new Al Jolson
Yes, that fake accent is annoying, but cultural appropriation is what pop is all about.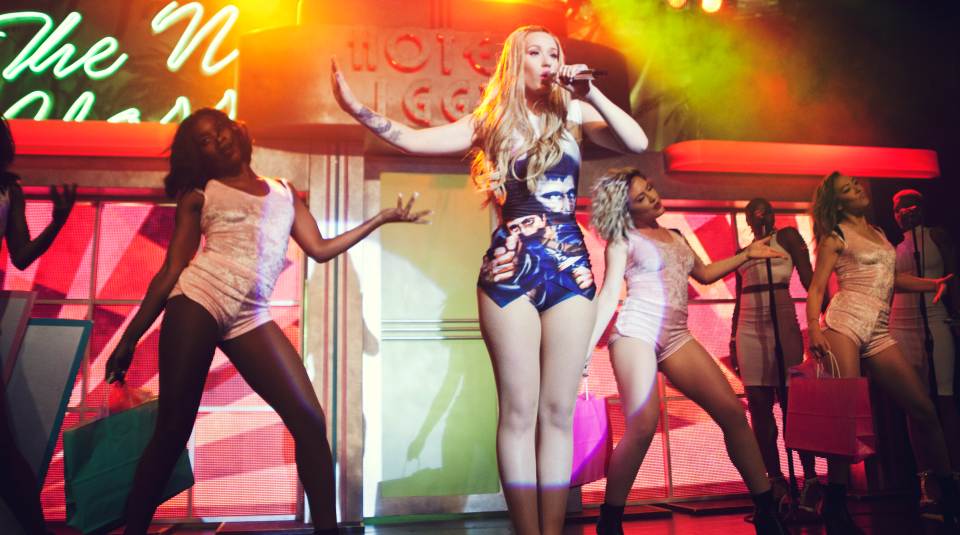 There was a time when rappers had to do something pretty brash to be considered 'controversial'. You know, like fire expletives at the constabulary or write a song about killing your wife and stashing her dead body in the trunk. Ah, the good old days. Not anymore. Not when there's a handwringing think-piece to be written and a bunch of fuming journos looking for any scrap of pop culture on which to launch their half-baked political musings.
Forget NWA, forget Eminem; the most controversial rapper at the moment is Iggy Azalea – a radio-friendly hip-hop starlet from Australia who writes southern-style booty-shaking tunes about getting 'fucked up on the mini bar' and raps in an affected Atlanta accent. She comes off like the kind of wigga-ish wannabe white rapper whose monosyllabic freestyles you'd laugh at if you heard them relayed to you on the top deck of the number 47. Her main crime, in short, is being a bit lame.
But, going by the column inches being taken up by anti-Azalea missives at the moment, there are a lot of people who think there's something much more sinister at play. In the past few weeks this inoffensively mediocre chart-topper has been turned into a monster. She's charged with 'cultural appropriation'. Her drag-and-drop rap persona is not the sign of a lack of imagination, but of a deep-seated racial injustice, apparently.
This nontroversy was sparked in May, when Forbes – that longtime authority on all things rhyme – published an article with the crassly provocative headline: 'Hip Hop Is Run By A White, Blonde, Australian Woman.' Since then, everyone's been having a pop. Not least hip-hop's resident keyboard gangster, Azealia Banks, who took her fury off Twitter for once and blasted 'Igloo Australia' in an interview with NYC hip-hop station Hot97. With Iggy having scooped up a Grammy nomination for her debut album, The New Classic, and beaten Lil' Kim's record for the longest-running number-one single in the US charts by a female rapper, Banks was incensed that Azalea was profiting off 'white privilege' and plundering rap for her own grubby purposes.
This was instantly applauded in the chattersphere, which added a faux-intellectual sheen to Banks' fiery one-liners and posited Azalea as a kind of nouveau Al Jolson who 'gets to profit off of her white appeal while simultaneously selling a black sound'. Now, you don't have to be a white-privilege-holding-by-proxy bigot to know this is a bit of a stretch. The only person Azalea is humiliating when she belts the refrain 'Who dat? Who dat?' is herself. And, while there is a dodgy history of black artists not getting their due for the music they helped create, the reasons for this were social, not psychological. Music venues and the music charts were strictly segregated. Black faces weren't welcome on television. The idea that, today, white music moguls are repackaging black music for an unwittingly racist public is conspiratorial at best – painfully misanthropic at worst.
The rage against Azalea speaks to the backward world of respectable 'anti-racism' today, which is a far cry from the genuine anti-racism of old – in fact, under the new 'anti-racism', solidarity has been supplanted by a new racialising dynamic. The response to the recent flurry of police brutality against black people in the US has been met with a new insistence that race is something that defines and divides us. As Brendan O'Neill pointed out on spiked recently, the new anti-racist line concerns itself with raising the 'racial consciousness' of privileged whites and recognising the 'racial victimhood' of blacks, rather than insisting that we throw out the oppressive idea of race altogether in the name of our common humanity. Indeed, the criticism of Azalea has intensified after she failed to 'speak out' over Ferguson. That is, she failed to express her 'racial consciousness'.
This is all exacerbated by the suffocating culture of deference that still has a hold on rap. For years, so-called 'real' hip-hop heads have lambasted young artists – white and black – for not being up on the history. For not understanding 'where this came from'. Most of the time, this amounts to little more than carping that modern hip-hop doesn't sound like old hip-hop, that it's too 'ignorant' and that it has forgotten its political roots. In short, that it has changed. But the criticism levelled at Azalea is somehow more intense, with 1990s rap legend Q-Tip going as far as to give her a hip-hop history lesson in a series of three-dozen tweets.
Put together, these two trends amount to a call to ghettoise rap music. For the Azalea haters the fact that rap music has so permeated pop music – the fact that its infectious influence has reached far beyond its humble beginnings – is lamentable. It has come at the cost of the purity of the artform and its 'social consciousness', they say. Rather than celebrate the fact that rap has now transcended the fierce segregation and strife that helped birth it – and helped, in part, to bridge the racial divide – there is a move to re-erect the old barriers.
This all comes at the cost of the rich, cultural exchange that has motored modern youth culture. From Elvis the Pelvis bringing rock'n'roll to suburban TV audiences to the pioneering black techno producers suffusing funk with the hammering rhythm of Kraftwerk in the raves of 1980s Detroit, so-called cultural appropriation has always broken down barriers and got butts moving in the process.
Is Iggy Azalea a part of this rich history? Hardly. But putting up with her cloying blaccent is a small price to pay for keeping pop music a race-free zone.
Tom Slater is assistant editor at spiked.
To enquire about republishing spiked's content, a right to reply or to request a correction, please contact the managing editor, Viv Regan.