Hong Kong: how the Occupy brand is killing politics
The Occupy model has been a complete disaster for repressed peoples.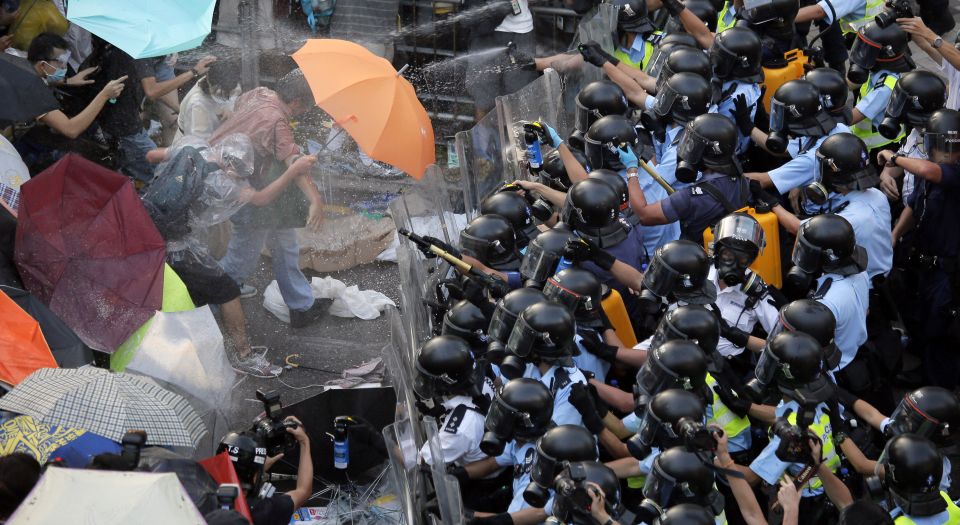 Encampments have already been cleared from other parts of Hong Kong. And now, in Admiralty, the final tents are being dismantled. After 10 sporadically eventful weeks, Hong Kong's Occupy-cum-Umbrella movement appears to be finally packing up. But was it a success? Did Occupy Central further the cause of democracy in Hong Kong?
Not exactly.
'So far, the movement has not really won us anything.' John Pau, a 21-year-old participant, is probably being generous. What began in September under the auspices of Benny Tai Yiu-ting, an associate professor of law, as a student-driven, pro-democracy protest self-consciously in the style of Occupy, before it became known as the broader, tear gas-defying Umbrella movement, has hung around downtown Hong Kong for over two months. And in that time, it has not only failed to win significant concessions from the Hong Kong government, which still refuses to contemplate non-Beijing-vetted candidates at the 2017 chief executive elections; it has also failed to win public support for its pro-democracy cause.
In fact, if anything, its Occupying ethos, its sheer hanging-aroundness, has turned the Hong Kong public off. Yes, it won a sympathetic strain of support, as thousands rallied to the protesters' cause following a baton-wielding, tear-gassing crackdown in October. But as the occupation continued into its second month, camping out rather than coming up with a political programme, people became tired. Tired of the disruption. Tired of the inertia. Tired of the whole spectacle. A poll in late November revealed that the majority of Hong Kong's residents not only wanted the camps cleared, but also didn't support the protest. And now, as the police, waving court orders in the air, are busy clearing away what remains of the camps, it seems the Hong Kong public has got its wish.
So, John Pau was right: the movement hasn't really gained anything, apart from column inches.
But then, that is the tragedy of Occupy's global conquest. Time and again in recent years, political impulses around the world, a protest against an authoritarian government here, a retort to a brutal coup d'etat there, have been stunted and stymied by the Occupy franchise. Struggles struggling to coalesce into definite causes have been turned into just another branch of Occupy, mere outlets for Occupy's brand of passive, ideas-averse, publicity-craving protest. And they've therefore been prevented from developing into their own political movements, according to their own local dynamics, informed by real people's own needs and interests, with their own place-contingent tactics and strategies. After all, was an Occupy-branded protest really what Hong Kong's pro-democracy campaigners needed in the face of the Hong Kong government, and more pertinently, the Chinese Communist Party?
Admittedly, there is one thing that Occupy is perfectly suited to: embodying the moral and political exhaustion of the Western left. It does that brilliantly. Think of the rationale of its logo-free founders at Adbusters, who, on the eve of Occupy Wall Street in 2011, laid into the 'army of zombies' that make up Western consumer society, with our 'glazed eyes, blank stressed faces twisted into ugly masks of want' – you'd do well to find a better example of the way in which too many Western lefties turned away from, and against, the needs and desires of the vast majority of people, or 'subordinates' as the London Occupy 'newspaper' insisted on calling them. And to this anti-consumer snobbery, Occupy added every retrograde, anti-modernity sentiment available, from knee-jerked, banker-bashed anti-capitalism to climate-change catastrophism. You name the lefty piety, Occupy have got it.
More striking still has been the point of Occupy. Clue: it's all in the name. That is it. Activism is a misnomer; passivism is more accurate. What matters above all is the act of simply being there, on Wall Street, outside St Paul's, in Admiralty. Process has eclipsed ideology — for very bad ideological reasons. Occupy celebrates leaderlessness over hierarchy, inclusion over exclusion, no objectives over determinate aims. To say what the movement should be moving towards, to argue for a political vision and to win people over through political argument, is considered oppressive, excessively ratiocinative, and quite probably patriarchal. Occupy is all about the continuing-to-be-there. It's all about 'human megaphones', 'comfort teams' and 'tranquillity officers'. Little wonder that one of Occupy Wall Street's celebrity intellectual champions, Judith Butler, was left waxing prolix about, err, the simple fact of physically being there: 'It matters that as bodies we arrive together in public, that we are assembling in public; we are coming together as bodies in alliance in the street and in the square. As bodies we suffer, we require shelter and food….' When you've jettisoned ideas and leaders, abandoned old left-wing notions of material progress and humanism, and lost every red corpuscle of fighting spirit, this is just about all Occupy is left with. Bodies. Together. On a campsite.
So, yes, Occupy is perfect for the time-rich, middle-class Westerner with a beef against Tesco. It embodies the lethargy of the left today, its intellectual exhaustion, and turns it into a virtue. In Occupy, waiting around, while cocking a sneer at the dupes on their way to work, has found the perfect political form.
But for those in non-Western countries, those struggling against insecure states with itchy trigger fingers, Occupy ceases to be an indulgence, and it becomes a hindrance. As we saw in Turkey last year, with Occupy Taksim, and this year with Hong Kong's Occupy Central, it means that activists are gathered together in easily targeted places. This is good for the authorities, but not so good for the protest. Nowhere has this been quite as brutally illustrated as in Egypt in August 2013. A six-week encampment set up by protesters opposed to General Sisi's coup became the site for what is now known as the Rabaa massacre: the Egyptian security forces killed nearly 1,000 protesters and injured many more.
But it is not just on a tragically tactical level that Occupy-style protesting is ill-suited to fighting against oppressive, sometimes military regimes. At the level of political ideas, Occupying is equally as counterproductive. It renders movements stillborn; it turns activists' energies inward, towards the maintenance of the camp's existence, rather than outwards, towards possible sources of popular support. And this is exacerbated by the emphasis on leaderlessness, on a refusal to refine a concrete set of political objectives for fear of upsetting particular camp members – in Hong Kong, even Benny Tai seemed reticent about being identified as the leader.
What a political movement needs is movement. It needs to be aspiring towards winning more and more people to its cause, and refining and developing its arguments in the process. But Occupying works against that. In effect, it limits a political movement to the confines of the camp, both physically and intellectually. It encourages passivity, not activism. And it positively invites the authorities to attack it. What engagement there is is largely confined to gaining international media coverage. Audience share is more important to Occupiers than actual popular support.
So, Occupy, a political franchise born of the moral and intellectual exhaustion of the left, may suit decadent Westerners with time on their hands. But, outside of London and New York, it is strangling political opposition at birth.
Tim Black is deputy editor at spiked.
Picture by: PA
To enquire about republishing spiked's content, a right to reply or to request a correction, please contact the managing editor, Viv Regan.