Theory and thuggery in the slums of Bombay
David Hare's Behind the Beautiful Forevers: a portrait of poverty that lacks perspective.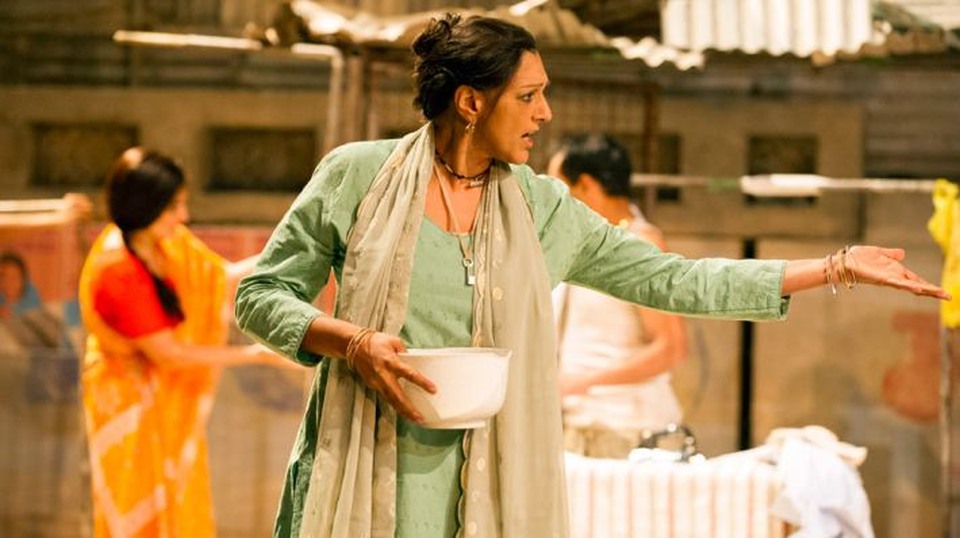 Contemporary radical thinkers like Michael Hardt and Antonio Negri are sometimes wont to fantasise about slums as pioneering, exciting alternatives to capitalist forms of social organisation. From Nairobi to Rio to Cape Town to Bombay, ghettos can be viewed as gigantic social experiments. But David Hare's new play at the National Theatre in London, which is based on the book by New Yorker magazine writer Katherine Boo, calls this tendency into question. Boo says she wrote her book about the Annawadi shanty town beside Bombay airport because such slums are 'over-theorised and underreported'.
Whatever is said about ghettos at university seminars or in radical journals worldwide, life goes on there just the same. Boo simply wanted to record life in these poverty-stricken dwellings without judgement and without it becoming 'her' story. Hare's adaptation of the book duly focuses on a clutch of her characters, eking out their lives to the soundtrack of jumbo jets landing at the nearby runway. They make a modest living by scavenging plastics and metals and have established their own informal market structures of pickers and sorters. Thieves operate in the slums, too, and both sets of slum dweller, legal and illegal, are subject to the caprices of a corrupt police force who prey on their desperation – sexually and economically. The only thing the slum dwellers can count on is counting on nothing.
One of Hare's central figures, played by Meera Syal, is a cussing Muslim mother who is at war with her neighbour – a one-legged, squawking prostitute who will go to any lengths to destroy Syal's family. Syal's character is exceptional in that she doesn't suffer much of the violence – husband on wife, wife on child, etc – which is a routine, even banal feature of other people's lives in the slum. Her son Abdul (Shane Zaza) is a relatively independent sorter of garbage and as such is almost middle class amid the malnourished and destitute. Similarly, Stephanie Street plays a fractionally better-off loan shark, who is seeking to fix her daughter's dream of becoming a teacher.
Behind the Beautiful Forevers presents us with a world of systematic corruption. Doctors fake medical reports, cops fiddle crime stats, and smooth-talking parasites, such as Nathalie Armin's executive officer, exploit a Kafkaesque legal system (not that any of that could possibly happen here). As the loan shark ruefully observes, 'the right person is out there waiting to be bribed'. But at least for the loan shark this squalid social Darwinism can be made to work for her – even if the consequences of a tiny mistake or a palm not crossed can be catastrophic. In this context, Syal's son Abdul seems an almost senseless idealist when he decides, after being framed for a trumped-up crime, that it's more important to live honestly than to live well.
One of the many chastening facts about these characters' stories is how they are subject to the vagaries of market-chaos theory. Just as a butterfly's wings in the Amazon jungle were once said to affect stock prices in Wall Street, so stock markets in Wall Street cause collapses in the retail value of street rubbish in Bombay. Add to that the Indian caste system and you have a desperately dead-end situation. The Western fantasy of education as an economic fire escape is abominated by conservative families. The characters see it as breaking down bonds of social dependency and holding out false hopes to the impressionable young – especially girls.
There is much to chew on here, and Hare's script serves it up with snarling panache, translating the characters' rough Indian street vernacular into crepuscular modern English. Their effing and blinding obliterates all trace of political correctness and delivers a physiological vulgate of sucking on sugar cane and stuffing hairy holes. Katrina Lindsay's stage design brings to life an improvised shanty town of corrugated iron crouching beneath billboard dreams of consumer fulfilment. Large metal scales for weighing rubbish hang over the stage in the first half, suggesting a theme of justice, and yet vanish in the second half when we sink into a labyrinth of transparent injustice.
But what is most surprising about Lindsay's set and Rufus Norris's direction is that it's oddly odourless. Smell is often a moot point in theatre. However 'real' the action gets, scent is usually missing. If you are going to evoke it, you need to do so through its effect rather than its presence, but here there are only a handful of references to it. Perhaps the characters are simply inured to the whiff of their sweaty servitude. All the same it's here that the show's documentary ideals falter, not because there is no stink but because the company has reached the limits of its representation. It is a limit of their ability to account for the experience of these characters and it's at this point that a little of that theory that Boo foreswears might have come in handy. The point of using theory to relate the lives of others is that it offers perspective as well as judgement, and perspective is weirdly missing from this social survey.
What can we learn from these people's experiences? Never mind the truism of quantum mechanics that observing an experiment changes it; why are we observing this situation in the first place? To what end? If such questions are set aside then we risk becoming blind to our own perspective. There is even a danger of considering slums to be a natural or inevitable state of affairs. There is a risk that the experience of these slum dwellers is turned into mere facticity. Surely it is vital not simply to observe and explore the relationships these people undertake with each other, but also to acknowledge our responsibility to them as fellow human beings walking the planet in step with the rest of us. This must be why it is on stage at the National Theatre in the first place. Why pretend otherwise?
One of the other extraordinary facts about these Bombay slum dwellers is that, according to Professor Sunil Khilnani from King's College London writing in the programme, they are not classified as 'poor' by the Indian government. This extraordinary fact might be attributed to the institutional corruption shown in the play, as Indian politicians seek to massage statistics and be economical with the truth. But it also calls into question the claim of many a rapacious neocon that economic development lifts people out of poverty. This is another 'theoretical' angle that Boo and Hare might well have considered. It is reminiscent of the old Groucho Marx joke: 'I worked my way up from nothing to a state of extreme poverty.'
Patrick Marmion is a freelance journalist, playwright, founder of Soapbox debating forum and a part-time tutor at the University of Kent. Visit his website.
Behind the Beautiful Forevers is at the National Theatre Olivier until 13 April 2015.
Picture by: National Theatre
To enquire about republishing spiked's content, a right to reply or to request a correction, please contact the managing editor, Viv Regan.