Julien Blanc is a dickhead
But he should still be able to talk nonsense in the UK.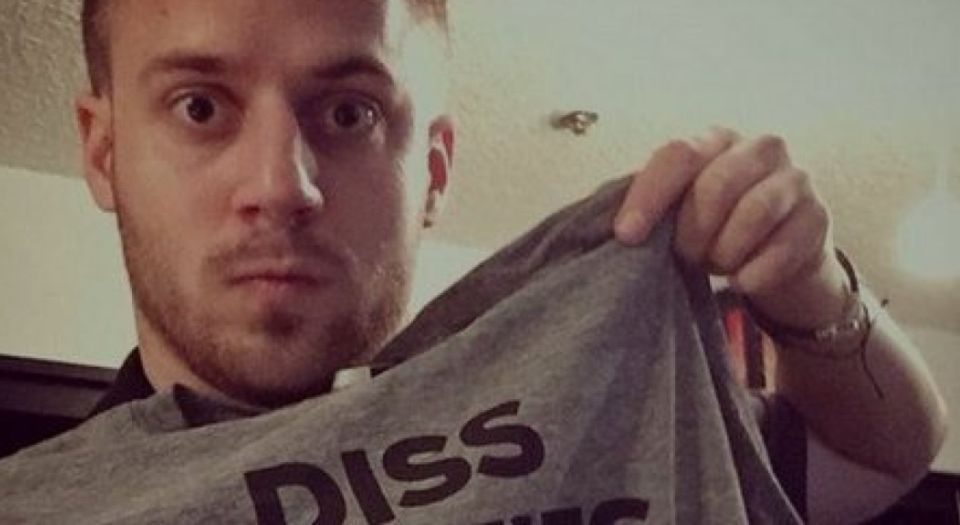 Last week, a vociferous web-based mob mobilised to prevent Julien Blanc, a US citizen and self-styled professional pick-up artist, from entering the UK. Blanc swiftly became the first person to be banned from Britain as a result of online outrage. A petition to refuse his application for a visa received 160,000 signatures. The petition was backed up by the Twittersphere, which got the hastag #bringdownjulienblanc trending. The Home Office then took leave of its professional judgement entirely and caved in, denying Blanc permission to come here. Earlier this month, Blanc was deported from Australia after a similar campaign had been launched against him.
So who is this alpha-male sex criminal we all need protecting from? Well, he's a complete loser. Blanc's creepy website describes how he can train men to become 'sex worthy' through developing 'game'. His method has been 'developed' (in other words, nicked) from Neil Strauss's book, The Game, which describes how to persuade women to sleep with you by deploying a set of robotic conversational techniques. These techniques are expertly crafted to allow desperate men to portray themselves as, well, wankers, really. Just like magic, Blanc can turn you into the kind of cocky dickhead some women might wish to make a quick sexual mistake with. Predictably, the outcome of these attempted seductions is usually the guy being laughed out of the park. Using Blanc's techniques looks more like an exercise in self-flagellation than seduction. Quite how Blanc thinks this helps men's confidence is anyone's guess.
The Twittermob started to take notice of this pathetic subculture of 'pick-up artistry' when a video emerged online in which Blanc can be seen addressing a seminar on picking up women in Tokyo. He is filmed saying that as a white man you can 'do whatever you want' when trying to pick up Japanese women. He then tells the audience you can 'just grab their heads' before miming pushing said heads towards his groin. There is footage of him doing the same thing to a series of different women in nightclubs. He can also be seen with his hands around their necks, as if he were choking them. He then got into trouble for tweeting a photograph of a diagram used by an anti-abuse charity, describing it as a 'checklist' on how to pick up women.
Of course, the videos of Blanc are nasty. Some are sexist and racist. The tweet was also offensive. But to say women are less safe because of Blanc's remarks is a little like saying that the 1960s soul-classic 'Dancing in the Street' has made women 'around the world' less safe by encouraging 'every guy' to 'grab a girl'. The men watching Blanc know that his remarks and the behaviour he exhibits are dependent on context. Blanc says that the women he can be seen 'grabbing' in his videos are all known to him and know how to treat him – like a dickhead, presumably. He's never been charged or prosecuted for any criminal offence. His tweets are typical of the antagonistic and juvenile humour which permeates the internet. He's basically an overgrown horny teenager with too much money.
Nonetheless, the commentariat went into anti-Blanc overdrive when the Japanese video emerged, and a petition was launched against Blanc's entry into the UK, claiming he had 'encouraged' sexual violence against women. Labour MP Seema Malhotra said Blanc had 'crossed the line' into incitement during the course of the video, as if he were the Abu Hamza of sex crime, wandering the conference halls of the world turning otherwise law-abiding young men into rapists. Liberal Democrat Home Office minister Lynne Featherstone – who presumably had to put her office's bizarre decision on some kind of legal footing – absurdly claimed that Blanc's presence in the UK 'could have led to an increase in sexual violence and harassment'.
This is all utter nonsense. No one watching these videos could seriously claim Blanc committed incitement. Blanc would certainly not be prosecuted if he had made the video in the UK. What all these arguments justifying Blanc's exclusion really show is an utterly degraded view of both men and women. For those trying to keep Blanc out, the men who attend his seminars are a maundering gang of rapists-in-waiting, desperate to be given permission to mistreat women. Meanwhile, women are presented as being unable to cope with the clever manipulations of cruel men. In fact, they are so incapable of dealing with Blanc and other 'gamesters' that they need a special national border, with state enforcers at the Home Office, to keep the creeps out. While Blanc views women as brainless putty, to be moulded by nonsense and automated conversation, the campaigners against Blanc view women as desperately helpless and in need of state assistance to keep them away from lechy men.
Of course, Blanc and his loony techniques are nothing to be afraid of. If anything, they are a tragic symptom of a culture in which intimacy has been so problematised, and the process of seduction so heavily dissected and imbued with anxiety, that some have decided to adopt a robotic pseudo personality to address members of the opposite sex. Sadly, our government needs little excuse to exercise draconian controls over our national borders. It has already banned a long list of comedians, politicians and thinkers from our shores based on what they think and say. Now Blanc joins that sorry list. And no doubt the petty bureaucrats in the Home Office will be delighted to have the support of the new authoritarians in the Twittersphere.
Blanc is a sad individual, but we should be appalled every time our government turns a citizen of the world away from UK borders. We should be even more appalled when it makes that decision based on what someone has said or what they believe. Sadly, the reaction to Blanc and his juvenile methods of phoney seduction has turned out to be a far greater threat to British values than the man-boy himself could ever be.
Luke Gittos is law editor at spiked, a solicitor practising criminal law and convenor of the London Legal Salon.
To enquire about republishing spiked's content, a right to reply or to request a correction, please contact the managing editor, Viv Regan.