The three faces of censorship
From the academy to politics, intolerance is back in fashion.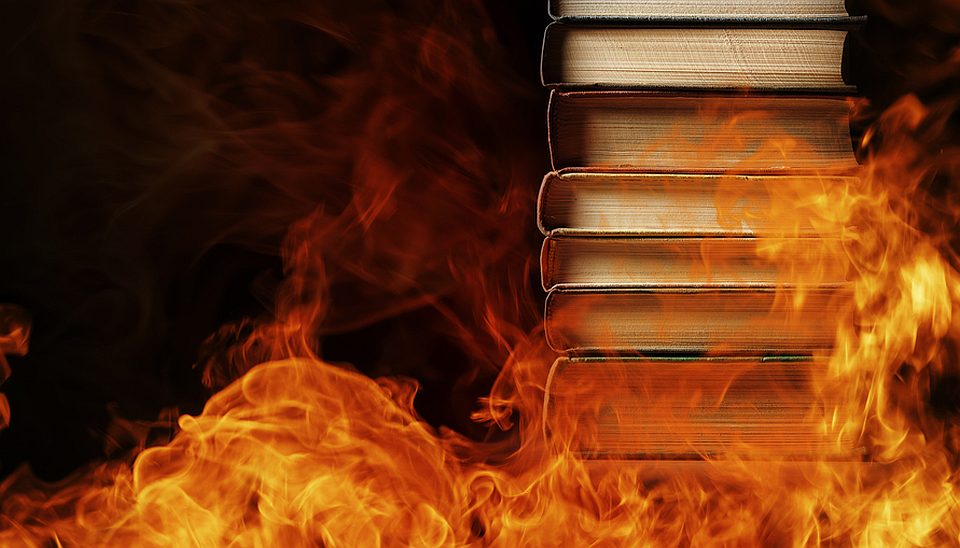 Who do you want to ban or censor? The radical jihadist? The American 'pick-up artist'? The offensive lyrics of a pop hit? The objectionable speaker who violates your sensibilities? The pro-life orator? The pro-choice orator? An art exhibition about slavery at the Barbican that makes people feel uncomfortable?
This week, it's the turn of the terrorist agitator. The British government clearly views censorship as a vital weapon in its war against radical jihadists. Its proposed new laws, due to be unveiled by home secretary Theresa May today, threaten schools and universities with legal action if they fail to contain the threat of radicalisation or to ban extremists from speaking to students on campus.
Banning objectionable individuals from speaking on campuses or from entering the UK seems to have become the main vocation of the UK Home Office. Its new motto would appear to be 'Si Movet Censor Eam — 'If it moves, censor it!'. The other week it was Julien Blanc, the so-called pick-up artist accused of promoting sexual assault, who was banned from entering Britain. Today, the energy of the Home Office censor will be directed at eradicating jihadist ideas from university campuses.
Paradoxically, the government is a Johnny-Come-Lately to the 'let's ban something on campus' crew. In the twenty-first century, university students are far more likely to demonstrate on behalf of censorship than they are to struggle for freedom of speech. In recent years, student-union meetings have only seemed to come alive when debating a motion that a certain society or meeting should be banned for failing to conform to official policy. Campus censorship has become a kind of competitive enterprise, where these unofficial advocates for censorship vie with officialdom to see who can demonstrate the most contempt for freedom and free speech.
The transformation of the academy from an institution that upheld the free circulation of ideas as one of its key virtues into an institution that sees censorship as an enlightened instrument for protecting individuals from offensive or dangerous ideas is one of the most remarkable developments in twenty-first-century Western society. It is a development informed by the zeitgeist of illiberalism that prevails in all sectors of society today. Tolerance is now increasingly regarded as a pragmatic principle that only applies to those who share the same outlook as you.
The ascendancy of the censor and the celebration of intolerance represent a reversion to the pre-modern view that it is morally justified to shut down and eliminate views perceived to be threatening. It is worth noting that until the seventeenth and eighteenth centuries, it was intolerance rather than tolerance that was considered to be morally correct. As late as 1691, the French theologian Jacques-Benigne Bossuet boasted that Catholicism was the least tolerant of the religions. He stated: 'I have the right to persecute you because I am right and you are wrong.' From this perspective, tolerating objectionable sentiments was seen as a form of moral cowardice. The embrace of intolerance represented a refusal to engage in a battle against evil. Tragically, this backward and illiberal sentiment now animates the behaviour of Home Office civil servants, many student-union operatives, and a variety of advocacy organisations devoted to the cause of protecting their worldview and their supporters from offensive words.
The three faces of censorship
Censorship has a long history. Back in Roman times, two magistrates, or 'censors', were charged not only with counting the population but also with supervising public morals. Official censorship was historically about containing heresy. The Catholic Church's publication in 1564 of the Index Librorum Prohibitorum – an index of prohibited books – was a key example of institutionalised or official censorship. The Index sought to prevent the influence of 'evil' by stopping the circulation of heretical and other dangerous ideas that might corrupt public morality. In subsequent centuries, official censorship expanded its focus, moving from the sphere of morality towards silencing supposedly threatening political ideals. The authoritarian regimes of Nazi Germany and the Soviet Union represented extreme forms of such institutionalised censorship of political thought. In such societies, people had to watch their every word. The repression of objectionable views was held up as a fundamental task for these self-consciously intolerant regimes.
In the twenty-first century, official censorship is far more limited than it was in the past. It is often hesitant and it communicates a sense of bad faith – its practitioners claim that while they still formally uphold tolerance and freedom of speech, in this particular instance censorship of a dangerous or hateful idea is necessary. The UK government's proposed ban on extremist speakers on campus expresses very well the double standards of the contemporary official censor. Unlike that of the sixteenth-century Catholic Church, today's official censorship lacks conviction and passion. Initiatives like May's proposed anti-terrorism bill or the new laws against hate speech are ultimately a form of impression management. Instead of challenging threatening ideas, officials wish the problem away by rendering certain ideas illegal.
Today, official censorship is far less significant than its freelance counterpart: unofficial censorship. As anyone who is familiar with current trends in political and cultural life will know, the promotion of censorship is no longer the preserve of state or religious authorities. Advocacy groups, educators, campaigners, media organisations and, most notably, university-based individuals are now all actively engaged in crusades to ban individuals and censor views. Indeed, recent expansions of official censorship have in part been a response to the pressure exerted by unofficial agitators for intolerance. These days, an online petition demanding the banning of this or that is sufficient to get a sympathetic reaction from an institution or a government agency.
Paradoxically, advocates of unofficial censorship do not see their actions for what they are – acts of intolerance – but rather claim merely to be affirming and protecting the individuals who might feel offended by the views they are censoring. This can be seen most clearly in universities, where many students and academics devote more energy to criticising the principle of freedom of speech than they do to upholding it. Consequently, many of the official laws that violate the freedoms of speech and expression – for example, so-called hate-speech laws – actually have their origins in the deliberations of unofficial campus censors. That so much of the government's proposed new anti-terrorism law is directed at universities is probably informed by the calculation that the grounds for official censorship have been well prepared by unofficial campus censors.
But official censorship and its enabler, unofficial censorship, are not the only forms of censorship today. The main damage caused by unofficial censors is through the influence they exercise on culture and everyday life: they have helped to consolidate a climate of conformism that has led to the growth of a third type of censorship. And it is arguably the most insidious form of censorship: self-censorship. Historically, self-censorship has been associated with the media and the intelligentsia, who for both good and bad reasons drew the conclusion in certain situations that silence was the better part of valour. Such behaviour in a totalitarian society, for example, is entirely understandable and often essential for personal survival.
However, today self-censorship is an expression of a lack of integrity and courage. Just count the number of times that people who have been publicly criticised for making an offensive comment have rolled over and declared that they were utterly wrong or insensitive. 'I apologise', they say. Such public acts of self-censorship do great damage, for they discourage other people from voicing their sentiments in public. Official and unofficial censors are probably delighted by the flourishing of self-censorship, but what they overlook is that through their repressive behaviour, and their creation of a climate of conformism and self-silencing, they deprive society of the ability openly to confront and deal with the challenges it faces.
The three faces of censorship – official, unofficial, and self- – reinforce each other's influence, to the point where the very idea of an open society is called into question. That is why, without a hint of irony, public figures can demand that intolerance should not be tolerated. Fighting intolerance with intolerance has the perverse effect of depriving tolerance of moral authority and rebranding the intolerance of the censor as a good thing, as virtuous. The twenty-first-century descendants of the heresy-hunting authors of the Index Librorum Prohibitorum are no less energetic than their moral predecessors. They are right now busy drafting laws for parliament or motions for student unions or online petitions to ban something. Those who love liberty and uphold freedom of speech face formidable opponents who are no less zealous than the authors of that Index.
Frank Furedi's First World War: Still No End in Sight is published by Bloomsbury. (Order this book from Amazon (UK).)
To enquire about republishing spiked's content, a right to reply or to request a correction, please contact the managing editor, Viv Regan.