The moral crusade against pro-life students
Pro-life societies are being censored. Now, a fightback has begun.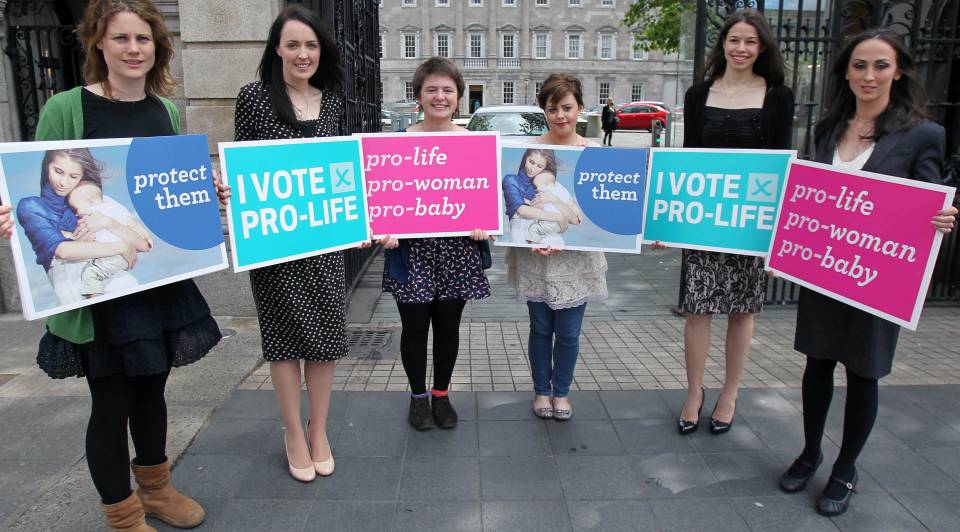 Free speech on UK university campuses is not under attack – it's on life support. Layer upon layer of university and student-union policymaking has, effectively, declared open season on anyone who dares stray from the ever-shrinking terrain of respectable ideas. Building on the legacy of the National Union of Students' (NUS) anti-racist No Platform policy that has held tenure on student-union statutes for over three decades, a raft of new policies has taken censorship to its next logical step – the policing of anything deemed to be that little bit offensive. It's in this climate that campus censorship has become, well, kinda silly. The harsh words once reserved for the far right are now aimed at rugby lads, pop singers and comedians whose supposedly corrosive – see un-PC – means of expressing themselves is deemed a direct threat to student safety.
The recent flurry of campus bans on Page 3, 'Blurred Lines', greetings cards, Dapper Laughs, UKIP, Julie Bindel, spaghetti monsters and Jesus & Mo has certainly made calling out censorship easier. But it has also made it harder to convince those outside the student-politics bubble – both students themselves and the public at large – of the seriousness of what's going on. While one may forthrightly make the case that any form of censorship on campus diminishes students and undermines the university as a unique place in which one can say the unsayable and think the unthinkable, it's often shrugged off and ignored by the wider student community. Let student politicos eat gluten-free cake, posture against Robin Thicke and get on with it, they say: students' unions have gotten so cartoonishly estranged from reality that we should leave them to it and enjoy the odd laugh at their expense.
However, news from Cardiff University this week shows the cost of such complacency. Tomorrow, at Cardiff University Students' Union's annual general meeting (AGM), the union will vote on adopting a pro-choice policy that would in essence outlaw pro-life organisations on campus. In one of those dry union meetings no one ever goes to – presumably because it's full of the sort of bureaucrats now attracted to SU office – a political viewpoint, held by a significant portion of the campus, could be all-but outlawed.
Unfortunately, this isn't the first time the pro-life view has faced intolerance and censorship on campus. Last week, a discussion on abortion at Oxford, involving spiked editor Brendan O'Neill and Telegraph writer Tim Stanley, was cancelled after student campaigners threatened to disrupt it. The shock and outrage sparked on Twitter and among the commentariat was vital, but a little overdue. Because while the sillier end of censorship has continued to grab the headlines, a growing campaign against pro-life students has been bubbling away on campuses across the country.
In September, the Dundee University Students' Association (DUSA) banned the Society for the Protection of Unborn Children (SPUC) from the union's freshers' fair, despite SPUC having had a stall at the fair for the previous eight years. In June, the Oxford University Students' Union (OUSA) banned the pro-life charity LIFE from advertising in the union. University College London Students' Union (UCLU) mandated in 2012 that any pro-life event must feature a pro-choice speaker. And the list goes on…
Each of these flagrant acts of censorship were met with resistance from the far more moderate pro-life and religious groups who operate on campus – all strongly arguing for their right to free speech on campus. However, up to now, these groups have found it difficult to galvanise support from those who aren't pro-life.
However, in Cardiff, this seems to be changing. A coalition of students, including members of pro-life, Christian, Islamic, LGBT and atheist groups, have joined together under the banner of Keep Cardiff Uni Free to campaign against the pro-choice motion. Madeleine Page, talking to spiked on behalf of the group, insists this is not about protecting the rights of pro-life students only, but of all students. 'We believe that students should have the right to express their sincerely held beliefs, within the law. This motion demonstrably violates that principle', she says.
The history of this motion is a textbook example of how belligerent and anti-democratic students' unions have become. The motion was first put before the Cardiff student senate in April, but it failed to pass because the attendance to the meeting was not sufficient to meet quorum. In the four-hour meeting that followed, officials of the student senate twice tried to block the motion from going to an AGM, and thus an open student vote.
Now, it's back on the agenda, and the stipulations of it are deeply troubling. Not only would it prevent SU-affiliated societies from taking part in 'anti-choice protests outside of abortion clinics and under the banner of the students' unions', but it insists that any literature disseminated on campus concerning abortion and contraception must be 'unbiased', 'not shame those who choose to have abortions', and, stranger still, be 'academically referenced'. (So, while SU politicos will still be free to churn out their shrill, incoherent ideas as much as they like, their opponents in pro-life societies will have to come armed with footnotes.)
But beneath the woolly wording is a veritable blank cheque to regulate pro-life students out of existence. And, thankfully, this is an affront to liberty that, Page tells me, much of the campus has recognised: 'From the conversations we've all had around campus, the majority student opinion is against this motion on the grounds that it is a clear violation of free speech. We just hope that the audience at the AGM will reflect that!'
She continues: 'Free speech is vital to any healthy society. But university is the place where students are exposed, often for the first time, to a whole new world of ideas and opportunities. We believe we should respect their right to listen to the arguments and decide for themselves what they think on abortion.'
Herein lies the crucial point. Campus censorship, aside from being an affront to the freedom and resilience of students, holds back the real discussions that need to be had – in this case, on women's rights with regards to abortion. spiked is firmly pro-choice, and for those who reckon they have the sufficient mental resilience to find out why, you can read the speech Brendan O'Neill was due to give at Oxford here. But, as a pro-choice magazine, we want to explain why we believe we're right, in the hopes of pushing the conversation forward.
So, to the students of Cardiff, whether you're pro-life, pro-choice, or undecided, make sure you attend tomorrow's AGM and vote down this motion. It's time students everywhere brought an end to censorship – both the silly and the serious – and got on with talking about and tackling the big questions.
Tom Slater is assistant editor at spiked and coordinator of spiked's 'Down With Campus Censorship!' campaign. Email Tom to find out how you can get involved: tom.slater@spiked-online.com
To enquire about republishing spiked's content, a right to reply or to request a correction, please contact the managing editor, Viv Regan.