The myth of racist Britain
How official anti-racism divides us all.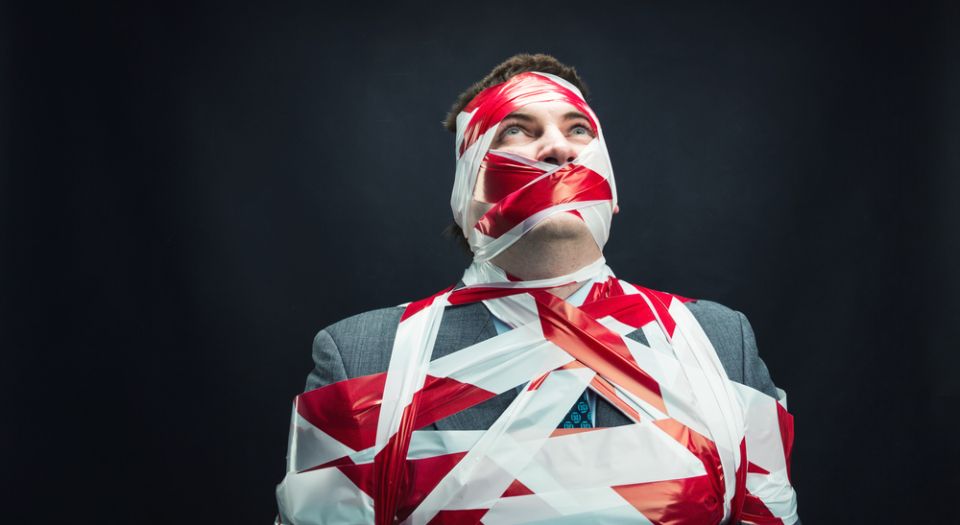 We live in strange times: the less real vicious or violent racism there is in the UK, the more we are beset by campaigns, laws, surveys and scandals about the 'growing problem' of British racism. What's that all about?
Hired by the council to make an anti-racist video in an Essex school a few years ago, Adrian Hart was struck by 'the contrast between the exuberant playground of children and the "racism awareness" drama workshops they were about to attend'.
Out there in the playground, black and white primary-school pupils were unselfconsciously messing around together like primary-school pupils do. Meanwhile, inside the classroom, what sounds like the Essex equivalent of the Legs Akimbo school drama group (from League of Gentlemen) were preparing to teach these same children how to be more wary of one another and 'Watch out for Racism!'. That contrast, says Hart, made him ask himself: 'What the hell were we doing there?' It's a good question, which he sets out to answer in his short and punchy new book, That's Racist: How the Regulation of Speech and Thought Divides Us All.
Hart draws on his own experience of campaigning against racist attacks in 1980s Britain – 'a truly racist place to be', where the authorities led the race war on immigrant and ethnic communities – to show how far normal people's attitudes to race have changed for the better over the past 30 years. Today, by contrast, we are faced with an army of state-backed crusaders hunting 'fantasy racism… the racism of the past' among the masses.
Driven by the conviction that there must be a hidden epidemic of racial prejudice beneath the surface of society, the authorities are now intent upon 'slaying the menace of zombie racism' by pursuing a policy of zero tolerance towards any word or deed that might possibly be construed as unintentionally tinted with racism, from the classroom to the football stadium. The result, says Hart, has been to create and exacerbate divisions in society, and to foster a culture that 'stifles our ability to speak, act and even think freely'.
Hart focuses on the powerful influence of the Macpherson report of 1999, into the Metropolitan Police's handling of the murder of black teenager Stephen Lawrence by a gang of white youths in south London. With Sir William Macpherson of Cluny effectively reading from a script written by a gang of anti-racism experts, his report went way beyond the botched police investigation into that crime and became the 'launchpad for a new kind of official orthodoxy, which is every bit as divisive as traditional racism'.
Macpherson's report asserted that Britain was awash with both 'institutional racism' and 'unwitting racism'. There might appear to be a contradiction between those concepts, but not in the weird world of official anti-racism. Here, institutional racism was not about powerful institutions in society, but about individuals within them. As Hart has it, 'Transposed on to society as a whole, institutional racism is, according to Macpherson, what happens when the mass of people (that's you and me, the masses) go to work for organisations'. Especially as the masses are all infected with 'unwitting' racism, whether we know it or not. In line with this, the Macpherson report created the legal definition of a racist incident as anything that the victim or any other person believes to be racist. That subjective definition has become a licence for racialising British society over the past 15 years.
Hart shows how the elite (who are of course immune to the unwitting racism that the rest of us carry around) have pursued 'zombie racism' post-Macpherson, using zero tolerance policies to police language on the automatic assumption that the hidden problem of racism is getting worse.
Which is why monitors and drama groups end up in Essex schools lecturing children to watch out for racism that is not there, while teachers are obliged to tick boxes and record thousands of ordinary playground moments as racial incidents, pursuing a government policy based on 'the assumption that children are conditioned, from birth, by the persistent racism of their parents' generation'. And why we have witnessed a crusade against the 'spectre' of 'hidden' racism in football, based on the assumption that those ugly people who play and watch the beautiful game need to be re-educated.
The result of this new 'racial correctness', says Hart, has been to pigeonhole black and ethnic-minority people as perennial victims, and to demonise white people (especially the working-class ones) as unwitting but unreconstructed racists. Little wonder that official anti-racism has helped to exacerbate divisions rather than overcome them.
In a striking illustration of how far things have gone, Hart notes the tendency of some observers to imply some sort of parallel between the murder of Stephen Lawrence and the trial of former England captain John Terry for allegedly calling Anton Ferdinand a 'fucking black cunt'. One journalist wrote of Lawrence's mother, the now-ennobled Doreen, sitting in court 'to see if another race-related crime had been committed'. Hart observes that 'the comparison with the Lawrence murder, implicit in such genteel misinterpretations of the working-class experience of football, was that the gap between offensive language and murder was not that great'.
We end up, Hart concludes, in a multicultural mess where there is less racism yet heightened racial and ethnic sensitivities and a hardening separation between 'diverse' cultural identities. Where the cry 'That's racist!', directed at anything anybody finds unpleasant, is an immediate and unquestionable call for censorship. Hart experienced this himself five years ago when his Manifesto Club report, The Myth of Racist Kids, was condemned for daring to question the orthodoxy by those for whom any such challenge is a case of 'racism denial'. Ultimately, says Hart, 'the biggest casualty in this process is the capacity to debate'.
In the end 'That's racist!', along with such fashionable ripostes as 'Check your privilege!', is another way of repeating the dominant cultural prejudice that You Can't Say That. Fortunately, there are still those like Adrian Hart who can, and will.
Mick Hume is spiked's editor-at-large. His book, There is No Such Thing as a Free Press… And We Need One More Than Ever, is published by Societas. (Order this book from Amazon(UK).) Visit his website here.
That's Racist!: How the Regulation of Speech and Thought Divides Us All, by Adrian Hart, is published by Societas. (Order this book from Amazon(UK).)
To enquire about republishing spiked's content, a right to reply or to request a correction, please contact the managing editor, Viv Regan.