From the London riots to the Islamic State
Jihadi John's alleged involvement in the riots makes perfect sense.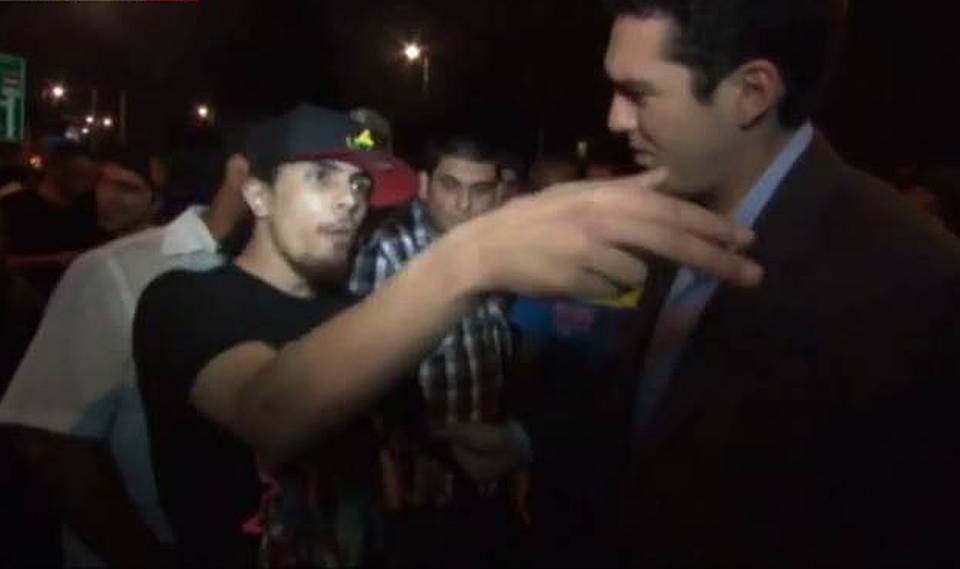 The footage of Abdel-Majed Abdel Bary, the Brit alleged to be the Islamic State decapitator-cum-TV-presenter Jihadi John, shouting and gesticulating to Australian TV during the London riots of 2011 was hardly a surprise. In fact, it made a sort of dispiriting sense.
The riots, remember, were fuelled by some of the most retrograde sentiments abroad today. Yes, the political background to the photogenic burning cars and shops was one supposedly of UK government-backed austerity. Yes, some of the rioters and looters were prepared to parrot back to their liberal interlocutors tales of cuts-induced impoverishment. And, yes, this apparently poverty-stricken lot did loot some of the biggest stores on the high street. But the riots were not really a warped version of anti-Tory protest, or a cry for more from London's poor – they were far more nihilistic than that. They were carnivals of infantile destruction, of burning down and wrecking local shops and businesses, of 'shitting on your own doorstep', as Brendan O'Neill put it at the time. That's what marked the youthful perpetrators out: a stunning disregard for their local communities, a striking estrangement from those among whom they lived, a palpable lack of anything resembling a social bond or tie. Firebombing a local department store, or tearing up a longstanding barbers', seemed neither here nor there to the rioters. But then again, nothing seemed to matter very much to them.
So, the idea that someone who is now fronting the Islamic State's (IS) grisly terrorganda was involved in the riots of August 2011 actually makes sense. There is a difference, of course, between rioting in your own backyard and travelling thousands of miles to slaughter the infidel. But in many ways, for those young Brits now turning their eyes towards IS, radical jihad and the London riots draw on the same profound sense of estrangement, on the same wretched cultural outlook. The indifference to one's community manifest in the riots and the barbarous indifference to one's fellows manifest in IS are different in degree, not in kind. They both drink from the same nihilistic source, the same sense that Western society does not really offer much to believe in, the sense that it is spiritually bankrupt, that it is tired, that it is not worthy of respect or embrace.
Yet as the number of foreign fighters in Syria and Iraq – many of whom are now with IS – continues to grow, many commentators and analysts still persist in looking for radical jihad's appeal in the wrong place.
There's certainly no doubt that IS is appealing to a significant section of Western society. By the summer of 2013, there were more foreign fighters in Syria than in any previous conflict in the modern history of the Muslim world – including Afghanistan in the 1980s. The UN estimates that nearly 15,000 foreigners are now fighting in the region, mainly for IS, approximately 3,000 of them from the West.
Plenty of reasons for this uptick in IS recruitment have been offered. Some, usually of a leftish pallor, point to domestic economic and social exclusion; others note a perverted humanitarian instinct piqued by the Syrian Army's brutalities. And many look to the ineffable attraction of Islam, and Salafi-jihadi theology in particular. But none of these reasons ever quite makes sense. The profiles of the Western recruits are too diverse, their individual trajectories too disparate. Some are long-term devout followers of Islam; some are Johnny-come-latelys. Some are from the social margins of Western society, complete with criminal pasts and ruinous home lives; some come from comfortable, middle-class backgrounds, complete with private schooling and pushy parents. As John Adams, the FBI's deputy director for counterterrorism, admitted recently, it is almost impossible to create a 'demographic profile' for IS's Western recruits.
That is not a surprise. Because what drives some Westerners to head over to Syria and Iraq, what encourages them to search for affirmation on jihadist websites, is not some shared characteristic, some thing that they all are, be it 'socially excluded' or 'devout'. Rather, it's a sense of something they're not, of something they lack. Or to put it another way, the condition for their leap of black-flagged faith, for their keen embrace of Islamist airs and graces, is a negation; a negation of their community, a negation of their friends and family, and, above all, a negation of all that Western society putatively values, which as far as they're concerned is nothing.
You can see it in almost all the interviews with Western jihadists, nestling amid the formal proclamations of faith: a disdain for the seeming soulessness and purposelessness of life in the West. 'Are you willing to sacrifice the fat job you've got, the big car you've got, the family you have', asks one-time Cardiff resident Abdul Raqib Amin in an IS-sponsored video. 'You know who you are, from the capital, the Midlands, up north, wherever you may be… it's a disgrace, that brothers know where these wives are, where these families are, and yet you are buying your nephew or your child a PlayStation 4 or taking them out to Nando's', says another British IS recruit of his brothers' unwillingness to help the Syrians.
IS, and more broadly what has variously been dubbed jihadi cool or jihad chic, plays upon this lack in Western society, upon the West's seeming inability to offer something worth believing in beyond shopping and brand names, Nando's and Nike. And to this widespread nihilism, jihad appears to some as a solution, an answer. It offers something to believe in, it creates purpose, it engenders commitment – and given the proliferation of selfie-snapping IS recruits, posing with weapons or, sometimes, severed heads, it offers something of which to be grimly proud.
The appeal of IS, the appeal of radical jihad, to the ever-increasing numbers of Western fighters does not really lie in Syria or Iraq, then. Rather, it lies at home. It has been generated by Western society's inability to provide a reason for people to identify themselves with it, to see in it something worth believing in, something that could give meaning to a life. At first glance, the London riots may seem far removed from overseas fighters' involvement in Iraq and Syria. But peer a little closer, and the same wellspring of nihilism, of non-identification with one's community, with what it values, can be glimpsed. In one case it fuelled the two-day-long destruction exhibition in the capital; in the other it is fuelling an interminable atrocity exhibition in the Middle East. And like the London riots, the fight against IS's attraction to some Westerners is one that can only be won at home.
Tim Black is deputy editor at spiked.
To enquire about republishing spiked's content, a right to reply or to request a correction, please contact the managing editor, Viv Regan.