A giant leap backwards for womankind
Matt Taylor's shirt isn't holding women back – feminism is.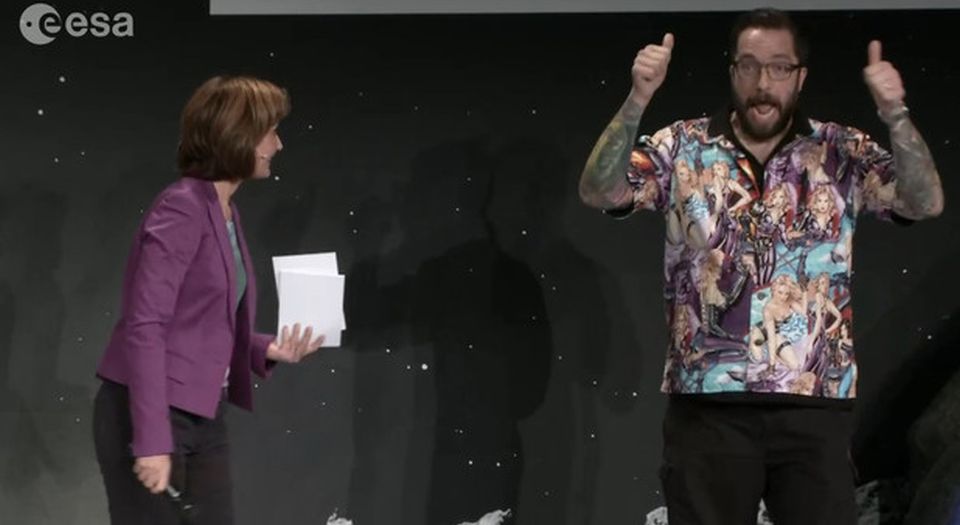 Last week, humans achieved the seemingly impossible. Scientists at the European Space Agency (ESA), led by Dr Matt Taylor, landed a spacecraft on a comet. Yet in an absurd twist, this act of human ingenuity, something that should have united and inspired us all, was used by some feminists as an opportunity to show how regressive humans are.
Only a few days after the defining moment of Taylor's career, when he successfully oversaw the greatest achievement in humankind for the past decade, he was reduced to tears while giving a public apology for wearing a shirt featuring scantily clad ladies holding guns. What Taylor thought of as a quirky fashion statement was deemed by feminists on Twitter, and within certain sections of the press, as harmful towards women.
On the surface, this is a shocking case of political correctness gone mad. But this shouldn't distract us from the depressing insight it gives us into modern feminism. During a week in which comedian Dapper Laughs was banished from British television, and a petition was launched to stop pick-up artist Julien Blanc from entering the UK, the shaming of Taylor confirmed that modern feminism is forsaking women's liberation in favour of pettily policing people's behaviour.
Chris Plante, whose article in the Verge spearheaded the campaign against Taylor, argued that Taylor's shirt could potentially 'stop women from entering certain scientific fields'. This logic suggests that women are so vulnerable and easily damaged that they will be deterred from entering a profession over something as minor as a t-shirt. This line of thinking completely ignores the structural inequalities within society that hold women back from pursuing certain careers.
Modern feminism, in contrast to first- and second-wave feminism, appears to be obsessed with the superficial. It focuses on how words, images and attitudes affect women, rather than trying to tackle larger social problems. This is a damaging trend, not only for feminism, but also for women themselves. Modern feminists' focus on behaviour, its propensity for censorship and its increasingly anti-man rhetoric, is creating a dogmatic and divisive feminism that turns women into victims who need protecting from the big, bad world, rather than equipping women with the tools to tackle real issues of gender inequality.
The headline of Plante's Verge article read: 'I don't care if you landed a spacecraft on a comet, your shirt is sexist and ostracising.' It was a perfect illustration of how this once-progressive movement has become more concerned with perceived acts of sexism than recognising the full humanity of both men and women.
Mariah Hedges is a writer based in London.
Picture by: ESA
To enquire about republishing spiked's content, a right to reply or to request a correction, please contact the managing editor, Viv Regan.