Mock the Week isn't left-wing – it's puerile
Right wingers need to stop carping about luvvie bias at the Beeb.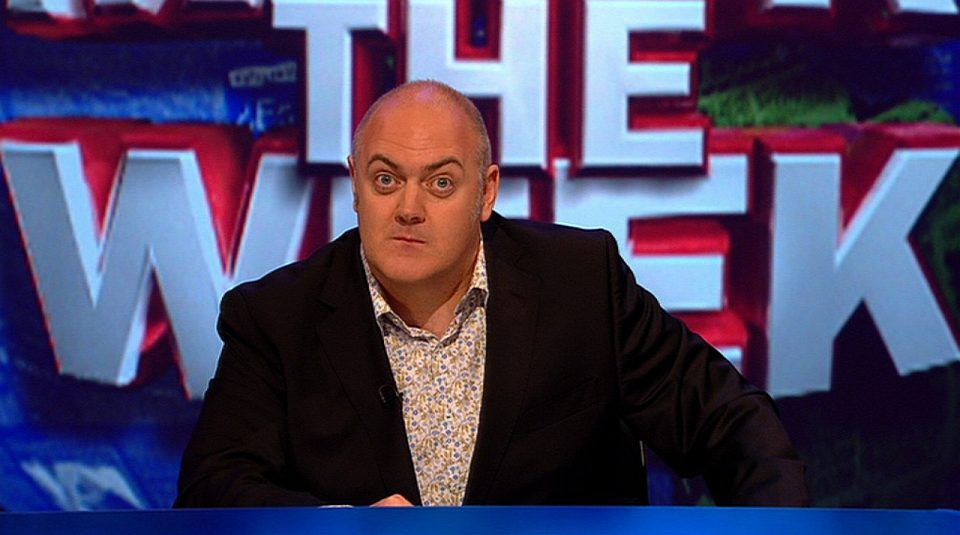 A common complaint made in the conservative media, and even more vehemently in right-wing environs of cyberspace, is that there are too many liberal-left comedians on television (this is a particular obsession of the Spectator's James Delingpole). It's not hard to see why, given the comedians who periodically appear on Question Time, playing to the gallery with their imbecile grins and snide remarks about 'The Tories'. If not writing for the Independent or the Guardian, or appearing on BBC Radio 4, well-known left-wing or environmentalist stand-ups such as Marcus Brigstocke, Steve Punt, Stewart Lee or Mark Steel, can be found appearing on the likes of Have I Got News for You or Mock the Week.
True to this conservative conspiracy theory, BBC2's Mock the Week went to town on UKIP last month after the anti-EU, anti-immigration party won its first seat in the House of Commons. This, in turn, has prompted the right-wing comedian Andrew Lawrence to compose a blog bemoaning the ubiquity of leftie comedians on TV, especially Mock the Week: 'Can't help but notice increasingly, a lot "political" comedians cracking cheap and easy gags about UKIP', he wrote, complaining of the 'liberal backslapping' of 'out-of-touch, smug, superannuated, overpaid TV comics with their cosy lives in their west London ivory towers taking a supercilious, moralising tone, pandering to the ever-creeping militant political correctness of the BBC'. Nigel Farage echoed these concerns in his Independent column, lamenting the 'luvvies' of the 'liberal elite'.
Is there really a cabal of Dave Spart-lite comics in command of BBC comedy, and Mock the Week in particular? I'm not so sure. As someone who has watched said show on BBC2 and Dave more times than I care to admit, I don't think Mock the Week is especially left-wing. Indeed, it could be argued that the programme is at times positively reactionary.
Sure, it features the obligatory quips about the Daily Mail, and that newspaper's propensity to spread anxiety, exaggerate the perils posed by immigrants and obsess over house prices. Yet saying 'it would be like a headline in the Daily Mail' is merely a universal, mandatory linguistic rite of passage for British comedians, a performative utterance that seals your membership of the stand-up fraternity. Parroting left-wing mantras and pieties is also a neat way to ingratiate yourself with a young, herd-minded, liberal-left audience: this same rule applies as much for Mock the Week as it does Question Time.
Yet, the whole premise of Mock the Week is profoundly non-left-wing and anti-socialist. It is based on fierce competition and macho one-upmanship among the comedians on the panel. And it's this kind of peacockish posturing that has made the programme so unconducive to many female comedians. As Jo Brand, a longtime critic of male-dominated comedy panels shows, said in 2009: 'I don't do Mock the Week any more and neither do some male stand-ups I know who have tried it once. We just don't like the prospect of having to bite someone's foot off before they let us say something.'
Rory Bremner, who has compared the show's panellists to 'prize fighters', explained last year his reason for leaving Mock the Week: 'I felt that there was a new and highly competitive and quite aggressive tendency there and felt uncomfortable. But I've since found out that very few people have felt comfortable doing Mock the Week.' Such was the preponderance of men on programmes such as this that the BBC has felt the need to issue a directive banning all-male panel shows.
Mock the Week's never struck me as especially left wing. Only regulars Andy Parsons and Chris Addison display remotely sincere anti-Tory sentiment. Rather, the show has a decidedly post-Viz feel about it. Its humour is base, puerile, borderline misogynist, driven by the desire to be as offensive as possible (alas, we miss you Frankie Boyle), in which everyone is fair game – Ed Miliband receives as much grief as David Cameron. Furthermore, regular guests such as Stewart Francis, Milton Jones and Michael McIntyre are so apolitical and inoffensive that they could appear before the watershed.
Yet its immature and juvenile spirit lends itself to reactionary tendencies. You only have to read Mock the Week's Only Book You'll Ever Need (2012) to gauge the essence of the show, with its jokes about cocks, tits, paedophilia, masturbation, anal sex, gays and date rape. Consider the following excerpts:
'Things not to say in court: "If this witness remembers anything, I'm suing Rohypnol."'
'Unlikely lonely hearts ads: "MAN WITH BIG DICK seeks bird with massive tits"; "GAY MAN WANTS COCK. Meet Me in These Toilets. 6.30, Wednesday."'
'Unlikely Things To Hear On A Makeover Show. "Following the success of Snog Marry Avoid, BBC3 present their new show – Stalk Rape Murder."'
'Unlikely Things To Read In A Children's Book. Despite protesting, Mr Tickle was put on the Register."'
This is isn't the stuff of the Socialist Worker. Neither is Micky Flanagan doing impressions of strict Nigerians or Irish Travellers putting curses on people. There is a constant hostility towards the lower orders on the show, with quips about the 2011 rioters being avaricious morons who sought merely computer games, or the 'chavs' on The Jeremy Kyle Show. That is probably the most unsocialist and ironically Daily Mail-ish thing about Mock the Week: its fear of the great unwashed. And someone should tell Hugh Dennis that making wisecracks about Stephen Hawking's voice or mobility is mocking the afflicted. No wonder one comedian dubbed it 'Mock the Weak'.
Mock the Week can be predictable and vacuous with its jokes at the expense of UKIP and the Daily Mail – a tedious trope so fantastically parodied early this year by Harry Enfield and Paul Whitehouse. But to be fair, when the show is being political, everyone is fair game. When it's not, it merely descends into adolescent male sniggering about willies, tits, fannies and bums.
Patrick West is a columnist for spiked.
To enquire about republishing spiked's content, a right to reply or to request a correction, please contact the managing editor, Viv Regan.