The barbarism of borders
The death toll in the Mediterranean proves that the EU is the enemy of freedom of movement.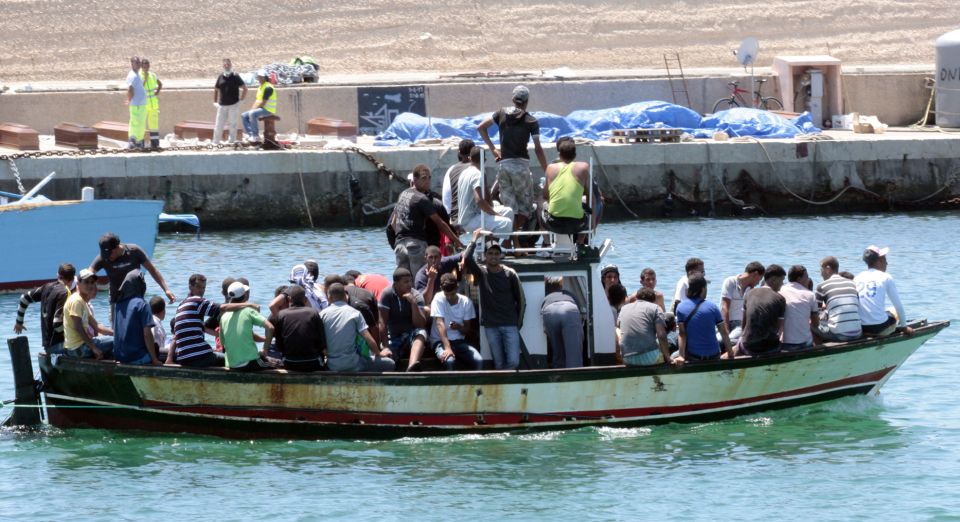 Which organisation has been responsible for the deaths of an estimated 23,000 people over the past 11 years, including 1,600 over the past six months? It's the same organisation that has recently introduced a policy that condemns thousands, perhaps hundreds of thousands, more to die in exactly the same way. Is this the barbarism of the Islamic State or Al Qaeda? Nope. This murderous horde is in fact the European Union (EU). In enforcing what was recently described by researchers as the 'most dangerous border on earth' – one which is responsible for around 75 per cent of all border deaths worldwide – the EU has condemned hundreds of thousands of people to death, simply for having the temerity to attempt to create a better life for themselves in Europe.
Last week, the UK did its bit to make the situation a lot worse. In an answer to a question in the House of Lords, Foreign Office minister Baroness Anelay indicated that the UK would no longer support search-and-rescue operations to prevent migrants from drowning in the Mediterranean Sea. It follows the winding down of the Italian search-and-rescue programme known as Mare Nostrum, which had saved the lives of around 150,000 people since October 2013. A new stripped-down 'border protection' operation, code named Triton, will replace it, but the UK will not offer support. The withdrawal of support was justified on the basis that the operation provided a 'motivation' for those thinking of attempting the voyage – as if the reason migrants get on a boat in the first place is that they know they will be rescued if it sinks.
For those who think the Liberal Democrats might provide a liberal voice on immigration within the coalition government, be under no illusions. It's worth remembering that Lib Dem leader Nick Clegg advocated a 'regional points-based system' for immigration during the 2010 election campaign, meaning migrants would be required to tell the state where they wanted to settle so that the Home Office could decide whether they were 'needed' in their chosen areas. The Lib Dems have consistently described the New Labour approach to liberalising borders as causing 'chaos', and have insisted that it needs to be 'reversed'. In the lead-up to the 2010 General Election, the Lib Dems announced an amnesty policy for all asylum seekers who had been present in the country for the past 10 years. But this is absurd when you consider that, under current restrictions, the only reason an asylum seeker would have been able to stay in the UK for 10 years would be because the state had lost track of them. Even Lib Dem Voice, a blog maintained by the party, indicated that the amnesty would make little difference. The party indicated last week that the policy of abandoning 150,000 of migrants to die at sea had 'coalition agreement'. The Lib Dems are the last place you should look for a liberal stance on immigration.
Labour are also similarly falling over themselves to be the toughest on immigration, with shadow transport secretary Mary Creagh recently saying that Labour 'needs to acknowledge the strain on schools, public services and the fact that people want to feel that people have put into a society before they start taking something out'. Simon Danczuk, the Labour MP for Rochdale, recently wrote a piece in the Telegraph suggesting that 'cheap immigrant labour has cost blue-collar Britain dear'.
When, in 2013, prime minister David Cameron announced a cap on benefits for new migrants, Labour was outraged – despite the fact that, as was pointed out on spiked and elsewhere, this was originally a Labour policy. However, this didn't stop Labour and the Lib Dems accusing Cameron of 'stoking the racist fire' on immigration, as if the British public were just a rowdy bunch of racists waiting with glee for official permission to turn on immigrants. At the end of 2013, it was all the rage to be 'pro-immigrant', and to refuse to pander to the nasty racist public out there beyond Westminster. How quickly things change. Today, in light of the moderate gains of UKIP, all three parties seem to have stopped worrying about the racists at the gates, and are instead trying to out-UKIP one another in an attempt to claw back the votes they are hemorrhaging.
Today, remarkably few people are truly committed to freedom of movement. And this isn't a problem confined to Westminster. Of course, you will find plenty of people who are 'pro-immigrant', but normally this is only in relation to a certain kind of immigrant. Weirdly, even those who purport to be the most liberal when it comes to immigration actually adopt the same kind of logic as their more conservative peers: we want immigrants, but only the right kind. For example, Amnesty International will often stand up for immigration, but only in as much as it prevents 'human-rights abuses' at the border, or allows for a 'safe haven' for refugees. The UK campaign group Liberty say it supports the right to seek asylum, but has nothing to say about freedom of movement. This approach to the immigration question, one which only acknowledges a migrant's right to move if it allows us to protect or harbour them, is not a freedom of movement argument at all; rather, it's a limited, humanitarian defence of what should be an absolute right afforded to all.
It's easy to see what's inhuman and wrong with withdrawing support for the search-and-rescue operations. But the people who climb on board those boats are not all 'desperate' asylum seekers. Some are economic migrants taking a big risk for what they see to be significant gain: the chance to work in a comparatively thriving economy. Too often we discuss our duty to immigrants as one of paternalism, as if it is our responsibility as a rich country to protect and harbour those fleeing desperate situations. We only speak up for freedom of movement as a way of ensuring our role of protector to the world's disenfranchised masses. Of course, we should provide support for those in desperate situations, but this is not the same as freedom of movement. In fact, it buys into the logic of most anti-immigration arguments, only where the traditional points-based system measures a potential migrant's economic 'usefulness' to gauge whether they are deserving of admission, the humanitarian approach measures a migrant's 'victimhood'.
If you believe, as I do, that anyone should have the chance to move, settle and work wherever they like, then it should not matter why they are coming. A refugee fleeing the civil war in Syria should have no greater right to move here than an Australian or a Canadian looking to work in a new country. With open borders, one doesn't need a greater right than the other. The only thing that should matter is a migrant's absolute right to self-determination – a right that is currently being inhibited by the exclusions enacted across the world by the ongoing existence of national borders.
The UK's refusal to help drowning migrants in the Mediterranean is appalling, but we must recognise it as an extension of the logic of borders themselves. Borders are not benign, bureaucratic frameworks, but the racist and cruel inhibitors of all mankind. It's only once we reject the logic of borders, and adopt an absolute and universal approach to freedom of movement – one which applies to the economic migrant as much as the refugee – that people will no longer have to drown in the waters of the Mediterranean on their journey to a better life.
Luke Gittos is law editor at spiked, a solicitor practicing criminal law and convenor of the London Legal Salon.
To enquire about republishing spiked's content, a right to reply or to request a correction, please contact the managing editor, Viv Regan.