Why parents are beating themselves up
The anxiety around smacking has undermined parental authority.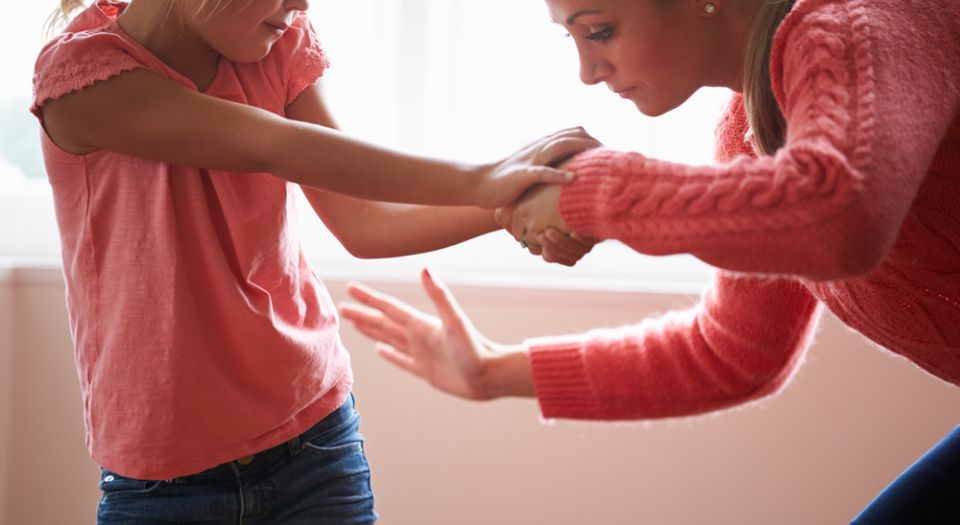 Here are two scenes which illustrate contemporary parenting culture.
In the first, I am called into my son's primary school by the 'family-liaison officer'. I am surprised to learn that she is investigating the concerns of a teacher who has overheard my son and his friends discussing their mothers' favourite punishment methods. Whereas one of the mothers (who I know) reportedly kicks her boy in the privates with her stilettos, and another (who I also know) prefers to administer an 'African slap', my chosen method is, apparently, to hit my son with a frying pan. Visions of Tom and Jerry immediately spring to mind, and I laugh at the ridiculousness of the schoolboys' conversation. The family-liaison officer admits that it is highly unlikely that a mother such as me (white and middle class) would engage in such behaviour, but, she tells me, she is nevertheless obliged to ask if I have ever deployed the family skillet as a weapon. I am now amused, bemused and starting to see that this could have played out very differently if I were perceived to be one of those 'other' parents.
Scene two: While swimming in the local pool with frying-pan boy, I notice a mother engage in an exhausting 20-minute argument with her one-year-old baby boy. He had slapped her, so she was asking him in a quiet, controlled voice to look her in the eye and apologise for 'hurting mummy'. Being a baby, he refused to comply, and became more and more upset as the request was repeated again and again. My sympathy was equal for both mother and child: he was sobbing and she seemed forlornly trapped in some kind of 'good parenting' ritual, in which the parent conveys to the child the emotional consequences of their actions – 'you hurt mummy, that makes mummy feel sad' – and expects the child to take 'ownership' of their actions.
Both of these scenes demonstrate the abandonment of common sense and, indeed, any kind of 'instinct' when it comes to adults relating to children. When you remove any element of instinct from parenting, you replace trust, care, love and joy with empty rituals of 'safeguarding' or 'good parenting'. The family-liaison officer's dutiful yet hollow investigation makes clear just how corrosive the institutionalisation of parent-blaming in schools has become, while the mother's exchange with her baby in the pool showed how futile and joy-draining following abstract, good-parenting guidelines can be.
So how have we got to this place? At a forthcoming discussion at the Battle of Ideas festival, Swedish psychiatrist David Eberhard and British sociologist Frank Furedi will try to answer this very question.
Eberhard, author of When Children Took Power, identifies a cultural shift towards a 'child-centred society'. While this sounds like an unarguably good thing, Eberhard argues that this has resulted in the degradation of trust in adults and a tendency to overload even very young children with a degree of emotional responsibility for which they are developmentally ill-equipped. When Children Took Power is yet to be published in English, but the Swedish edition made international headlines last year, particularly with regard to Eberhard's suggestion that Sweden's 1978 law that banned smacking by parents has had a deeply negative impact on parenting. This law, he argued, was indicative of an officially sanctioned reversal in familial and generational power relations, something which has served neither children nor adults well.
Many of Eberhard's insights echo and develop those of Frank Furedi's influential book, Paranoid Parenting. First published in 2001, Paranoid Parenting has since been published in six languages. The book's critique of both 'parental determinism' and the presumption of childhood as a time of 'risk and vulnerability' is central to a growing academic body of literature addressing the culture which gives contemporary parenting its particularly angst-ridden, intensive character. More recently, Furedi has written a study of the concept of authority throughout human history. One of the things he explores in that book is our contemporary difficulty with the idea that the older generation possesses authority over the young. This is an idea Eberhand, in turn, explores in When Children Took Power, arguing that, from 1968 onwards, a 'total disregard for authority' meant that 'discipline became a dirty word'.
There seems to be a profound ambivalence around parental authority today. On the one hand, in the UK at least, there are few people who advocate smacking as an ideal method of disciplining children. On the other hand, polls find that over half of parents have smacked their children on occasion. Parents are told by 'experts' that they should use 'words', not violence, to teach their children right from wrong. They say that, if parents do smack, they should apologise. Of course, we have all seen parents threaten or actually smack their children in public, but increasingly this kind of parenting is seen as a shameless throwback, with the parents presented as ignorant of the 'damage' they are doing to their child's self-esteem or neurological development. We may harbour a secret respect for the confidence with which a child is brought to heel, and yet we are also encouraged to think: 'If they do that in public, what do they do behind closed doors?'
Both Eberhard and Furedi agree that the move towards a 'negotiated' relationship between children, on their pedestals of vulnerability, and parents, defensive about asserting the authority their maturity ought to provide, is a deeply negative trend. Neither author holds any particular affection for physical punishment, but both are concerned that the undermining of parental authority and judgement is making parenting painful and joyless. Hopefully our discussion this weekend can begin a fruitful debate on where we need to go next.
Dr Jan Macvarish is a research fellow at the University of Kent and co-author of Parenting Culture Studies, published by Palgrave. She will be chairing the debate What is wrong with disciplining children? at the Battle of Ideas festival, held at the Barbican in London on 18-19 October. Get tickets here.
To enquire about republishing spiked's content, a right to reply or to request a correction, please contact the managing editor, Viv Regan.